6w Under Cabinet Light, LED Flat Panel, Super Slimline - Natural White LED 4000K
A measure to the brightness of a LED Light. Example being 320 lumens would be the equivalent in brightness to a old fashioned 50w Halogen spot light.
Fitted with a diffused cover

6w per light and feature 300 lumens

Stunning natural white light colour

30,000 Hour Average Lifetime

3-year warranty
What are Lumens?
What are lumens?
When you bought an incandescent bulb you knew that a higher wattage meant a brighter light. However, wattage really measures power consumption, not brightness. Lumens measure brightness. You can use the chart below to match the wattage of an incandescent to its LED counterpart. LEDs use less power and save money.

Need Help Choosing?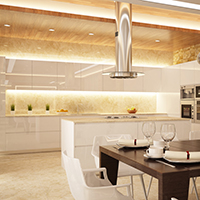 Warm White
Warm lighting is similar to conventional lighting and has a softer feel. This lighting is perfect for living rooms and bedrooms.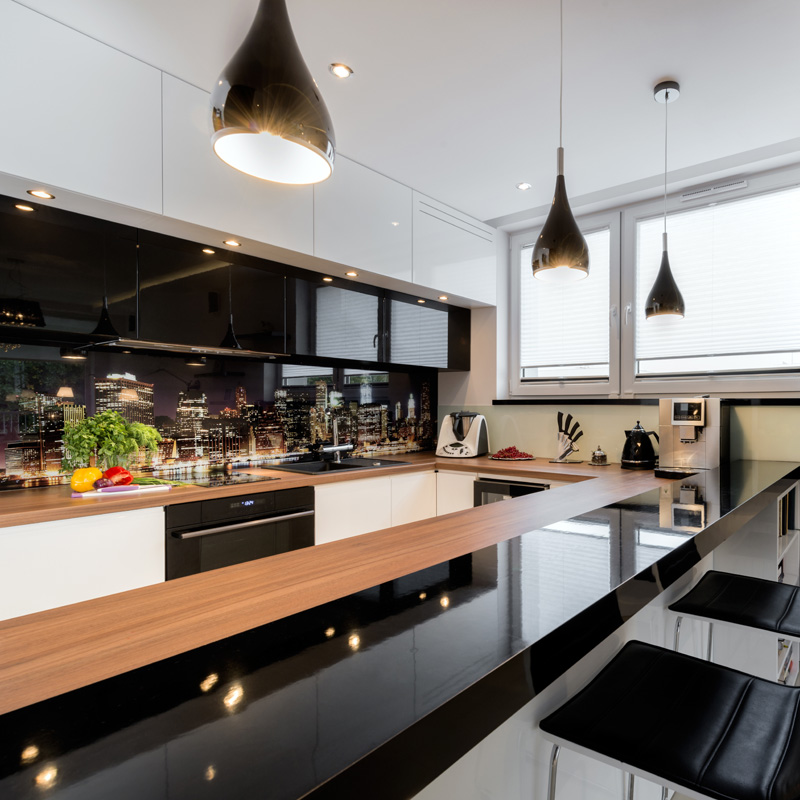 Natural White
Daylight - The colour of the lighting is used to represent 'daylight colour' indoors. It has neither the softness of warm white or the starkness of cool white.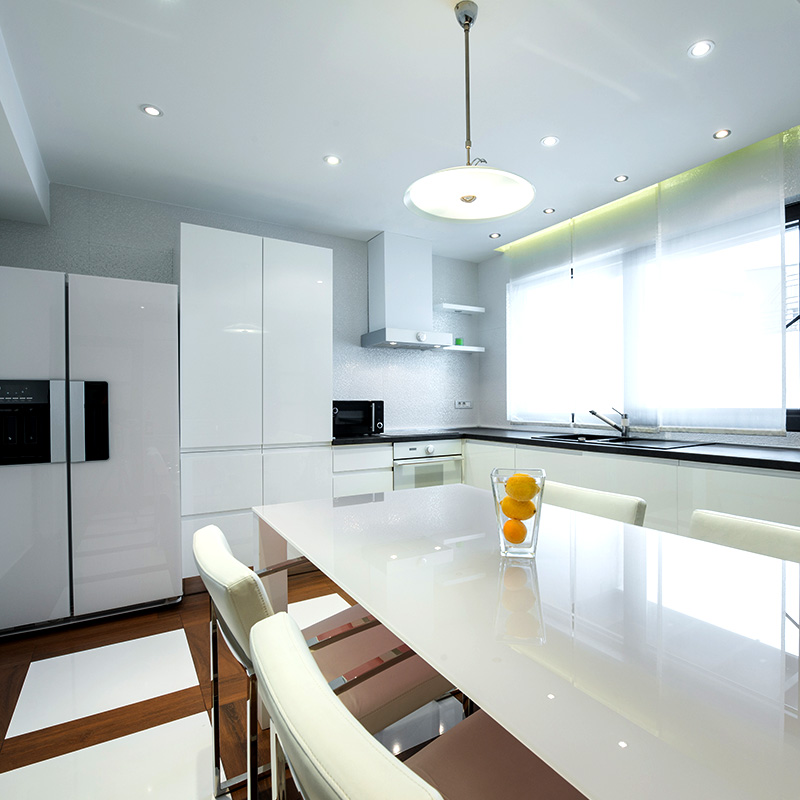 Cool White
Cool white - Is a brighter whiter light and is more suited for the bathroom or kitchen.
£9.12
£10.95
Was
£14.99
Save £4.04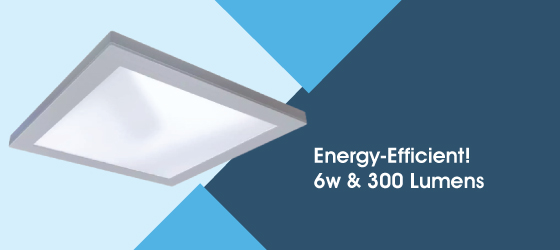 Energy-Efficient! 6w & 300 Lumens
This fantastic slimline LED flat panel under cabinet light is the ultimate alternative to halogen lights. It's fitted with a diffused cover, which allows the light to mimic halogen light, showing no dark spots or visible single LED dots.
On top of that, this under cabinet light is super energy-efficient! It only requires a minimal 6w per light but can produce a massive 300 lumens with a 110-degree beam angle. Therefore, they cost less to run than halogen alternatives, and with a lifetime of around 30,000 hours, they will last much longer, too! So, using this under cabinet light will enable you to lessen your electrical and maintenance expenses.
12v DC - Needs a LED Driver
Because this under cabinet light is 12v DC, you will need an LED Driver (sold separately) to make it work. The driver can be wired into a mains circuit (switch on the wall), or you can wire a plug onto the end and plug it into a socket. Both options will work without trouble. To make things a bit more simple, here's our recommendation on LED drivers depending on the number of lights you're running.
For one under cabinet light, use an 8w LED driver. If you plan to use two lights, get a 15w LED driver. If you need three lights, pair it with a 20w LED driver, and to run up to five lights, you'll need a 30w LED driver.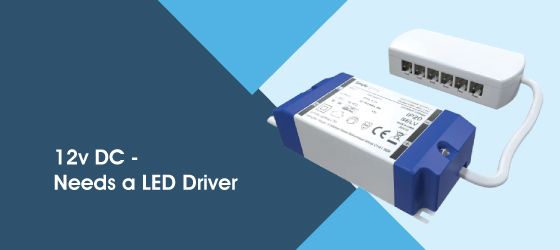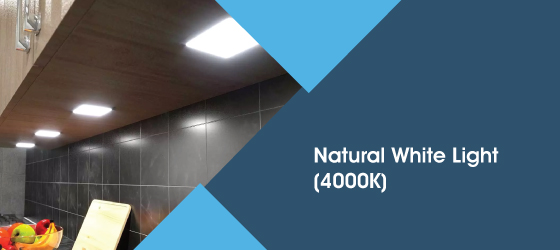 Natural White Light (4000K)
This flat LED under cabinet light has a natural white colour temperature (4000K). Unlike warm white with a yellowish shade that resembles an old incandescent bulb or cool white with a crisp bluish tone, natural white light has no hints of blue or yellow. It's like a cloudless sunny day, clear and bright!
Natural white light is typically used as task lighting because it can create an environment where you can concentrate and be productive. Add this under cabinet light for task lighting to make your countertops more functional and ready for meal preps. If you have multiple shelves in your wardrobe, you can add this fitting to make your clothes easy to see and access!
Multiple Control Options
There are many different ways to control and operate your LED flat panel light. You only need to wire the LED driver into the mains at a light switch or pop a plug onto the end of the cable and plug it into a plug socket. This allows you to switch your lights on and off with the flick of a switch. You can also use one of our remote controls to dim the brightness from 1-100% and turn the cabinet lights on and off. There's also the option of smart controls if you want to manage your light using voice commands!
If you prefer to control the brightness of this under cabinet light with a traditional wall dimmer, first ensure that the dimmer is LED-compatible. Then, you'll need to install a dimmable LED Driver instead of a standard LED driver. Please note that you can only run a maximum of four lights this way.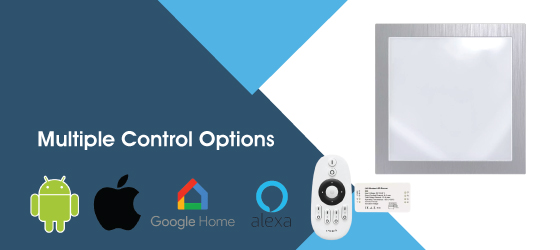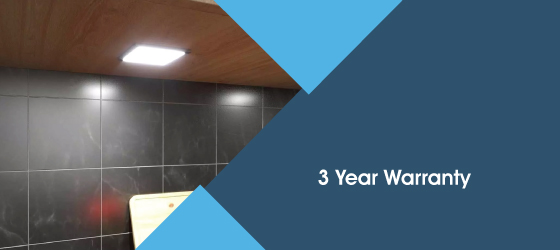 3 Year Warranty
We offer a fuss-free 3-year warranty with this flat LED under cabinet lighting! Online shopping has pros and cons. While it's very convenient and less hassle since you can purchase nearly anything without stepping out of your home, there's no assurance whether or not the product you'll receive will be the same as the images you saw. So, we hope that with this extended guarantee, the confidence we have in this cabinet light will be reflected and, in turn, encourage you to purchase it!
If you have any inquiries regarding this under cabinet light or any products on our website, feel free to call or email us, and we'll gladly answer your questions!
Stunning Brushed Chrome/Nickel Finish
This LED under cabinet light is made with a stunning brushed chrome/nickel finish, perfect for any interior design, whether traditional, modern, rustic, retro, or something in between! Because of its fairly neutral frame, it can blend in effortlessly with your existing decor and furniture pieces.
In addition, the length of the cable on this LED flat panel light that needs to be wired back to the LED driver is 1.5 metres. If you plan to install more than 1 of these lights, each would need to be independently wired back to the LED driver. If the cable isn't long enough, we offer a simple plug-and-play extension cable for this Cabinet Light, which is available in 2m and 5m.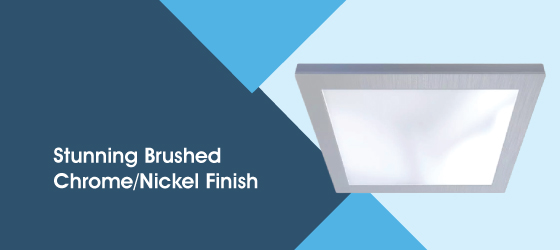 More Information

| | |
| --- | --- |
| Cable Length | 1500mm |
| Length | 100mm |
| Width | 100mm |
| Average Life (Hours) | 30,000 |
| Height | 6mm |
| IP Rating | IP20 |
| Finish | Brushed Chrome/Nickel |
| LED Colour | Natural White 4000K |
| Beam Angle | 110° |
| Lumens | 300 |
| Dimmable | Dimmable |
| Input Voltage | 12v DC |
| Power | 6w |
| Warranty | 3 Years |
For delivery or returns information, please refer to the page below.