The kitchen often referred to as the heart of the home, is used for so many things – whether you're cooking delicious family meals or hosting luxurious dinner parties, the right level of lighting can make a difference. We have a wide range of LED kitchen lighting to match your own interior style – whether you're looking for
LED spotlights
to light up the whole room, or
LED tape
to create a really modern look and feel, we've got something for everyone.
Kitchen Ceiling Lights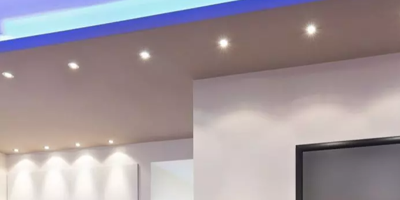 Fire Rated Downlights
are one of the most popular ways to get your kitchen glowing from the top-down thanks to their versatility. As spotlights are directional lights, they're perfect for being installed over food preparation areas. Spotlights complement any kitchen style since they're easily hidden in the ceiling.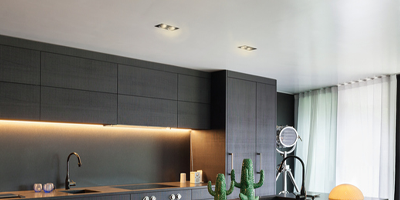 Dimmable LED downlights
are another popular option for the kitchen – as well as being stylish, they're also incredibly energy efficient, making them the perfect addition to any household. With a variety of different shapes, sizes and finishes to choose from, you won't struggle to find LED downlights which suit your interior perfectly.
Kitchen Cabinet Lighting
Under cabinet lighting
offers so much more than just increased visibility of the chopping board. With our range of
kickboard lights
, you can add style, sophistication and functionality to your home. As they're incredibly easy to install, LED strip lights are becoming increasingly popular in both commercial and residential kitchens, providing additional illumination in areas where it's needed most. You can also introduce circular, triangular or square under-cabinet lights to really make your appliances pop, as well as your worktops.
Under-Cabinet Lights are one of the most popular way to light up your worktops without turning on your kitchen ceiling lights. Under-cabinet lighting allows you to keep a calm atmosphere in the kitchen if you're entertaining or really want to make your appliances pop, such as your microwave, kettle, toaster and oven.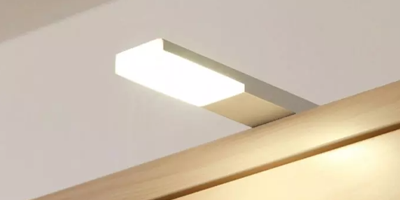 Over cabinet lights
are a great way to illuminate your kitchen and ensure your most-used areas are properly lit. For example, you might place an over-cabinet light above your chopping board, that way you are prepared, always.
Kitchen Strip Lights
Strip Lights
are an easy and versatile way to illuminate your kitchen. Strip lights can be placed wherever you like, it could be a flat, curved or uneven surface, the strip lights are extremely thin so can't be moulded around your kitchen.
Plinth/Kickboard Lights are a great way to brighten up your kitchen island, cabinets, and kickboards. Plinth lights are versatile and subtle yet ensure a modern, effective lighting solution.
What should you take into consideration when choosing the right LED kitchen lights?