8 Watt LED Driver/Transformer With 6 Way Distributor
The total electrical power used of the light. A higher wattage no longer guarantee's that the light is brighter. EG: there are LED products which are 5w which is equal in brightness to a 50w incandescent bulb.
1m long mains cable

6-port distributor 

With built-in safety features

Tested and certified to pass all British and European standards

1-year warranty
£8.32
£9.99
Was
£11.99
Save £2.00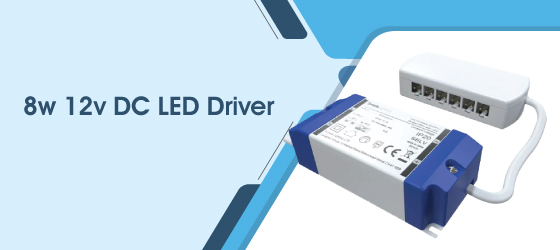 8w 12v DC LED Driver
LED fixtures are in the spotlight because, compared to other traditional fittings, they are far superior in terms of quality, brightness, and durability. They do not produce any heat, and they last longer. Plus, using LED lighting will lessen your carbon footprint, significantly benefiting the environment.
While some are not, most LED fixtures have a low voltage. That is why you will need a LED driver to help regulate the power supply for your LED lights to make them work. This LED driver is 12v DC and can power a maximum of 8 watts. So, to avoid overloading this driver, ensure that the lights you'll connect will not exceed the 8-watt range.
Suitable for Low-Voltage LED Strips & Under Cabinet Lights
This LED driver is suitable for our extensive collection of 12v DC low-voltage LED strip lights and under-cabinet lighting. Before connecting anything, check if the input voltage of the fitting is 12v DC to ensure that everything is compatible and nothing will malfunction.
Aside from that, this LED driver comes with a 6-way distributor, which allows you to connect as many strip lights and under cabinet fittings (as long as it does not overload) as you need. Also, this LED driver has built-in safety features, including auto-reset, integrated electronic short circuit and overload protection. With this, your lighting system is adequately protected in case accidents or unforeseen circumstances happen.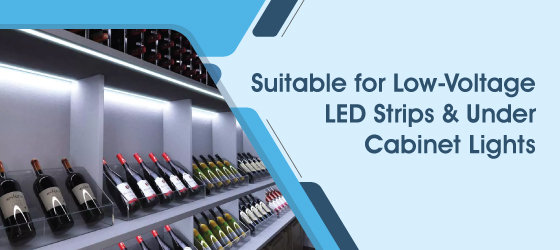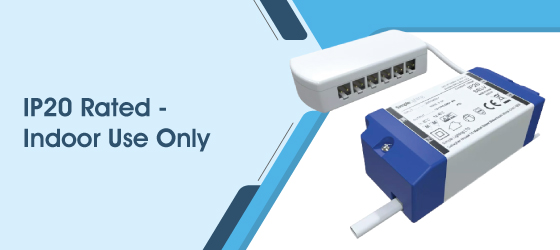 IP20 Rated - Indoor Use Only
Because this LED driver is IP20 rated, you can only use it indoors, away from areas where water and other liquids are constantly present. Nevertheless, there are still many places where you can incorporate this device!
You can use it with the under cabinet lights in your bedroom, home office shelves or wardrobe or with the strip lights in your living room, dining room, hallway and storage room. You can freely integrate this LED driver as long as the room is dry and away from water! So, just be creative and imagine unique ways on how you will be able to utilise various low-voltage lighting solutions in an indoor setting!
Mains Wirable LED Driver (Wirable Directly to Your Mains Circuit)
This LED driver is mains wirable, meaning you can connect it directly to your mains circuit. You can hardwire it to the main power supply to control your lights using a regular light switch on the wall, or if you prefer another method, you can choose to add a plug at the end of the driver so that you can plug your lights into an empty socket to switch them on/off. The first option will give you a cleaner setup but require more skills. On the other hand, the second alternative is more DIY-friendly, but you'll need a socket near the installation.
If you're not confident doing any of the wiring, it's best to call an electrician to guarantee your and your home's safety!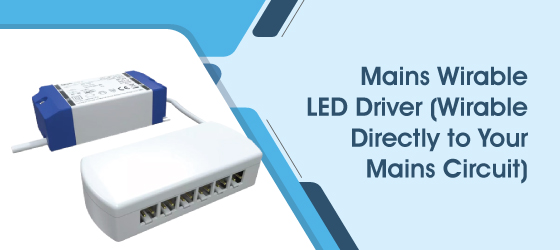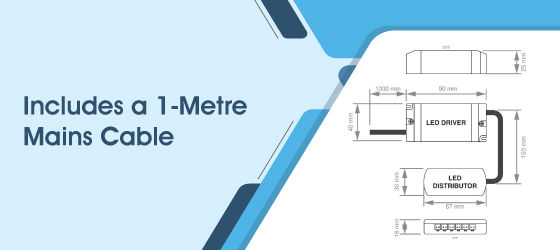 Includes a 1-Metre Mains Cable
Besides the 6-way distributor, this LED driver comes with a 1-metre mains cable for easy wiring. With this, you won't have any issues with the installation as long as you prepare the lighting fixture that you want to mount and the tools that you will indeed. Also, ensure that you review the installation process so everything will go smoothly and you'll finish without any issues!
Kindly note that most of the lighting products listed on our site include a recommendation on how many light fixtures you can use with a particular driver. Make sure that you go over the product description before buying a LED driver and mounting them to avoid wasting your resources.
1 Year Warranty
We offer a 1-year warranty with this LED driver, so you'll have peace of mind while you use this device with your fixtures! Shopping online is indeed convenient, but there's no telling whether or not what you see on the website is true or false. With this fuss-free guarantee, we hope that the confidence we have in this LED driver will encourage you to purchase!
If you have any issues or questions about this LED driver or any of the products listed on our websites, feel free to give us a call or send an email. Our team is always ready to assist you with your concerns and enthusiastic to help you find the best lighting solutions for your space!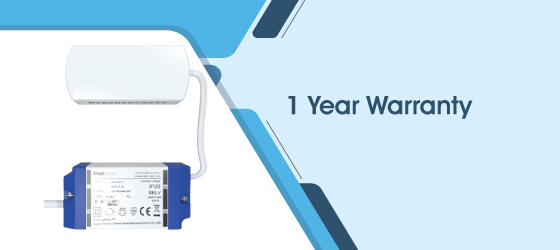 More Information

| | |
| --- | --- |
| Quick Order Code | DRV-8W-12V |
| Switch Type | Rocker Switch |
| Output Voltage | 12v DC |
| Length | 67mm |
| Width | 33mm |
| Cable Length | 1000mm |
| Height | 20mm |
| IP Rating | IP20 |
| Dimmable | Non-Dimmable |
| Input Voltage | 220-240v |
| Power | 8w |
| Warranty | 1 Year |
For delivery or returns information, please refer to the page below.