New Samsung LED Technology - Wedge LED Under-Cabinet Light - Warm White/Neutral White
A measure to the brightness of a LED Light. Example being 320 lumens would be the equivalent in brightness to a old fashioned 50w Halogen spot light.
Has a 2-metre cable
Multiple control options
Unique wedge design
Available in Natural white light or Warm white light
3-year warranty
What are Lumens?
What are lumens?
When you bought an incandescent bulb you knew that a higher wattage meant a brighter light. However, wattage really measures power consumption, not brightness. Lumens measure brightness. You can use the chart below to match the wattage of an incandescent to its LED counterpart. LEDs use less power and save money.

Need Help Choosing?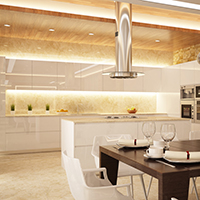 Warm White
Warm lighting is similar to conventional lighting and has a softer feel. This lighting is perfect for living rooms and bedrooms.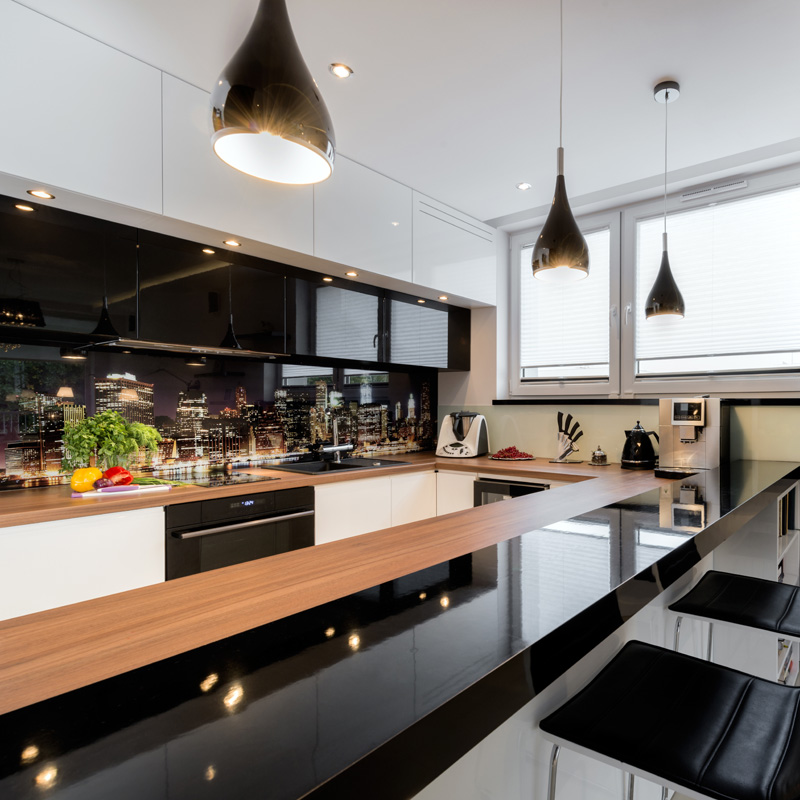 Natural White
Daylight - The colour of the lighting is used to represent 'daylight colour' indoors. It has neither the softness of warm white or the starkness of cool white.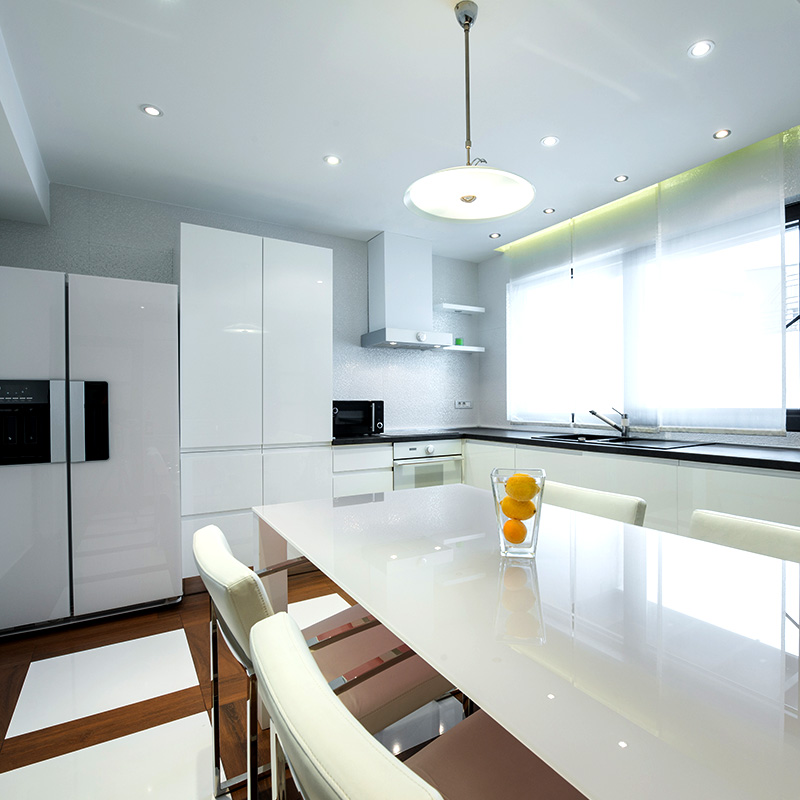 Cool White
Cool white - Is a brighter whiter light and is more suited for the bathroom or kitchen.
£9.96
£11.95
Was
£17.50
Save £5.55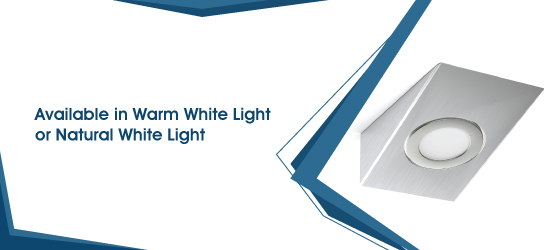 Available in Warm White Light or Natural White Light
Are you searching for the perfect under-cabinet light? If you are, then your search could be over! This excellent modern kitchen cabinet lighting contains Samsung LED chips and a frosted diffuser covering the LEDs. This means that you get even light distribution, and the single LED dots will not be visible - perfectly mimicking the appearance of old halogen lights while providing all of the benefits of LED.
In addition, this wedge under cabinet light is available in warm white (3000K) or natural white light (4000K). Natural white has no hints of blue or yellow and resembles a cloudless sunny day. On the other hand, warm white light has a yellowish tint and is similar to an old incandescent bulb!
IP44 Rated; Water-Resistant
This LED under cabinet light is IP44-rated, meaning it's water-resistant! You can mount it near water sources because even if jets and splashes of water reach this fitting, it will not short-circuit or malfunction. So, if you have cabinets or shelves hovering over your sink area, you can use this cabinet light to illuminate that spot for better visibility!
The only thing that you cannot do is use it for underwater applications. While this cabinet light is water-resistant, it's not waterproof. It does not have adequate protection for complete water submersion. If that's the installation you're after, you'll have to look for a fixture with an even higher IP rating.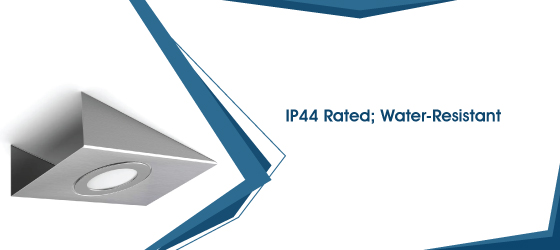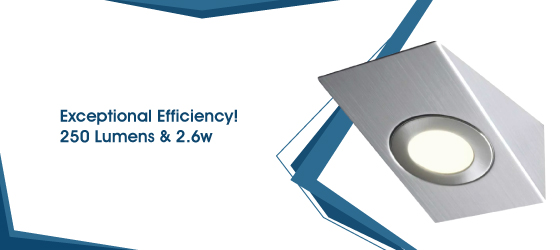 Exceptional Efficiency! 250 Lumens & 2.6w
LED lighting is known for its unparalleled efficiency. It can convert most of the power it consumes into light with minimal becoming waste (heat). As a result, although it runs at a low wattage, it can still produce a staggering amount of lumens!
Powered by that same technology, this LED under cabinet light only needs about 2.6w of power to produce 250 lumens maximum brightness with a wide 120-degree beam angle! Aside from that, it can last for 30,000 hours, which is ten times longer than a non-LED fitting. So, if you want to reduce your maintenance cost and electrical expenses, hurry and switch to this LED cabinet lighting now!
12v DC - Needs a LED Driver
This wedge under cabinet light is 12v DC; therefore, you'll need an LED driver to make it work. Here is our recommendation for LED drivers, depending on the number of lights you can run. If you plan to use three lights, you'll need an 8w LED driver. To power five lights, you will need a 15w LED driver. For a maximum of six lights, you need to use a 20w LED driver.
Also, this LED cabinet lighting has a 2-metre cable that needs to be plugged into the LED driver. If this isn't enough length, we offer a simple plug-and-play extension cable, which is available in 2m and 5m long.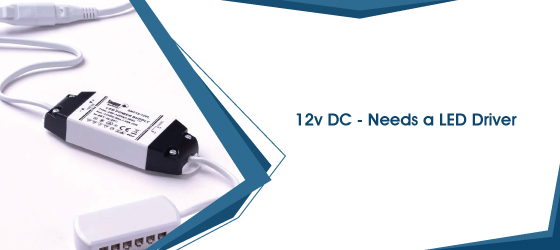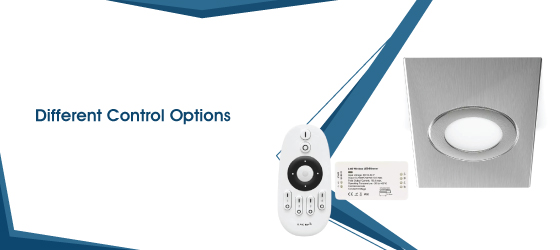 Different Control Options
We offer a whole range of ways to control and operate your LED cabinet lights. You can do the basic set-up, enabling you to switch the lights on and off using a light switch or plug socket. There's also the option of using one of our remote controls to dim the brightness from 1-100% and turn the cabinet lights on and off.
When you want to control your lighting on a traditional wall dimmer, you must install a dimmable LED Driver and an LED-compatible wall dimmer. Please note that you can run 4 lights maximum. In addition, you can integrate our Smart Device to conveniently control your lights using Alexa, Google Home or through our App (you can use this device to power up to 5 lights).
Exquisite Brushed Chrome/Nickel Finish
You will find that this modern kitchen cabinet lighting can be used in an extensive range of applications, such as beneath shelves or inside cupboards, and they are especially suited to kitchen applications. Aside from that, its wedge design is a popular choice for modern kitchens, and the brushed chrome finish fits in seamlessly with most kitchen designs.
Because of its simplicity and relatively neutral finish, this wedge cabinet light will not have difficulty blending in with your existing decor and furniture pieces. Also, it'll be able to adapt to your future design schemes, be it traditional, modern, rustic, retro or something out of the ordinary! So, if you want to decorate without anything stopping you, opt for this cabinet light over customised fixtures.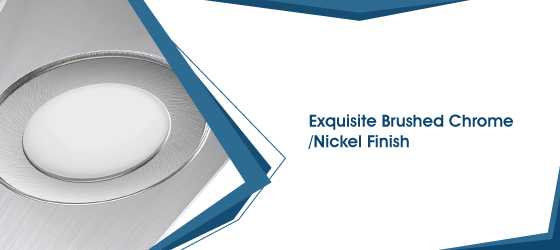 More Information

| | |
| --- | --- |
| Cable Length | 2 Metres |
| Length | 150mm |
| Width | 85mm |
| Average Life (Hours) | 30,000 |
| Height | 55mm |
| IP Rating | IP44 |
| Finish | Brushed Chrome/Nickel |
| Beam Angle | 120° |
| Lumens | 250 |
| Dimmable | Dimmable |
| Input Voltage | 12v DC |
| Power | 2.6w |
| Warranty | 3 Years |
For delivery or returns information, please refer to the page below.