LED Tape, RGB Colour Changing 60 LEDs P/M 15W
The total electrical power used of the light. A higher wattage no longer guarantee's that the light is brighter. EG: there are LED products which are 5w which is equal in brightness to a 50w incandescent bulb.
Using our remote control, select from hundreds of different LED colours
Cut To Measure - personalised to your requirements
We solder a 1m long wire onto the end of each LED Strip for you
Available in any length between 0.1m to 10m long (100mm to 10,000mm)
5 Year Warranty
High Power LED Strip - Super Bright!
Change the colour or dim the brightness through remote control, mains wall plate or through our APP & smart speaker (Sold Separately)
Order online or call 0333 443 2465
What are Lumens?
What are lumens?
When you bought an incandescent bulb you knew that a higher wattage meant a brighter light. However, wattage really measures power consumption, not brightness. Lumens measure brightness. You can use the chart below to match the wattage of an incandescent to its LED counterpart. LEDs use less power and save money.

£5.75
£6.90
(

£6.90

per metre)
Was
£8.50
Save £1.60
Compatible When Used With Our Smart Home Module
IOS tect icon
Android test icon
Alexa test icon
Google Home test icon
Remote Control test icon
Up to
5 year guarantee
on lightbulbs
Free delivery
if order is over £75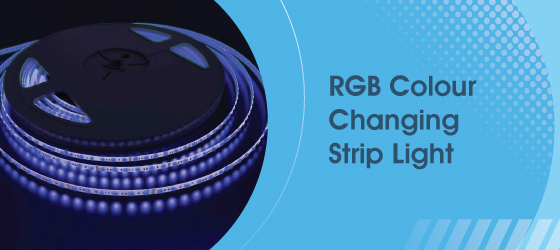 RGB Colour Changing Strip Light
If you're looking for lights that can add some colour to your home, then you better get our RGB LED tape! It has a low voltage (making it inexpensive to run), is flexible, and useful for almost any lighting application in your home or commercial premises. With 60 single LEDs per metre, it's also bright but only consumes 15w per metre.
This RGB colour-changing LED tape can be used in various areas of your home, whether lighting up your living room coving, creating ambient plinth lighting or adding creative accent lighting. Because this strip light is colour-changing, you get access to millions of colours, allowing you to transform the atmosphere in your space to suit your preference!
Cut to Measure
We offer a free bespoke cutting service when you purchase this LED tape. Just let us know the necessary measurements, and we'll prepare them as requested. In addition, will solder a one-metre cable at the ends of the strip light so you can immediately proceed to installation when it arrives. No more measuring, cutting, and soldering!
Just note that this LED strip light is cuttable to the nearest 100mm, so round off the measurements you need to the nearest 100mm. Also, this strip light is sold per metre on our website. If you input 1, it means that you'll get 1 metre. If you have 5 in the quantity section, you'll get 5 metres. Call or email us for custom cutting so we can attend to your request!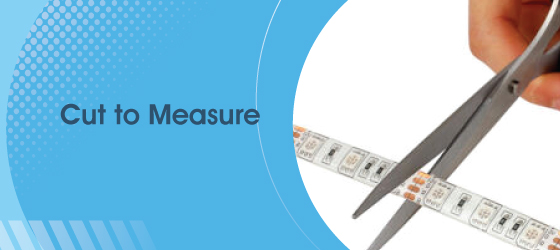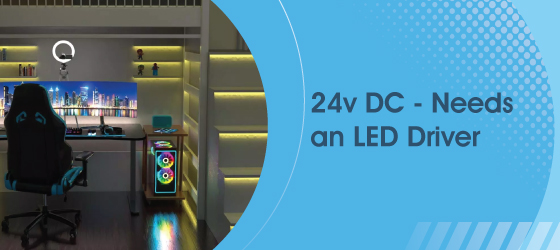 24v DC - Needs an LED Driver
This RGB strip light, as mentioned earlier, is low voltage, so you'll require a dimmable or non-dimmable 24v DC driver to make it run. Wiring it directly to the main power supply will risk ruining your lights. So, ensure that you connect it to a driver and wire the driver to the mains circuit. However, which LED driver should you use?
You will need a 24v driver with the correct wattage to power your chosen length of tape. To compute this, simply multiply the wattage per metre of the LED tape by the number of metres you need. Then, round up (never round down) to the nearest available LED driver.
Various Control Options
Depending on your preference and lifestyle, there are various methods to control this LED strip light. You can pair it with a remote control or mains wall plate if you want something simple and more straightforward, or use it with an App on your phone or smart speakers like Alexa or Google Home for something more advanced! With intelligent controls, you'll be able to manage your lights even when you're not at home (using your smartphone) or use voice command by saying, "Alexa, turn off the kitchen lights", or "Google, dim the living room lights."
You only need to guarantee that you have the correct LED driver with the control option you select. Couple it with a standard LED driver if you plan to use a remote control, mains wall plate or a smart controller.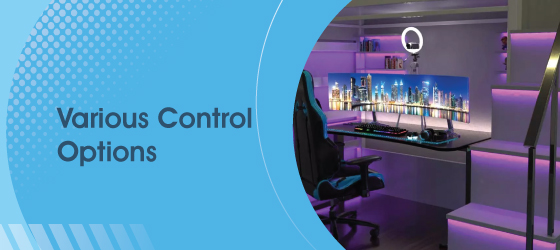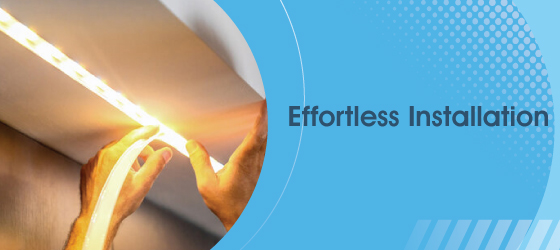 Effortless Installation
Installing this LED strip light is fast and effortless if you have a suitable LED driver and your preferred compatible controller. It is made with a 3M adhesive backing which attaches to almost any surface. All you have to do is wipe down the area where you want your strips to be, peel off the cover of the adhesive and stick! As for the next steps, like wiring, read through the mounting procedure so you'll be guided step-by-step.
If you are not confident doing the DIY-ing installation alone, it is best to call for an electrician. They know electrics better and can guarantee that your strip lights are safely installed!
Commercial Grade
This LED strip light is commercial-grade, so you can expect it to last for a very long time. Also, you can use it for many applications but guarantee that you keep it indoors since it is IP20 rated only. It should be mounted away from areas where water and liquids are constantly present because it does not have enough protection against them. Still, you can add it to your living room, hallways, bedroom, dining room, and more!
In addition, this LED strip light includes a fuss-free 5-year warranty! If you have any concerns or issues regarding this product or any products on our website, feel free to email or call us, so we can attend to your inquiries!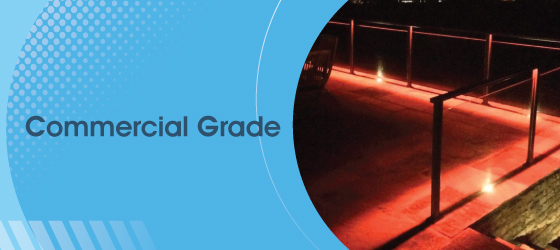 More Information

| | |
| --- | --- |
| Average Life (Hours) | 50,000 |
| LED Strip Type | RGB |
| IP Rating | IP20 |
| LED Colour | RGB (Colour Changing) |
| Beam Angle | 120° |
| Length | Max 10m |
| Dimmable | Dimmable |
| Input Voltage | 24v DC |
| Power | 15w |
| Cable Length | 1000mm |
| Warranty | 5 Years |
| Width | 10mm |
For delivery or returns information, please refer to the page below.