200w LED Driver, 12 or 24v DC
The total electrical power used of the light. A higher wattage no longer guarantee's that the light is brighter. EG: there are LED products which are 5w which is equal in brightness to a 50w incandescent bulb.
Available in 12v and 24v DC
3-year warranty
IP20 - suitable for indoor installations
12v is suitable for a maximum load of 180w and the 24v is suitable for 200w
Working Temperature -40~+70°C
Dimensions: 193 x 67 x 31mm
What are Lumens?
What are lumens?
When you bought an incandescent bulb you knew that a higher wattage meant a brighter light. However, wattage really measures power consumption, not brightness. Lumens measure brightness. You can use the chart below to match the wattage of an incandescent to its LED counterpart. LEDs use less power and save money.

Need Help Choosing?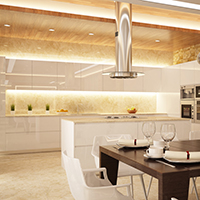 Warm White
Warm lighting is similar to conventional lighting and has a softer feel. This lighting is perfect for living rooms and bedrooms.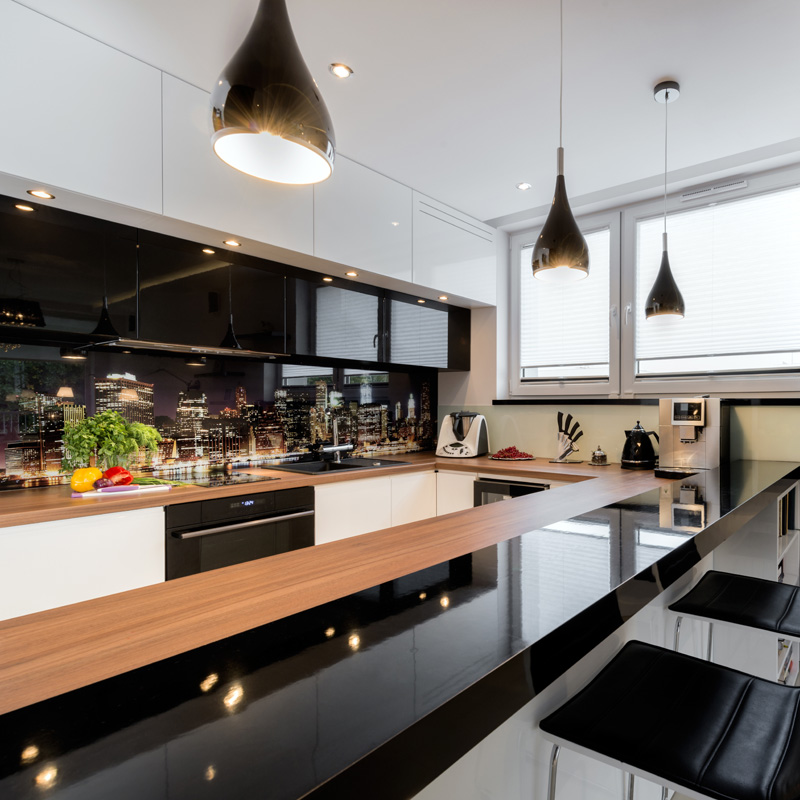 Natural White
Daylight - The colour of the lighting is used to represent 'daylight colour' indoors. It has neither the softness of warm white or the starkness of cool white.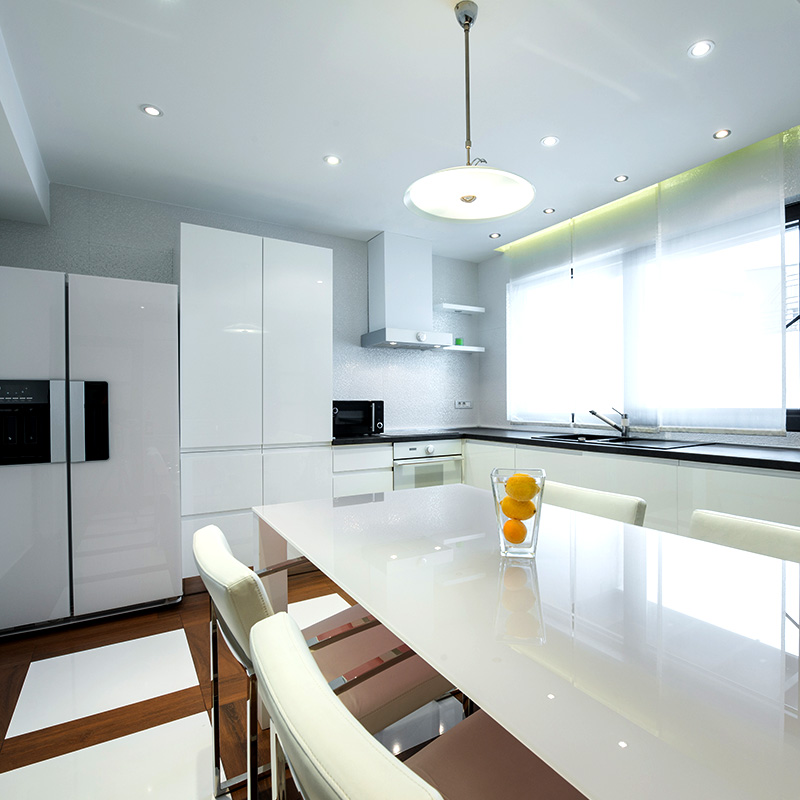 Cool White
Cool white - Is a brighter whiter light and is more suited for the bathroom or kitchen.
£46.66
£55.99
Was
£117.00
Save £61.01
Remote Control test icon
Up to
5 year guarantee
on lightbulbs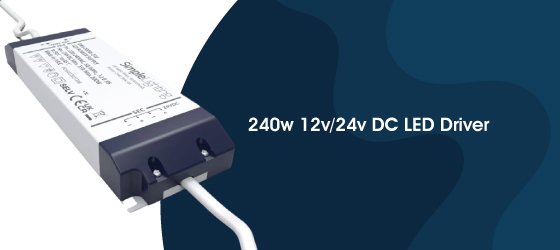 240w 12v/24v DC LED Driver
If you're looking for ways to improve your home, you should start by changing your lights to LEDs. They are one of the best lighting solutions that you can get now because they are energy-efficient, environment-friendly, cost-effective, and long-lasting. LEDs give you the knowledge that you're in good hands because not only can you have an impressive bright home, but you'll also contribute to the environment and save money on your expenses.
While some LEDs are mains powered, meaning you can wire them directly to the mains to make them run, most are not. Usually, cabinet lights and LED tape have a low voltage. That is why you'll need a power supply to make them work like this LED driver that's available in 12v DC and 24v DC!
Effortless to Mount
If you're worried that adding an LED driver to your lighting system will complicate the entire process, you don't have to with this LED driver! It's mains wirable; therefore, you can directly wire it to the mains circuit without adding other devices. Remember to only pair a 12v DC LED driver with a 12v DC fixture and a 24v DC driver with a 24v DC fitting.
It's critical to note that the 12v DC version of this LED driver can only accommodate a maximum load of 180w, while the 24v DC option can carry a maximum of 200w. Please be guided accordingly to avoid overloading the driver and risking your fixtures of damage.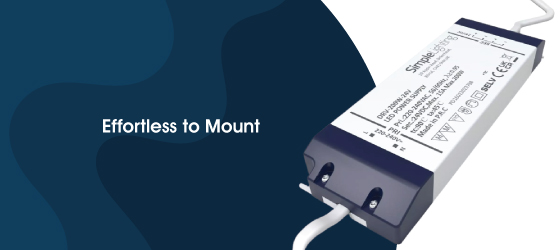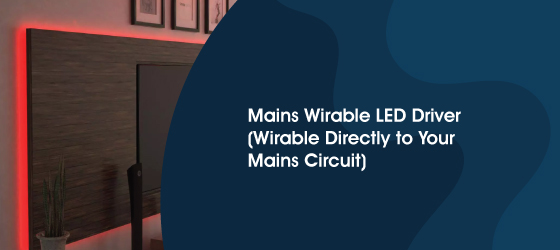 Mains Wirable LED Driver (Wirable Directly to Your Mains Circuit)
As stated before, this LED driver is mains wirable. It means you can wire the driver straight to your mains circuit, streamlining the installation process and giving you multiple ways to power it. You can hardwire the driver straight to the main power supply and manage your fixtures using a regular switch on the wall, or add a plug at the end of the LED driver and plug your fittings into an empty socket.
If you hardwire the driver into the main power supply, you need more technical skill and knowledge. Nonetheless, you'll have a cleaner and more refined setup. Alternatively, if you add a plug, while it's more DIY-friendly, the plug and wire will be noticeable, and you need a nearby available socket.
IP20 Rated - Indoor Applications Only
Because this LED driver is IP20 rated only, it's only suitable for indoor applications. You cannot put it outdoors or in areas where water and liquids are frequently present because it does not have adequate protection to fend them off. Nevertheless, there's nothing to worry about because you can still use it in most of the rooms in your home!
You can pair this LED driver with the under-cabinet lighting in your kitchen, home office, storage room, and wardrobe, or you can use it with the LED strip lights in your living room, hallways, bedroom, dining room, and more! There are so many ways that you can incorporate low-voltage fixtures indoors. You just need to look for inspiration and let your creativity take over!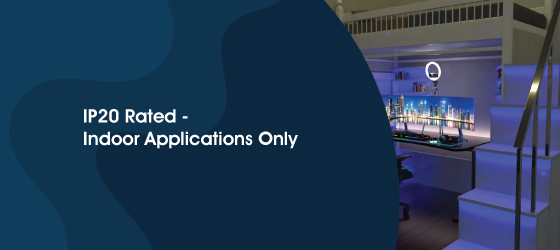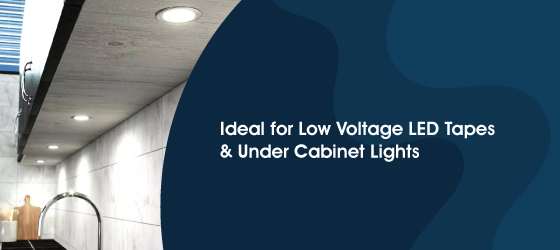 Ideal for Low Voltage LED Tapes & Under Cabinet Lights
You can pair this LED driver with our wide selection of 12v DC and 24v DC under cabinet lights and LED tapes. When choosing which to get, check our product descriptions so you'll know the appropriate power supply to use with your lighting fixtures. This is crucial because if you get the wrong voltage, your lights will not be able to live out their expected long lifespan. That can be disappointing since LEDs tend to last very long!
In the product description of the LED tape and under cabinet lighting, you'll find the recommended number of fittings for a specific driver or ways to compute for the appropriate one. Also, check the technical specifications to know whether you should get a 12v DC or 24v DC driver!
3 Year Warranty
We offer a 3-year warranty on this power supply so you can enjoy a bright home for a long time with peace of mind. Shopping online is excellent since you can purchase nearly anything without leaving your home. However, there's a catch! You cannot be sure of the product's quality, whether or not it will be the same as the photos you saw on the website. So, we hope that with this extended guarantee, our confidence in this LED driver will be reflected and, in turn, encourage you to purchase it!
If you have any concerns about this LED driver or any of the lighting products on our websites, you can call or email us!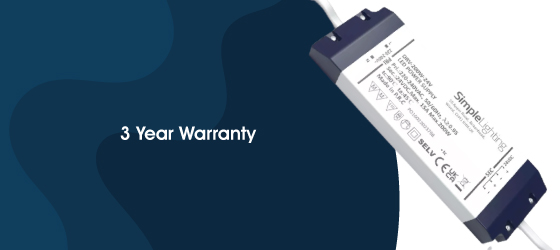 More Information

| | |
| --- | --- |
| Quick Order Code | DRV-200W |
| Switch Type | Rocker Switch |
| Length | 193mm |
| Width | 67mm |
| Height | 31.2mm |
| IP Rating | IP20 |
| Dimmable | Non-Dimmable |
| Input Voltage | 220-240v |
| Power | 200w |
| Warranty | 3 Years |
For delivery or returns information, please refer to the page below.