Surface Mounted LED Under Cabinet Light - Dotless Design
The total electrical power used of the light. A higher wattage no longer guarantee's that the light is brighter. EG: there are LED products which are 5w which is equal in brightness to a 50w incandescent bulb.
Brushed chrome finish
Available in two fantastic LED colours
2-metre cable
Dimmable
3-year warranty
What are Lumens?
What are lumens?
When you bought an incandescent bulb you knew that a higher wattage meant a brighter light. However, wattage really measures power consumption, not brightness. Lumens measure brightness. You can use the chart below to match the wattage of an incandescent to its LED counterpart. LEDs use less power and save money.

Need Help Choosing?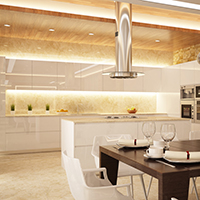 Warm White
Warm lighting is similar to conventional lighting and has a softer feel. This lighting is perfect for living rooms and bedrooms.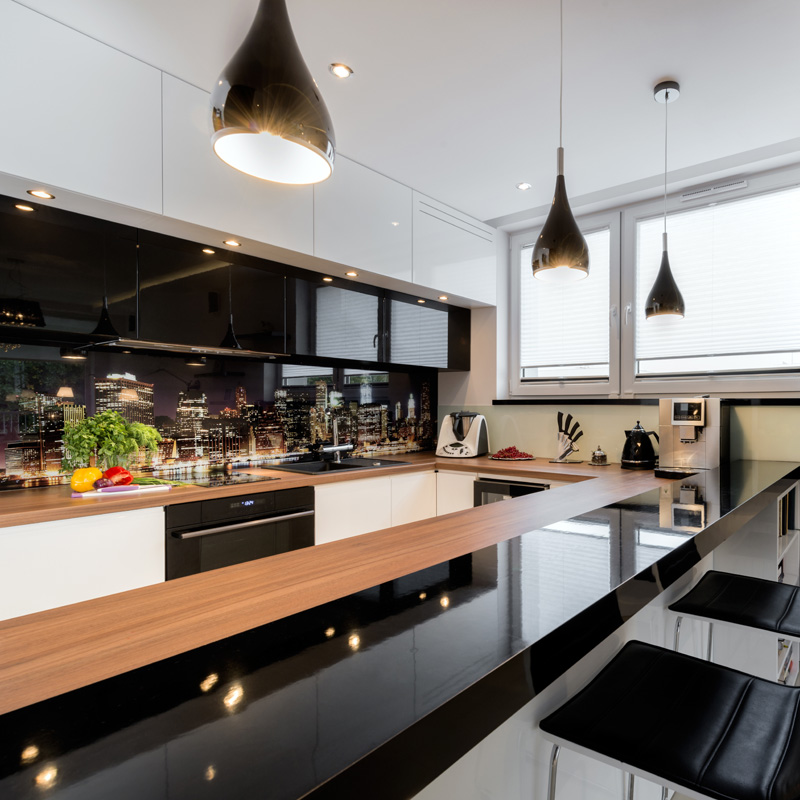 Natural White
Daylight - The colour of the lighting is used to represent 'daylight colour' indoors. It has neither the softness of warm white or the starkness of cool white.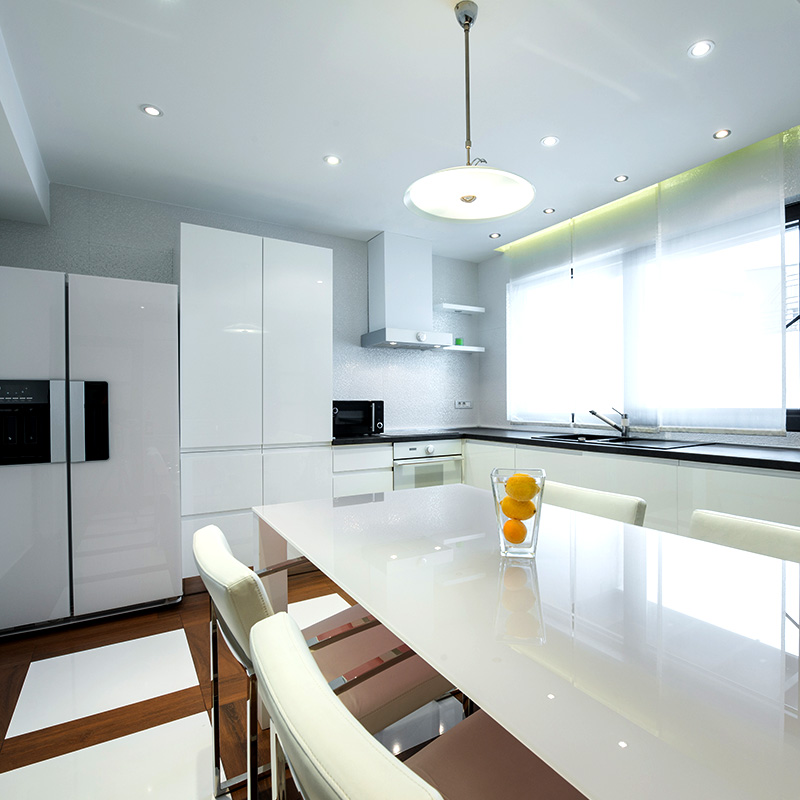 Cool White
Cool white - Is a brighter whiter light and is more suited for the bathroom or kitchen.
£9.12
£10.95
Was
£17.50
Save £6.55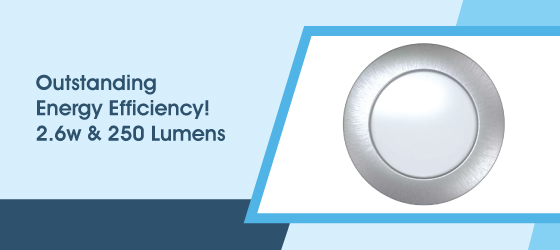 Outstanding Energy Efficiency! 2.6w & 250 Lumens
One of the most significant additions to our LED under cabinet lighting range, this dotless LED under cabinet lighting contains the best branded LED chips, uses a specially designed diffused cover that eliminates any visible LED dots and creates an even 120-degree beam angle, with no dark spots. This LED under cabinet lighting is a perfect replacement for older and less efficient halogen lights, with the same light quality and reduced energy usage.
Each LED under cabinet lighting requires just 2.6w of power and provides 250 lumens of brightness. This makes these incredible under cabinet lights super energy efficient, as well as creating a stunning, widespread illumination of work surfaces.
Available in Warm White (3000K) or Natural White (4000K)
Our LED under cabinet lighting is available in two fantastic LED colours! You can choose between warm white (3000K), which is perfect for areas where you like to relax or natural white (4000K), which is excellent as task lighting.
Warm white light has a yellowish shade like an old incandescent bulb and is suitable for ambient lighting. It's the perfect company when you're drinking a glass of wine in your dining room! Alternatively, natural white has no shades of blue or yellow and resembles a cloudless sunny day. This colour temperature is perfect for kitchen counters as it can help you see everything clearly when you chop, peel, dice, or mince!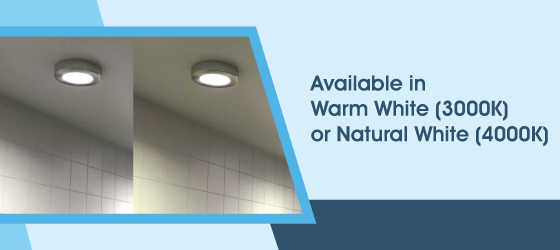 12v DC - Needs a LED Driver
Since this LED under cabinet light is 12v DC, you'll need an LED driver to make it work. If you wire it directly to the mains circuit, it may malfunction and ruin your lights!
To know the appropriate LED driver to use with a specific number of under cabinet lights, here's what we recommend! If you will use an 8w LED driver, you can run up to 2 lights. If you're using a 15w LED driver, you can connect a maximum of 5 lights. For a 20w LED driver, it's safe to run up to 6 lights. It's crucial never to overload the LED driver. Ensure you go through these guidelines to guarantee that your lighting system will function smoothly!
Different Control Methods
There are so many ways for you to control your LED cabinet lights. You can do the basic set-up wherein the driver is wired into the mains or plugged into a plug socket, then switch on or off by the wall switch. There's also an option to use a remote control to dim the brightness from 1-100% and turn the cabinet lights on/off. If you want to control your lighting on a traditional wall dimmer, install a dimmable LED driver and ensure that your dimmer is LED-compatible.
This LED under cabinet lighting has a cable length of 2 metres that needs to be plugged into the LED driver (as do any other under cabinet lights you're installing). If the 2-metre cable isn't long enough, we offer a simple plug-and-play extension cable (available in 2m or 5m) for this cabinet light.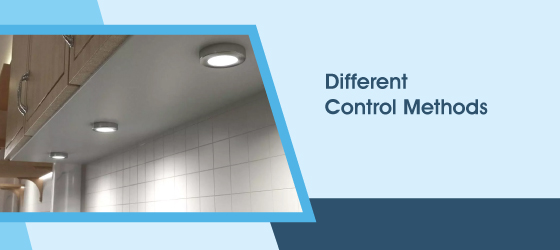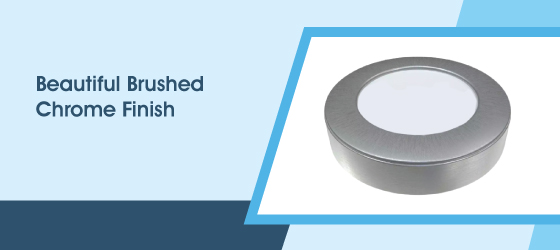 Beautiful Brushed Chrome Finish
This stylish LED under cabinet lighting is gorgeous! It has a stunning brushed chrome finish that will enhance any interior design, whether modern or traditional! Aside from that, because it is IP44-rated, this under cabinet light is perfect for areas that can become damp, such as your kitchen or bathroom!
Many people are making the switch to our LED under cabinet lighting over halogen. Its energy-saving benefits have been apparent for years, and now, our latest design allows for the same range and quality of light at a much lower cost. So, if you haven't made the switch, you might be losing on the benefits that you should be enjoying!
3 Year Warranty
We happily offer a 3-year warranty with this LED under cabinet lighting! We understand that shopping online has pros and cons. While you can purchase nearly anything without leaving your home and walking around the store, there's no assurance whether or not the product you'll receive will have the quality you expect. So, with this extended guarantee, we hope that the confidence we have in this under cabinet light will be reflected and, in turn, encourage you to purchase it!
If you have any questions about this cabinet light or any of the products on our website, feel free to call or email us, and we'll gladly answer your inquiries!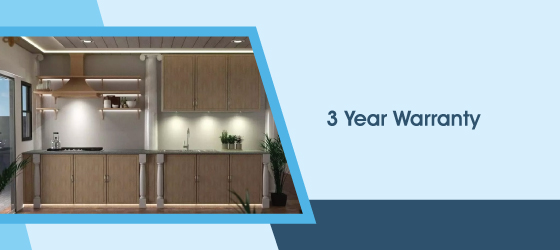 More Information

| | |
| --- | --- |
| Cable Length | 2 Metres |
| Average Life (Hours) | 30,000 |
| Height | 15mm |
| IP Rating | IP44 |
| Finish | Brushed Chrome/Nickel |
| Beam Angle | 120° |
| Lumens | 250 |
| Diameter | 65mm |
| Dimmable | Dimmable |
| Input Voltage | 12v DC |
| Power | 2.6w |
| Warranty | 3 Years |
For delivery or returns information, please refer to the page below.