12w Cool White LED Tape - 120 LEDs P/M - 6000K
A measure to the brightness of a LED Light. Example being 320 lumens would be the equivalent in brightness to a old fashioned 50w Halogen spot light.
Cut To Measure - personalised to your requirements.
We solder a 2m long wire onto the end of each LED Strip for you.
Available in any length between 0.025m to 10m long (25mm to 10,000mm).
5 Year Warranty
Ultra Bright - high lumens per metre
Dimmable through remote control, mains wall dimmer or through our APP & smart speaker (Sold Separately).

Order online or call 0333 443 2465
What are Lumens?
What are lumens?
When you bought an incandescent bulb you knew that a higher wattage meant a brighter light. However, wattage really measures power consumption, not brightness. Lumens measure brightness. You can use the chart below to match the wattage of an incandescent to its LED counterpart. LEDs use less power and save money.

£6.25
£7.50
(

£7.50

per metre)
Was
£12.00
Save £4.50
Compatible When Used With Our Smart Home Module
IOS tect icon
Android test icon
Alexa test icon
Google Home test icon
Remote Control test icon
Up to
5 year guarantee
on lightbulbs
Free delivery
if order is over £75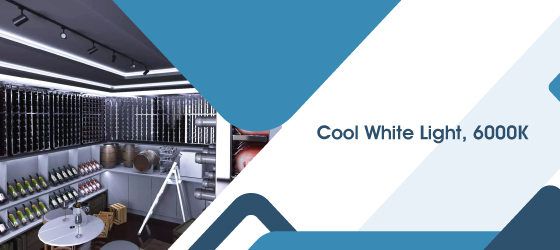 Cool White Light, 6000K
This LED strip light can produce a cool white light colour temperature (6000K). If natural white light has no hints of blue or yellow and warm white light has a yellowish tone, cool white light has a crisp bluish shade. It is perfect for task lighting as it makes an individual focus and a space more functional!
With the versatility of strip lights and this cool white LED colour, you can use it in many areas, including underneath shelving units and cupboards, inside display cabinets, on kickboards, etc. Also, you can use it for commercial applications (display lighting) and residential lighting in hard-to-illuminate parts of your home (garages or basements).
Cut to Measure
We offer a free bespoke cutting service when you purchase this LED strip light. This means we will cut it to suit your specific length requirements, so you don't need to purchase more than what your project requires. In addition, we'll also solder a 2-metre cable onto the end for easy installation! Please note that we can only cut this LED tape every 25mm, so when you place your order, round down to the nearest 25mm.
This LED strip light is sold per metre on our website, so when you input 3, you'll get a continuous three meters, and if you put 5 in the quantity section, you'll get five metres.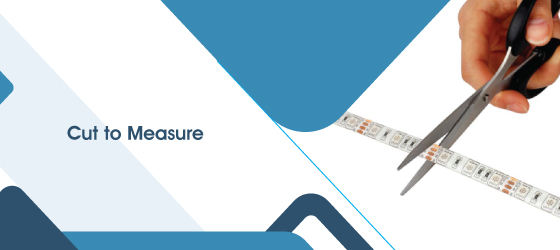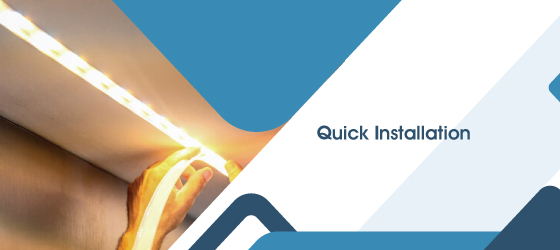 Quick Installation
Mounting this LED strip light will not give you a headache as long as you prepare the compatible driver and controller and go through the installation manual. Also, make sure that you wipe the surface where you'll mount the strips clean so they will not have any issues adhering.
After doing all the prep work, peel the cover of the 3M adhesive backing and stick it to your selected, dust-free surface! As for the wiring and other connections, review the mounting guide so you know the step-by-step procedure. If you're not confident doing the installation yourself, it's better to call for an electrician. That way, you know your strip lights are mounted correctly, and you won't put yourself at risk!
12v DC - Need an LED Driver
This is a 12v DC LED strip, so it needs a 12v DC LED driver to run. However, what kind of 12v DC LED driver should you buy? To determine the suitable driver for your strip lights, you must identify the total length you'll use and their wattage per metre.
If you want to power four metres of LED tape using one LED driver, multiply four metres by the wattage per metre (in this case, 12w), so you will be using a total of 48w for four metres. Choose the driver closest to this wattage (50w). Remember to round up, not down, when choosing your LED driver so it won't overload.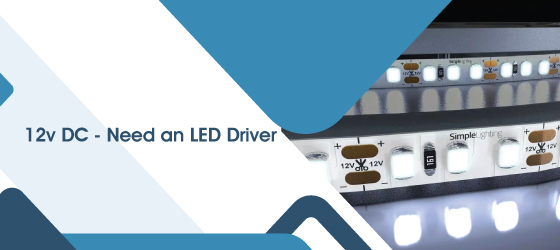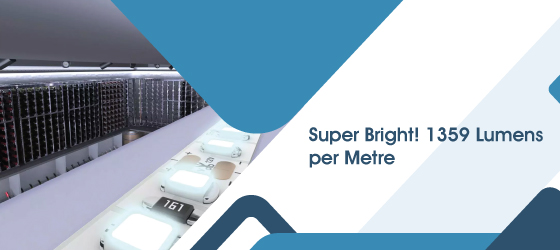 Super Bright! 1359 Lumens per Metre
This LED strip light has 120 top-quality LED chips per metre, so it is incredibly bright. However, when you do not need your lights to be so bright, you can effortlessly dim them since these LED strip lights are dimmable.
Aside from that, this LED strip light only requires a minimal 12w per metre to produce 1359 lumens maximum brightness with a 120-degree beam angle! Plus, it has an extended average lifespan of 50,000 hours which is ten times longer than an average non-LED lighting fixture! So, if you want to surround your space with stunning brilliance without breaking the bank, switch to this LED strip light. It's energy-efficient, long-lasting and eco-friendly!
Multiple Control Options
You can control this LED strip light in various methods. You only need to get the appropriate LED driver to guarantee that it will work.
If you don't need dimmable LED strip lights, or if you plan to dim it with one of our remote controls or wall plates, then you will need to purchase a standard LED driver to make them work. Alternatively, if you plan to use a traditional wall dimmer (the type where you turn a knob to control the brightness) to manage your LED tape, you will need to purchase a dimmable LED driver. Just don't forget to check if the traditional wall dimmer is LED-compatible!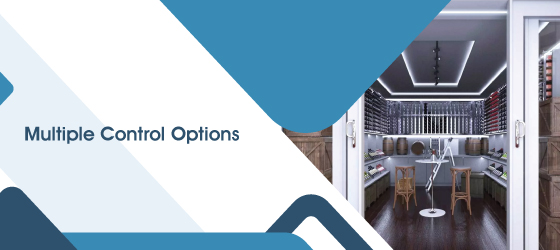 More Information

| | |
| --- | --- |
| Average Life (Hours) | 50,000 |
| LED Strip Type | Single Colour |
| IP Rating | IP20 |
| LED Colour | Cool White 6000K |
| Beam Angle | 120° |
| Length | Max 14m |
| Lumens | 1359 |
| Dimmable | Dimmable |
| Input Voltage | 12v DC |
| Power | 12w |
| Cable Length | 2 Metres |
| Warranty | 5 Years |
| Width | 8mm |
For delivery or returns information, please refer to the page below.