Triangle LED Under-Cabinet Light, 1.8w LED - Cool White or Warm White LED
A measure to the brightness of a LED Light. Example being 320 lumens would be the equivalent in brightness to a old fashioned 50w Halogen spot light.
Beautiful stainless steel finish
Available in cool white light and warm white light
Unique triangle, wedge-shape design
120 lumens with 65-degree beam angle
3-year warranty
What are Lumens?
What are lumens?
When you bought an incandescent bulb you knew that a higher wattage meant a brighter light. However, wattage really measures power consumption, not brightness. Lumens measure brightness. You can use the chart below to match the wattage of an incandescent to its LED counterpart. LEDs use less power and save money.

Need Help Choosing?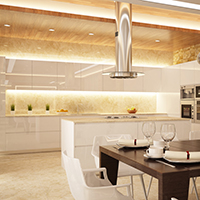 Warm White
Warm lighting is similar to conventional lighting and has a softer feel. This lighting is perfect for living rooms and bedrooms.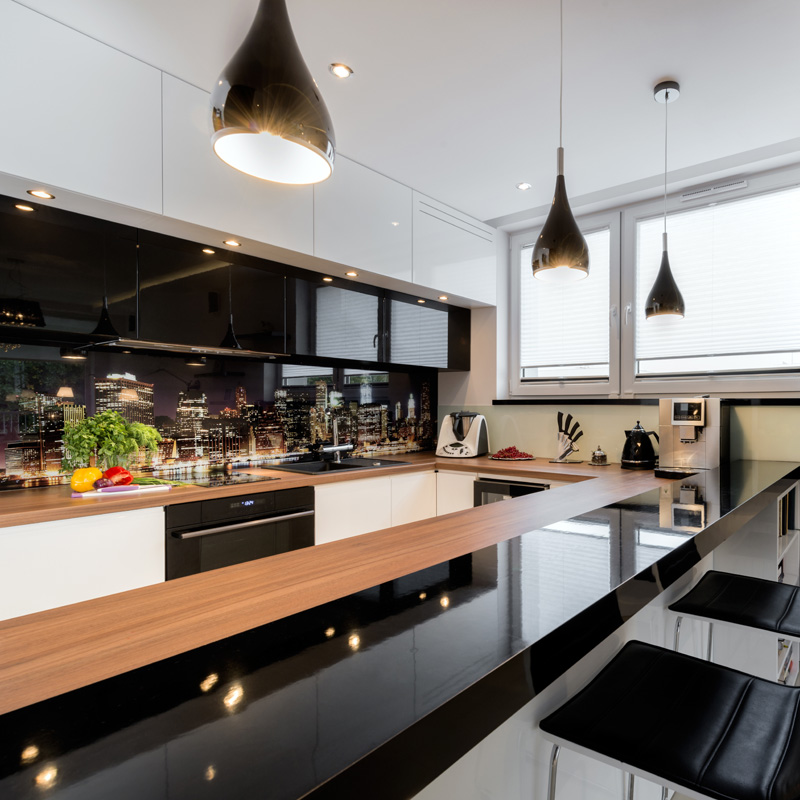 Natural White
Daylight - The colour of the lighting is used to represent 'daylight colour' indoors. It has neither the softness of warm white or the starkness of cool white.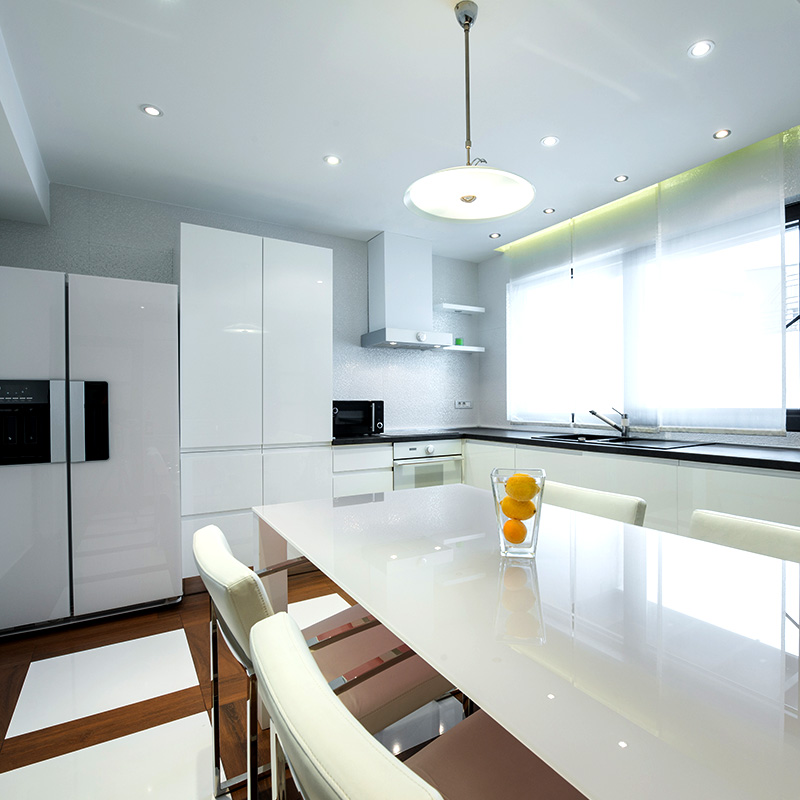 Cool White
Cool white - Is a brighter whiter light and is more suited for the bathroom or kitchen.
£6.66
£7.99
Was
£9.99
Save £2.00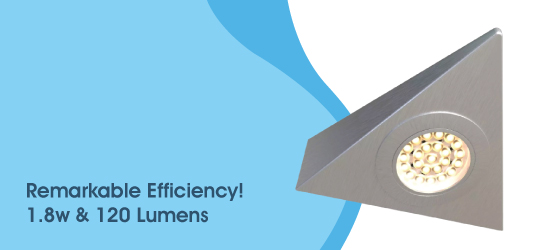 Remarkable Efficiency! 1.8w & 120 Lumens
This beautiful triangle LED under cabinet light is the perfect way to light your not only your but also useful in a variety of other spaces, such as the office, bedrooms & dining areas. It's even dimmable when used with the correct equipment!
Above all else, this triangle under cabinet light has remarkable efficiency that non-LED fittings cannot rival! While only consuming a minimal 1.8w of power, it can produce 120 lumens maximum brightness with a 65-degree beam angle! Also, it can last for 20,000 hours, which is ten times longer than a halogen bulb. So, if you want to lessen your electrical and maintenance expenses, switch to this LED cabinet light!
Select Between Warm White Light or Cool White Light
You can get this triangle under cabinet lighting in two LED colours, including cool white and warm white light. If you have no idea how they differ, here's what you need to know!
Cool white is ideal for task lighting because its crisp bluish tone can keep you focused and make the space more functional. On the other hand, warm white light is perfect for ambient lighting because its yellowish shade can create a relaxing atmosphere!
Please note: In the cool white LED option ONLY, you might find that you get a slight yellow halo effect around the edge of where the light shines onto a wall. Some of our customers love this, but some don't. It's a case of personal preference. We just want you to buy it with complete info.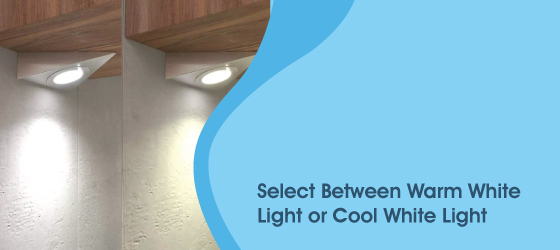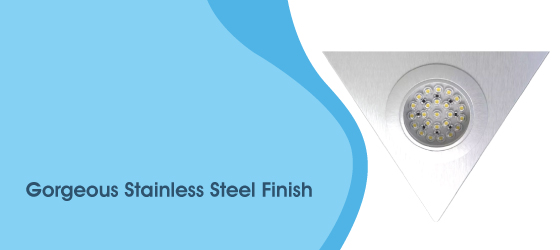 Gorgeous Stainless Steel Finish
Designed with a gorgeous stainless steel finish, this LED under cabinet light will not have difficulty matching your existing decor and furniture pieces! Even if you decide to change your interior into a rustic, modern, traditional, or retro theme, this cabinet light will blend in effortlessly as if it's intended to be there from the beginning.
A neutral lighting fixture like this cabinet light will give you the freedom to try different aesthetics. Since it's not too customised to fit a specific design, you won't be boxed in a particular look. So, if you're the type of homeowner who constantly re-styles their home to fit a certain season or holiday, this LED under cabinet light is the perfect companion to keep up with your ideas!
IP44 Rated; Water-Resistant
This triangle cabinet light is IP44-rated, meaning it's water-resistant! Even if jets and splashes of water come into contact with this fitting, it will not short-circuit or malfunction. So, it's safe to install near water sources like the sink in your kitchen or the one in your bathroom (as long as it's not too near the bathroom's zone 1).
Just keep in mind that while this cabinet light is water-resistant, it's not 100% waterproof. So, if you need to install lights that are going to be submerged underwater, you need to look for one with an even higher IP rating. Yes, it can fend off water splashes. However, complete submersion is not within its protective capability!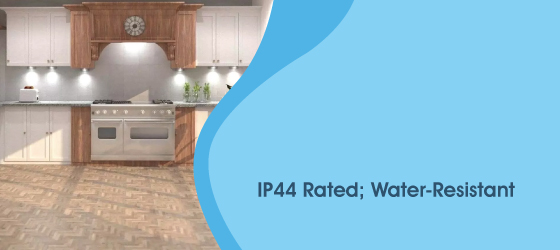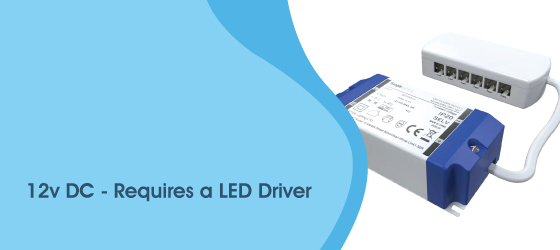 12v DC - Requires a LED Driver
Since this is a 12v DC LED under cabinet light, you'll need an LED driver to make it work. Then, you can plug the light into the LED driver with the attached micro plug, and the driver can be either wired into the mains to control it with a light switch, or you can wire a plug onto the end and simply plug it into a spare socket - easy!
Here are our recommendations to know which driver to use for a specific number of cabinet lights. You'll need an 8w LED driver if you get four lights. To power up to six lights, you'll need a 15w LED driver. This triangle under cabinet light comes with a 2-metre-long cable. If you require a longer line to reach the LED driver (each light must be separately wired back to the driver), we have extension cables to help.
Various Control Options
Installation of this triangle under cabinet light is quick and easy, and there are many ways to control it once installed. You can do the basic setup, which allows you to switch the fittings on and off by the light switch on the wall or plug socket. No extra equipment is needed other than an LED driver.
If you want something more convenient, you can use our unique remote control that will allow you to dim the brightness from 1-100% and turn the cabinet lights on and off. There's also the option of using our smart controls for voice commands! If you want to control your lighting using a traditional wall dimmer, then you need to install a dimmable LED driver and ensure you're using an LED-compatible wall dimmer. Please note that the dimmable LED driver has a minimum load requirement of 3w (2 lights) to operate correctly.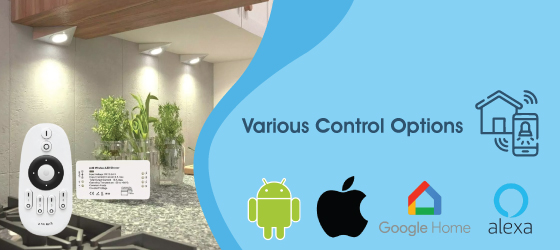 More Information

| | |
| --- | --- |
| Cable Length | 2 Metres |
| Length | 150mm |
| Width | 126mm |
| Average Life (Hours) | 20,000 |
| Height | 50mm |
| IP Rating | IP44 |
| Finish | Stainless Steel |
| Beam Angle | 65° |
| Lumens | 120 |
| Dimmable | Dimmable |
| Input Voltage | 12v DC |
| Power | 1.8w |
| Warranty | 3 Years |
For delivery or returns information, please refer to the page below.