Pack of 5 Sirius Grace LED Over/Under-Cabinet Lights with 15w LED Driver
The total electrical power used of the light. A higher wattage no longer guarantee's that the light is brighter. EG: there are LED products which are 5w which is equal in brightness to a 50w incandescent bulb.
Pack of 5 over/under LED cabinet lights
Dimmable when used with a dimmable LED Driver or a handheld remote control dimmer
Dimensions: 148mm (l) x 30mm (w) x 10mm (h)
Aluminium body
Supplied with a 15w LED driver
Natural white light, 4000K
3-year warranty
What are Lumens?
What are lumens?
When you bought an incandescent bulb you knew that a higher wattage meant a brighter light. However, wattage really measures power consumption, not brightness. Lumens measure brightness. You can use the chart below to match the wattage of an incandescent to its LED counterpart. LEDs use less power and save money.

Need Help Choosing?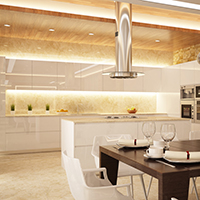 Warm White
Warm lighting is similar to conventional lighting and has a softer feel. This lighting is perfect for living rooms and bedrooms.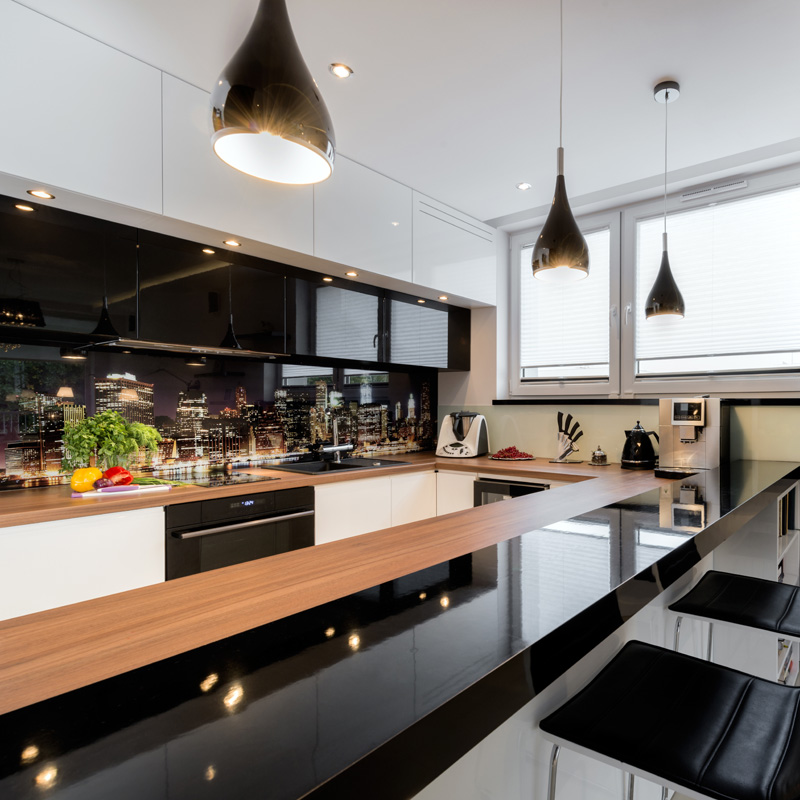 Natural White
Daylight - The colour of the lighting is used to represent 'daylight colour' indoors. It has neither the softness of warm white or the starkness of cool white.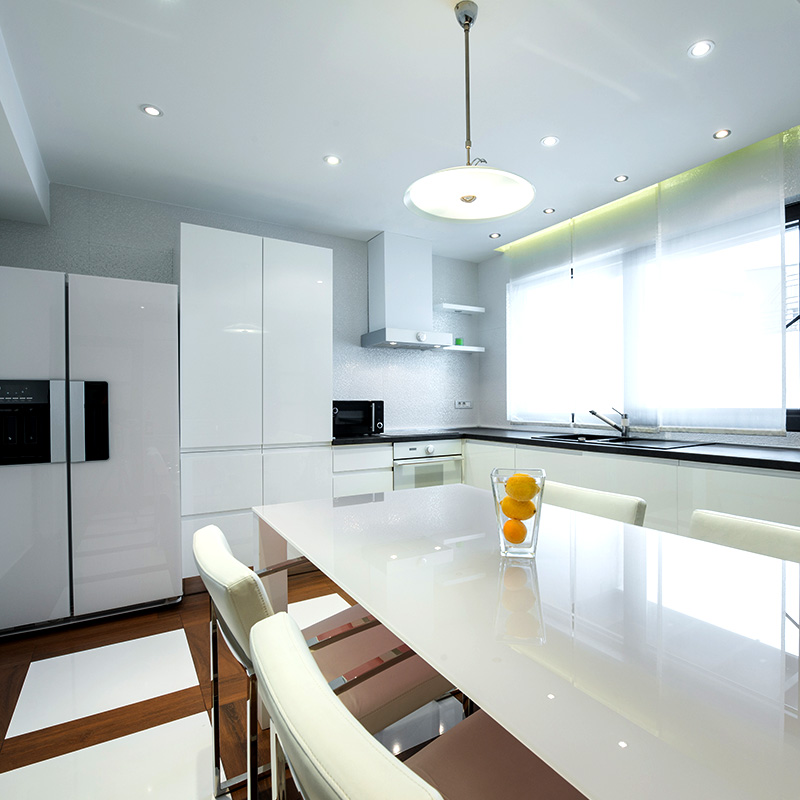 Cool White
Cool white - Is a brighter whiter light and is more suited for the bathroom or kitchen.
£70.75
£84.90
Was
£109.99
Save £25.09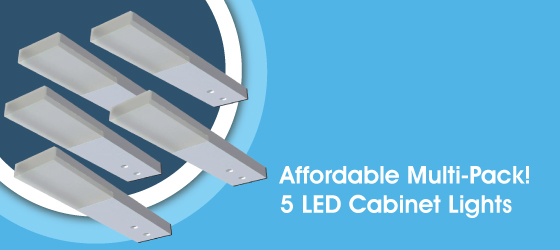 Affordable Multi-Pack! 5 LED Cabinet Lights
Adequately lighting a space will not only enhance its aesthetics but it'll also boost its functionality and safety! A single overhead fitting is not enough to deliver sufficient illumination in every corner of the room. Some obstructions can block the light, so you need other fittings to take care of those shadowy areas!
This LED cabinet light is an excellent lighting solution that can brighten your workspaces and fortify your general lighting. It's versatile and packed with many benefits that you should not pass up. Aside from that, when you purchase this bundle, you'll have access to five premium-quality LED cabinet lights, which are a perfect starter for your makeover or construction project!
Natural White LED Colour, 4000K
This LED cabinet light can produce a natural white LED colour (4000K). If cool white has a crisp bluish tone and warm white light has a yellowish shade that is similar to an old incandescent bulb, natural white light has no hints of blue or yellow. It's like a cloudless sunny day and sits right in the middle of the spectrum!
Natural white light is commonly used for task lighting. It's stunningly bright, but it's comfortable on the eyes. Because of this, you won't experience eye strain, headache or migraine even if you use it for extended hours. Natural white light can give you a healthy work environment that will ensure productivity!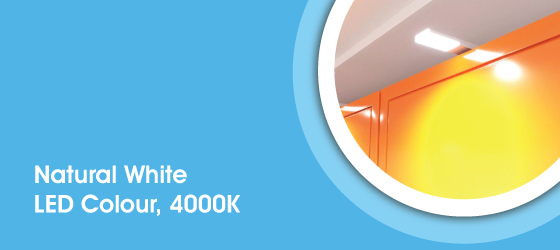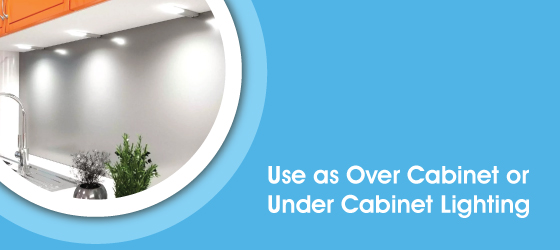 Use as Over Cabinet or Under Cabinet Lighting
What's notable about this LED cabinet light is you can use it as over cabinet lighting or under cabinet light. If you like matching your lighting fixture, this versatile cabinet lighting is perfect for you. Also, since it's a pack of five, you can mount some under the cabinet and install others over!
Besides that, this LED cabinet light is 148mm long, 30mm wide, and 10mm tall. It has an aluminium body with a lovely satin silver finish that complements any interior design scheme, whether it's traditional, minimalist, rustic, modern, retro, and more! Even with your existing decor and furniture pieces, this cabinet lighting will not have any difficulty blending in.
Remarkable Energy Efficiency! 2.6w & 127.5 Lumens
LED lights are cost-effective, long-lasting, low maintenance, and eco-friendly. However, that is just the tip of the iceberg. What makes LED lighting better than traditional lighting is its unparalleled energy efficiency! It can convert most of the electricity it consumes into light with very minimal becoming waste (heat). As a result, even if they run at a relatively low wattage, LED lighting can still showcase outstanding illumination!
Fueled by that same technology, this LED cabinet light only requires 2.6w of power each to produce 127.5 lumens maximum brightness with a wide 110-degree beam angle. In addition, it can last for 30,000 hours, which is ten times longer than an incandescent bulb!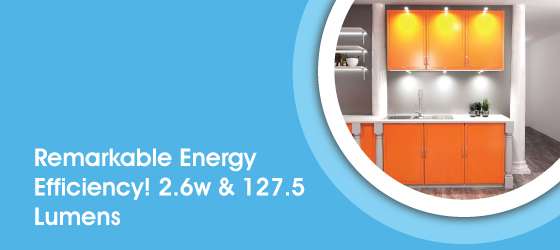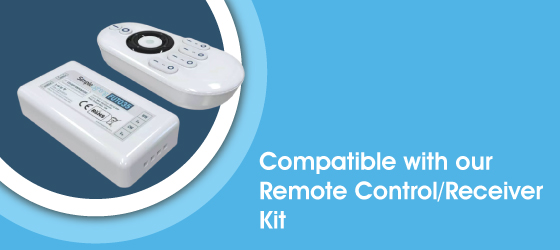 Compatible with our Remote Control/Receiver Kit
This LED cabinet light is dimmable when paired with a dimmable LED driver and an LED-compatible wall dimmer. You can also use our remote-controller kit (which requires a non-dimmable driver) to conveniently manage your lights with a handy remote control! If you don't plan to utilise the dimming function of this LED cabinet light, you can link the driver to the mains circuit to switch the fixture on/off with a light switch or add a plug at the end of the driver and plug it into a socket!
In addition, we also have a 2m or 5m long plug-and-play extension cable, which allows you to extend beyond the 2m long cable attached to the cabinet light.
12v DC - Included a 15w LED Driver
Since this LED cabinet light is 12v DC, you'll need an LED driver to make it work. Thankfully, this bundle already includes the compatible LED driver to power the cabinet lights! Besides the five LED cabinet lights, you'll get a 15w LED driver.
Please keep in mind that you cannot overload the LED driver. Ensure that you read through the product descriptions and stick with the recommendations because if you go beyond the limit, it's not just the driver that will get damaged. There's a possibility that your lights and your lighting system will be at risk! If you've never dealt with electrics and lighting fixtures, buying kits like this is better than separately purchasing the fitting and power supply.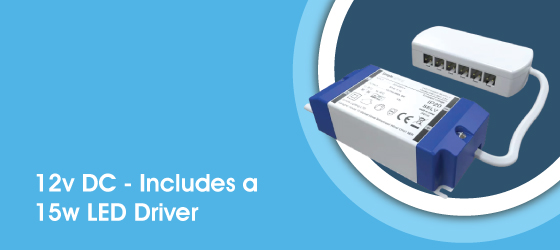 More Information

| | |
| --- | --- |
| Cable Length | 2 Metres |
| Length | 148mm |
| Width | 30mm |
| Average Life (Hours) | 30,000 |
| Height | 10mm |
| IP Rating | IP20 |
| Finish | Satin Silver |
| LED Colour | Natural White 4000K |
| Beam Angle | 110° |
| Dimmable | Non-Dimmable |
| Input Voltage | 220-240v |
| Power | 2.6w |
| Warranty | 3 Years |
For delivery or returns information, please refer to the page below.