Dimmable, Fire Rated, Adjustable GU10 Downlight in Brushed Chrome, White or Chrome
Available in 4 different finishes
Independently tested to ensure they meet all relevant BS standards
Fire-rated to 90 minutes
Cut out hole: 75mm
Downlight Diameter: 85mm
3-year warranty
What are Lumens?
What are lumens?
When you bought an incandescent bulb you knew that a higher wattage meant a brighter light. However, wattage really measures power consumption, not brightness. Lumens measure brightness. You can use the chart below to match the wattage of an incandescent to its LED counterpart. LEDs use less power and save money.

Need Help Choosing?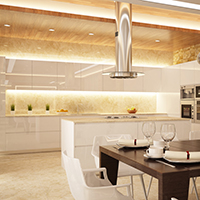 Warm White
Warm lighting is similar to conventional lighting and has a softer feel. This lighting is perfect for living rooms and bedrooms.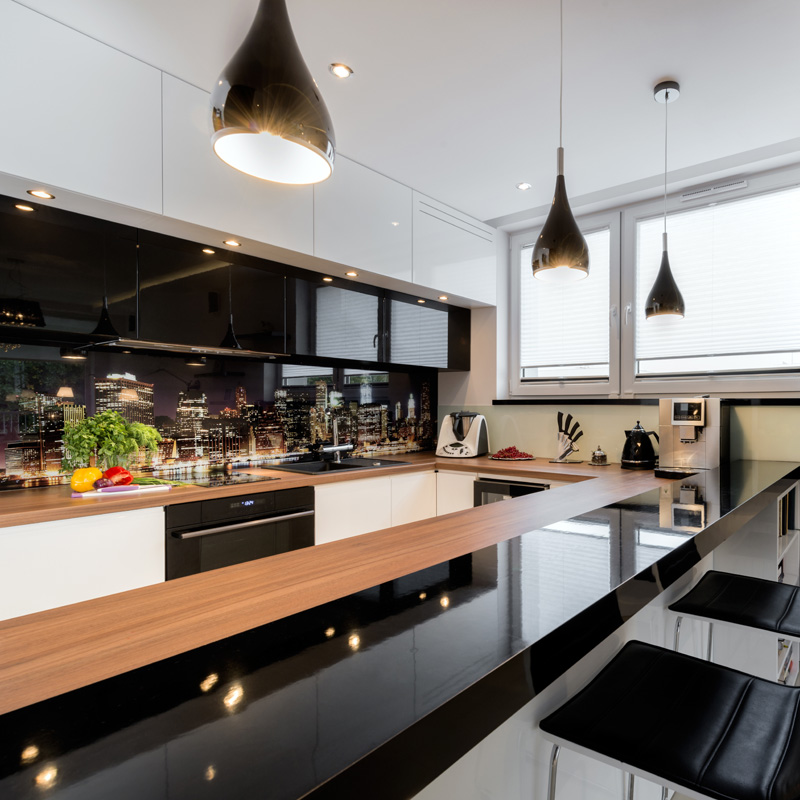 Natural White
Daylight - The colour of the lighting is used to represent 'daylight colour' indoors. It has neither the softness of warm white or the starkness of cool white.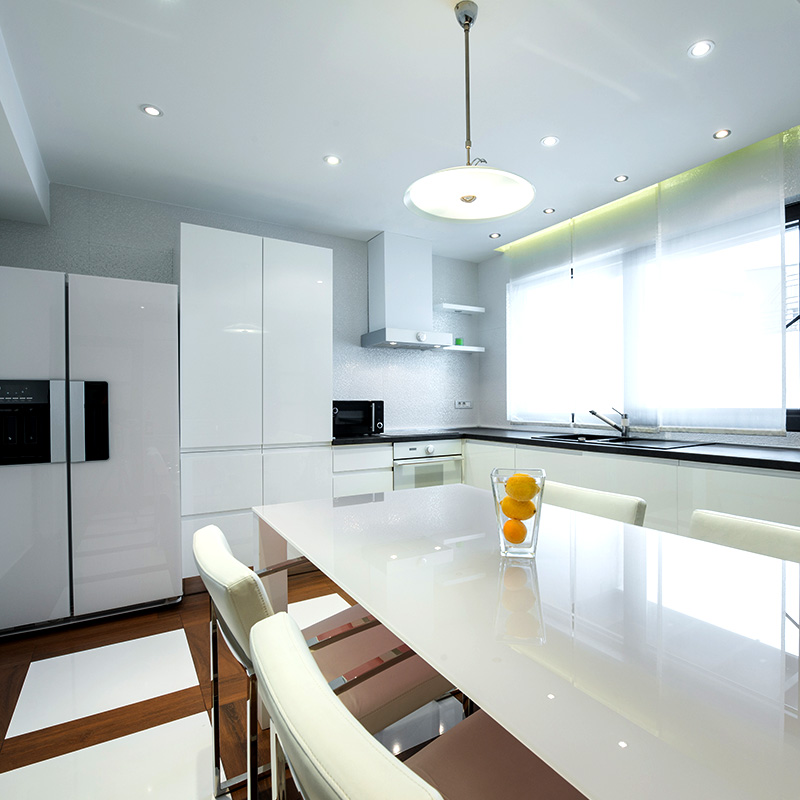 Cool White
Cool white - Is a brighter whiter light and is more suited for the bathroom or kitchen.
£3.75
£4.50
Was
£11.95
Save £7.45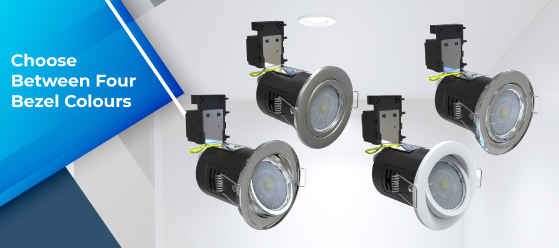 Choose Between Four Bezel Colours
If you prefer to give each room in your home a different identity, but want your lights to look similar yet diverse, then you'll need this adjustable LED downlight! You can choose between four bezels and adjust the beams to create a unique lighting design. It's available in polished brass, polished chrome, brushed chrome and white, giving you individuality and uniformity in a perfect balance!
You can place this downlight in various parts of your home (except the bathroom, IP20 only) and match the bezel with the room's theme! Polished and brushed chrome is ideal for a modern and sleek aesthetic, while polished brass looks lovely in a modern traditional interior. White, on the other hand, will look sublime in a minimalist style!
Adjustable Downlight
While fixed downlights have their own charm, an adjustable one is just undeniably more captivating simply because it's movable! However, do you really need an adjustable downlight? In most cases, and if your budget permits, yes! With a tiltable gimbal, you're lighting design can elevate higher than with stationary beams. You can create patterns, highlight key features, and bring more depth and dimension into the room!
In addition, it's also beneficial for task lighting since you can pinpoint where your light needs to be. For multi-function spaces like the kitchen or dining area, this downlight will give you flexibility and will be able to keep up with the lighting requirements of the room!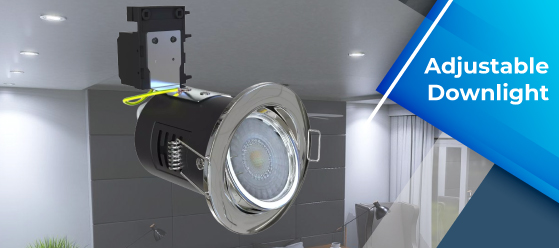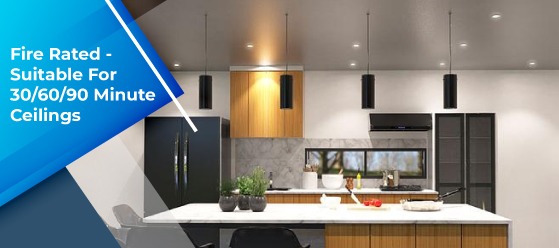 Fire Rated - Suitable For 30/60/90 Minute Ceilings
Recessed lighting can weaken your space's fire integrity because you're cutting a hole into your ceiling. Even if your downlight fills the void, it's not 100% sealed and does not restore its original state. To avoid this, it's better to look for fire-rated downlights, like this one which is ideal for 30, 60 and 90-minute ceilings, so you are fully fire-protected!
Fire-rated downlights are similar to regular recessed downlights, where you still need to cut a hole in the ceiling to mount the fixture. The only difference is it has an intumescent pad that reseals the hole you cut and fortifies your ceiling to prolong the time when the fire will spread. This is a critical feature to have in your home because it'll give you more time to exit if an unforeseen circumstance happens.
GU10 Downlight - 230v No Need For Any Transformers
Installing this adjustable downlight is relatively easy. Well, you still have to measure, space out and cut holes. However, wiring becomes less tedious because you don't need to add any transformers to make it work. It's mains powered, so after you're done with all the pre-wiring necessities, you just need to connect your downlight to the mains circuit, and you're done! Of course, you'll still have to add a GU10 bulb at the end of the process!
Oh, before you add a regular GU10 bulb, consider using a dimmable option. This fixture is dimmable, so with a dimmable bulb and a compatible dimmer switch, you'll be able to play with the brightness of your lights!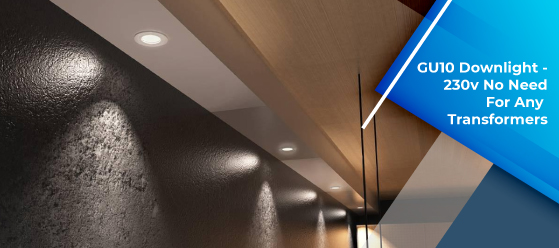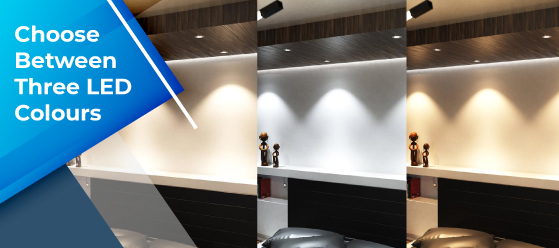 Choose Between Three LED Colours
This LED downlight is compatible with our GU10 bulbs, which come in three colour temperatures: cool white, natural white and warm white light. Each colour can add a unique twist and refreshing appeal to every space. So, which one should you get?
If you're using multiple downlights in one room, it's preferable to section it off and use different colour temperatures. You'll need a cool white or natural white for areas where you work and require attention to detail. Both are used for task lighting, but cool white has a bluish tint, while natural white has no hints of blue or yellow. In the zones where you relax and chill out, warm white can make the area cosier and more soothing. It has a yellowish shade that's excellent for ambient lighting!
Dimensions
Whether or not you're doing the installation or hiring an electrician, you should have an idea of the measurements of this LED fire-rated downlight. Knowing it will allow you to space out the fixtures correctly, and you can discuss it with your electrician when he comes to wire your lights.
This downlight is 110mm tall with an 85mm diameter. Make sure that your ceiling void has enough room to accommodate the height of the fitting because if it doesn't, you won't have a recessed light but a protruding one! Also, it requires a 75mm cut-out hole which you or your electrician needs to hit the mark. Otherwise, your downlight will not fit or may fall off your ceiling!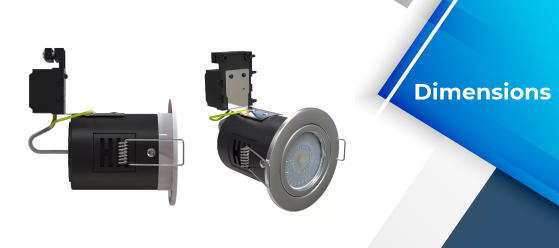 More Information

| | |
| --- | --- |
| Downlight Type | Adjustable/Tilt |
| Base | GU10 |
| Height | 110mm |
| Diameter | 85mm |
| Dimmable | Dimmable |
| Input Voltage | 220-240v |
| Warranty | 3 Years |
| IP Rating | IP20 |
| Cut Out Hole | 75mm |
For delivery or returns information, please refer to the page below.