Tilt, Fire Rated Downlight, GU10, Brass Finish
Stunning polished brass finish
Adjustable gimbal and dimmable
Fire-rated to 90 minutes of protection
Meets all necessary British standards
3-year warranty
What are Lumens?
What are lumens?
When you bought an incandescent bulb you knew that a higher wattage meant a brighter light. However, wattage really measures power consumption, not brightness. Lumens measure brightness. You can use the chart below to match the wattage of an incandescent to its LED counterpart. LEDs use less power and save money.

Need Help Choosing?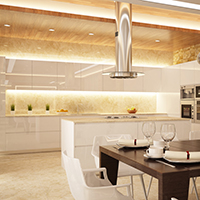 Warm White
Warm lighting is similar to conventional lighting and has a softer feel. This lighting is perfect for living rooms and bedrooms.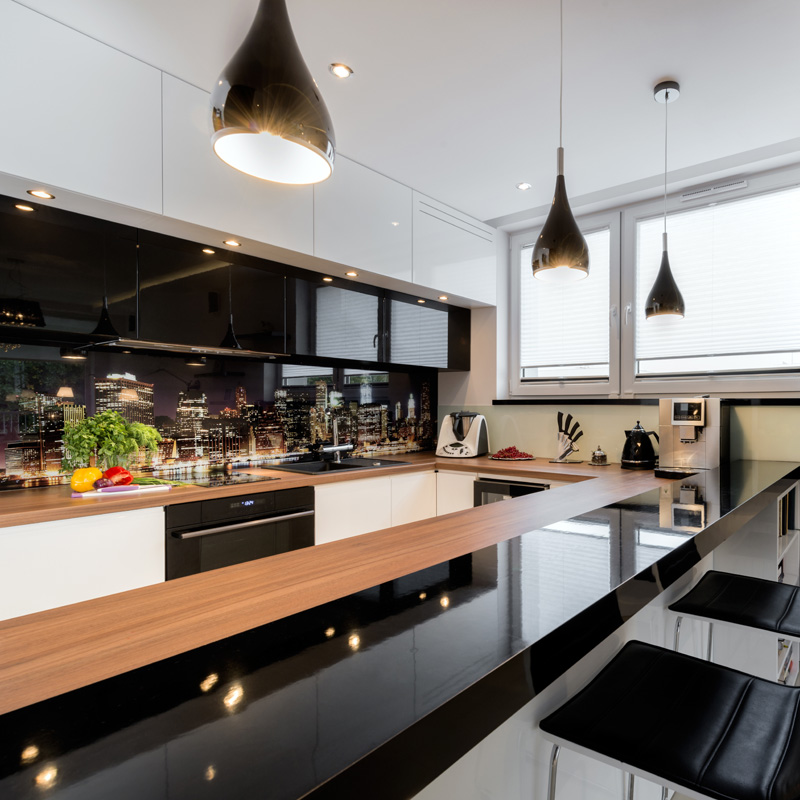 Natural White
Daylight - The colour of the lighting is used to represent 'daylight colour' indoors. It has neither the softness of warm white or the starkness of cool white.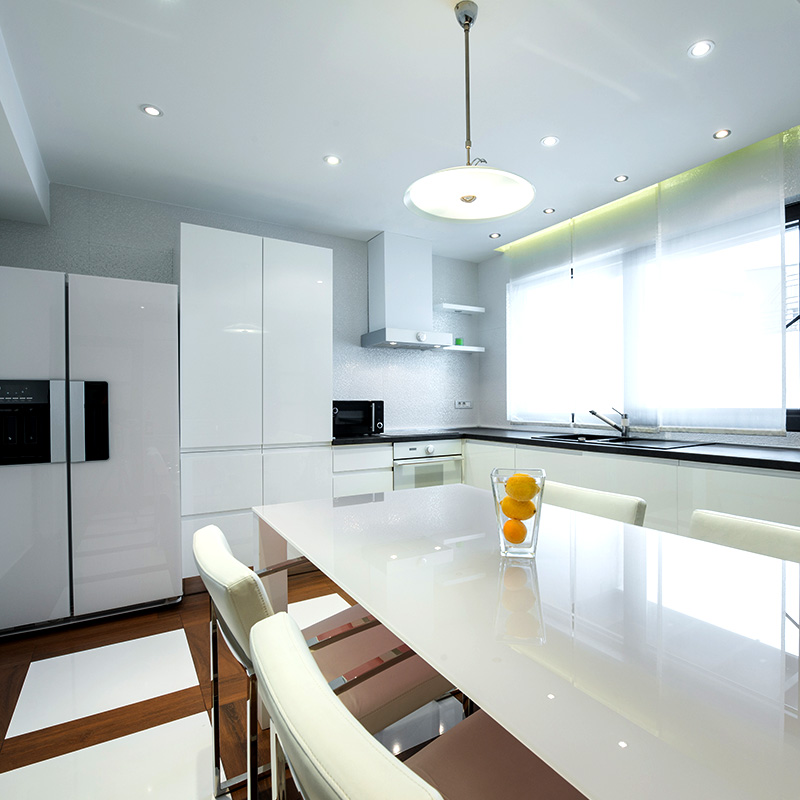 Cool White
Cool white - Is a brighter whiter light and is more suited for the bathroom or kitchen.
£4.16
£4.99
Was
£11.95
Save £6.96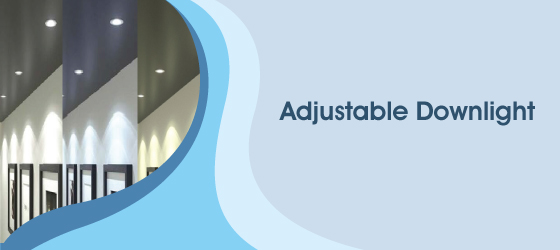 Adjustable Downlight
This LED downlight is designed with an adjustable gimbal, enabling it to redirect its light beam by tilting up or down to a certain degree. You can utilise this fixture as task lighting by pairing it with a narrow beam angle or ambient lighting by coupling it with a wider beam angle. This LED downlight is perfect for boosting the functionality of a kitchen island or highlighting elements like artwork, furniture, and decor!
Multi-functional rooms like the kitchen, dining room and dual-purpose bedroom (workspace and sleeping area) will need a versatile lighting solution. Aside from retractable table lamps and track lighting, this LED downlight can also provide the flexibility you need to keep up with the requirements of such places!
Gorgeous Polished Brass Bezel
With its gorgeous polished brass bezel, this LED downlight will not have difficulty blending in with your existing or upcoming interior design. Aside from its practical use of illumination, this fitting also brings life and energy to the space and elevates its visual appeal!
Because of its simple look, this LED downlight goes well with various aesthetics, whether traditional, rustic, modern, minimalist, etc. It's also the perfect ceiling fixture for people who loves decorating and redecorating their home since it complements anything and flawlessly unifies the ensemble. So, if that's you and you want all the freedom to express your creativity through your interior design, don't forget to add this LED downlight to your lighting system!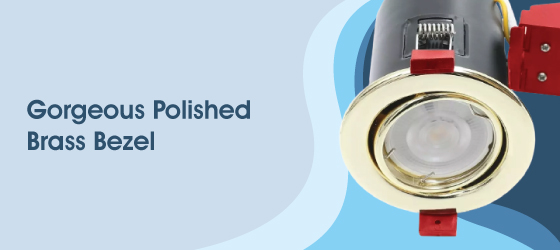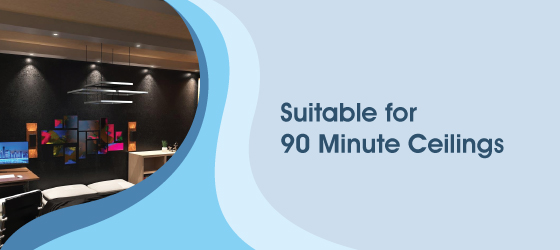 Suitable for 90 Minute Ceilings
This LED downlight is fire-rated to 90 minutes of protection, meaning the hole you cut to mount your fixture is completely resealed, and your ceiling is reinforced to extend the time when the fire will spread (in this case, by 90 minutes). With this, you and your family will have more time to escape, and the damage to your home's structure will not be severe!
A fire-rated downlight is made with an intumescent pad that activates when exposed to a particular temperature. This pad then blocks even the tiniest gaps surrounding the fixture where the fire may potentially slip through. So, if you want to ensure the safety of your home and everyone residing in it, replace your regular lighting fixture with this LED downlight!
Mains Powered - Quick Installation
Installing this LED downlight is quick and easy because it's constructed with features that simplify the process. It's mains powered; therefore, you don't need a driver or transformer to make it work. All you have to do is plan the placement of your downlights, trim the cut-out hole, wire directly to the mains circuit and add a bulb of your choice. Once you're finished, you can sit back and enjoy your brilliantly lit space!
Just remember to prioritise your safety, and unless you have the right tools and experience, it's best not to attempt to do the installation yourself. Call an electrician to ensure that your lights are mounted correctly, and you can avoid accidents and risk yourself.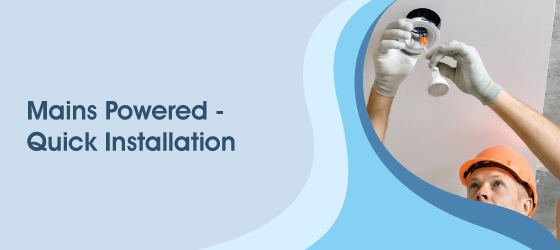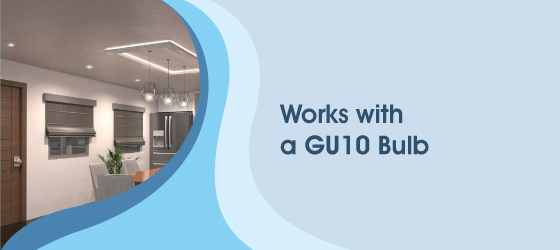 Works with a GU10 Bulb
You can use this LED downlight with any GU10 bulb because it's made with a GU10 lamp holder. Although, since it's a dimmable fixture, pairing it with a dimmable GU10 bulb and a compatible dimmer switch will enable you to use its dimming function!
As for the GU10 bulb, it's available in cool white, natural white or warm white light! Cool white and natural white are both ideal for task lighting. The only difference between the two colour temperatures is that cool white has a crisp bluish tone, while natural white has no hints of blue or yellow. Alternatively, warm white light is perfect for ambient lighting because its yellowish tint can create a calming and cosy atmosphere!
The Dimensions
Other than learning the installation instruction, another crucial aspect of the mounting procedure is knowing the dimensions of the fixture. This is particularly necessary for recessed fixtures as they require a precisely trimmed cut-out hole. If you improvise without learning the measurements, there's a high possibility that the cut-out hole will be too small to fit the fitting or too big that it will fall off. There's also a chance that the downlight will protrude instead of sitting recessed because you did not consider the proportion of the available ceiling void and the fixture's height.
So, to avoid all the extra hassles, remember, this LED downlight is 95mm tall with an 87mm diameter and requires a 75mm cut-out hole!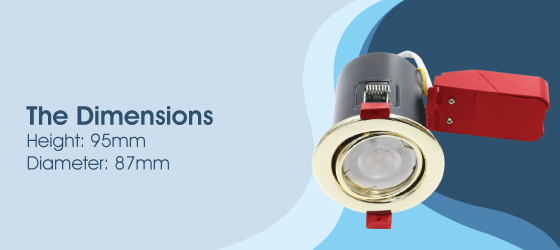 More Information

| | |
| --- | --- |
| Quick Order Code | IGS/TB |
| Downlight Type | Adjustable/Tilt |
| Base | GU10 |
| Height | 95mm |
| Diameter | 87mm |
| Dimmable | Dimmable |
| Input Voltage | 220-240v |
| Warranty | 3 Years |
| IP Rating | IP20 |
| Cut Out Hole | 75mm |
| Finish | Polished Brass |
For delivery or returns information, please refer to the page below.