1m Long, Shallow 7mm Surface Mounted LED Aluminium Profile
Available in a 1m long profile.
Includes a high-quality frosted cover
Can fit all IP20 (Non-waterproof) LED tapes
End caps, brackets, and screws included
Slimline design, only 7mm deep
£4.17
£5.00
Was
£9.99
Save £4.99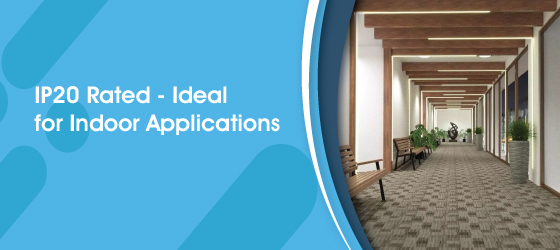 IP20 Rated - Ideal for Indoor Applications
An LED profile is like a protective housing that shields your LED strip lights from dust, dirt and curious fingers. Aside from that, it makes the strip lights look more refined and finished. If you are wondering if putting your strip lights inside an LED profile will make it waterproof, not all can. It depends on the profile's IP rating, so ensure that you check this before purchasing.
This LED profile is IP20-rated; therefore, it is suitable for indoor applications only. Nonetheless, you can still use it with LED tapes in your living room, bedroom, dining room, home office, hallway, storage room, dry parts of the kitchen and more!
Slimline Design; 7mm Deep
With its anodised aluminium finish and slimline design, this LED profile will suit whatever aesthetic you have in mind! Be it traditional, modern, or something in between, this LED profile will not have difficulty blending effortlessly with the rest of your decor and furniture pieces!
If you have limited space but still want to ensure that your home's styling is perfect and not kept to the bare minimum, this LED profile is an excellent companion to have! Although it's surface-mounted, it's only 7mm deep, so it will not take up too much space. It will even add texture and diversity to the surface you'll install them, elevating the overall visual appeal of your room!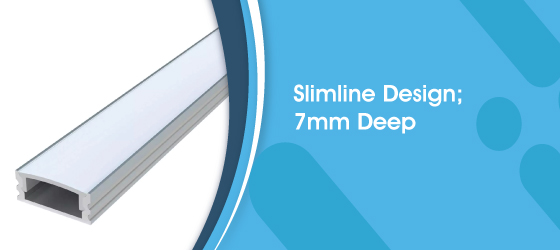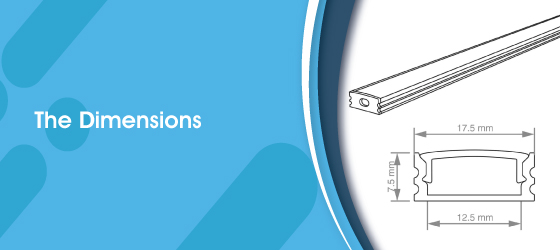 The Dimensions
When it comes to installation, knowing the dimensions of your fixtures/accessories is as crucial as learning how to install them. For this LED profile, being aware of this fact will enable you to plan ahead and purchase the appropriate amount. If you disregard this information, there is a chance that you'll buy more than what you need! What if you don't have a place to store the excess?
So keep in mind, as mentioned earlier, this LED profile is 7mm tall with a 17.5mm width and 1-metre length. Also, if the installation you have requires more than 1 metre, you can butt several of these profiles together, and the joints are barely noticeable!
Quick and Easy to Mount
Installation is not an issue with this LED profile! It's relatively straightforward, so all you have to do is follow the mounting instructions. All the end caps, brackets and screws required to secure the profile are included with your purchase, so just prepare all the tools you'll need. Also, focus on cleaning the surface where you'll mount your profile beforehand and study the wiring process of the strip light you'll pair with it.
Note that you can cut this LED profile if your project requires it. Just use a chop saw or hacksaw to ensure a clean cut! If you don't feel confident doing the installation alone, it's best to call for an electrician or someone you know who is experienced with electricals.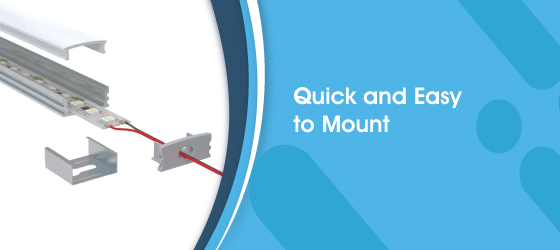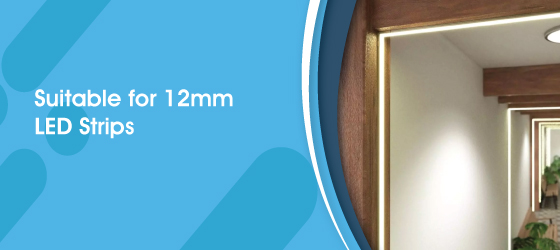 Suitable for 12mm LED Strips
If you think you can pair this LED profile with any LED strip, unfortunately, that's not the case. It's only suitable for LED strips that are 12mm thick and below, so if it goes beyond that, it will not fit. Nevertheless, you don't have to be disappointed since we still have an extensive range of LED tape appropriate for this LED profile! Just ensure that you double-check the thickness of the strip light before purchasing to ensure it's compatible.
If you have any questions about this LED profile or which strip lights you can use with it, please call or email us! Our team is always ready and eager to help you with your inquiries!
5 Year Warranty
To provide extra peace of mind when you purchase this LED profile, know that it comes with an extended 5-year warranty! Shopping online has pros and cons. While it is convenient since you do not have to leave the comfort of your home, you cannot fully examine the product before it arrives. So, with this guarantee, we hope you will trust this product's quality.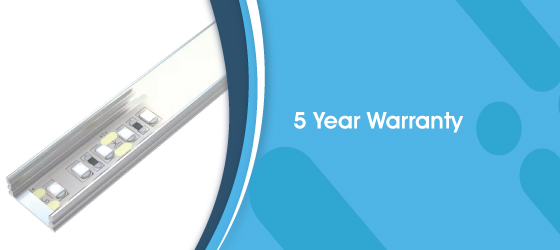 More Information

| | |
| --- | --- |
| Beam Angle | 120° |
| Internal Width | 12.2mm |
| IP Rating | IP20 |
| Height | 7mm |
| Dimmable | Dimmable |
| Width | 17.5mm |
| Finish | Anodized aluminium |
| Warranty | 5 Years |
For delivery or returns information, please refer to the page below.