1m Recess Mounted Aluminium LED Profile (Extrusion) for all types of LED Tape
Available in lengths of 1m
25mm wide (including overlapping wings)
Supplied with frosted cover, end caps and mounting brackets
Requires a 17.5mm wide x 15mm deep cut-out
5-year warranty
Stunning anodized aluminium finish
£5.00
£6.00
Was
£9.99
Save £3.99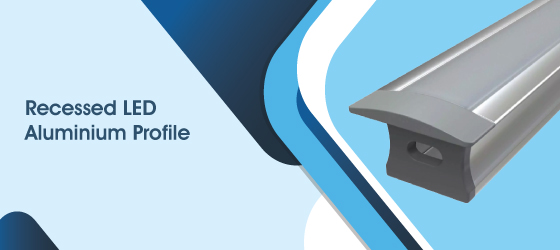 Recessed LED Aluminium Profile
LED profiles serve as a housing that protects the LED strip lights from dust, dirt or curious fingers. Since LED strips are ribbon-like circuit boards with exposed parts, they can be easily damaged, mainly if the area where you install them is within reach. In addition, LED profiles can make your LED strip light installation look more finished and refined!
This LED profile is mounted recessed and comes with a frosted diffuser that disperses lights at a 120-degree beam angle. With this, the strip light's illumination is distributed evenly, and the dotted effect that most LED strips have becomes blurred. So, if you want your LED strips to last long and look more sleek, enclose them within this LED profile!
Effortless Installation
Installation is the least of your problems with this LED profile! It comes with everything you need for mounting, including end caps, brackets, and screws. Just make sure to go through the installation process, clean the surface where you plan to affix the profile and prepare all the necessary tools you'll need!
This LED profile is easily cuttable using a hacksaw or other cutting equipment. So, if you need a shorter length, just cut away! However, if you need to extend it, you must butt several of these LED profiles together until you get your desired length. Be safe with the installation, and if you're not confident doing it yourself, call an electrician.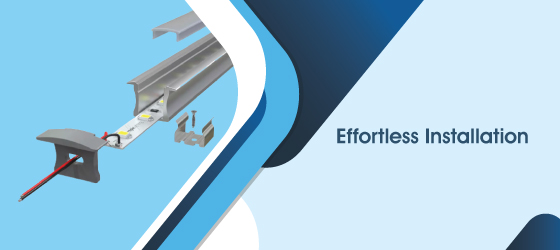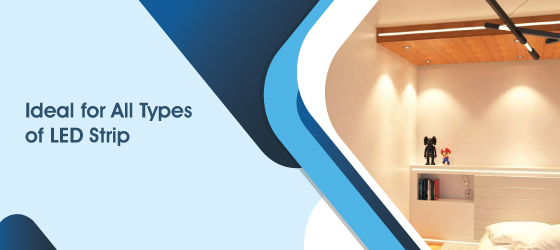 Ideal for All Types of LED Strip
If you are looking for an LED profile that can fit any LED tape, this is the one you are searching for! It is suitable for all types of LED tape since it's spacious enough to account for various sizes. So you can freely incorporate it in your living room, home office, bedroom, garage, dining room, kitchen, storage room, hallways, and bathroom!
Just remember, if you plan to use this LED profile inside your bathroom, ensure that you have an IP65 and up LED strip light. The profile itself is just IP20 rated, so it will not keep the water out. Your strip light should have adequate protection in itself.
IP20 Rated; Ideal for Indoor Applications
As mentioned earlier, this LED profile is IP20 rated only. This means it's suitable for indoor applications alone, away from places where water is frequent. However, since it does fit whatever type of LED strip light, if you pair it with a waterproof one, you can use this LED profile in wet zones. What matters is that the strip light can fend off any liquids that may come into contact. Still, to be safe, if the strip light is constantly exposed to a significant amount of water, it's best to look for an IP65 LED profile.
Besides that, this LED profile has an anodised aluminium finish, so you won't have any difficulty mixing it with your current decor, furniture pieces, or future aesthetics!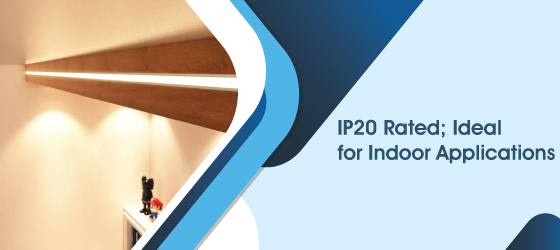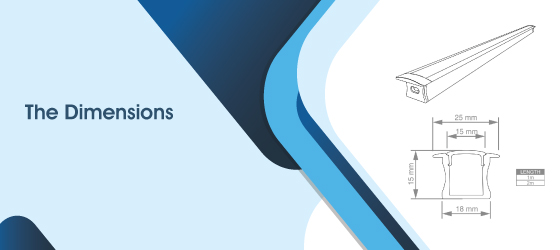 The Dimensions
When mounting lighting fixtures and accessories, it is crucial to be aware of their measurements besides learning how to install them. With regard to this LED profile, knowing its dimensions will allow you to estimate the quantity you have to purchase accurately with very minimal excess. If you do not pay attention to this information, you may end up buying more than you actually need. Aside from that, it is a recessed profile, so you must know its required cut-out hole!
So, take note that this LED profile is 15mm tall, 25mm wide, and 1 metre long. It has an internal width of 12.35mm and requires a 17.5mm cut-out hole!
5 Year Warranty
To give your extra peace of mind and boost your confidence when buying this LED profile, please know it has a 5-year warranty! Shopping online is indeed convenient since you do not have to leave your home. However, since you cannot physically examine the product, there's no way to gauge whether what's on the website is true or false. So we hope that this extended guarantee will speak of this LED profile's quality.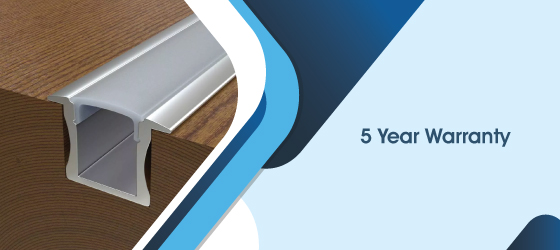 More Information

| | |
| --- | --- |
| Beam Angle | 120° |
| Internal Width | 12.35mm |
| IP Rating | IP20 |
| Height | 15mm |
| Dimmable | Dimmable |
| Length | 1000mm |
| Cut Out Hole | 17.5mm |
| Width | 25mm |
| Finish | Anodized aluminium |
| Warranty | 5 Years |
For delivery or returns information, please refer to the page below.