1m, Shallow 7mm Recessed LED Aluminium Profile
Quick to Install
Brackets, screws and end caps included
Includes frosted cover
Dimensions: 24.5mm wide, 7mm deep and requires a 17.5mm cut out to install
5-year warranty
£4.17
£5.00
Was
£9.99
Save £4.99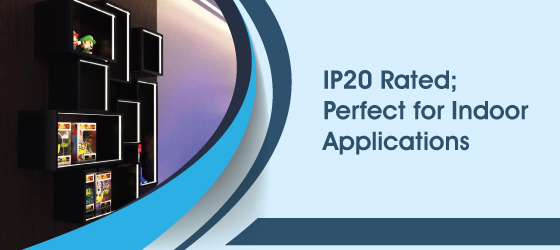 IP20 Rated; Perfect for Indoor Applications
An LED profile is a protective shield that keeps an LED strip safe by fending off dust, dirt, and curious fingers. This lighting accessory is particularly essential if the stip lights are within reach. In addition, it makes the LED strip looks more refined and finished, which is perfect if it is mounted in a noticeable area.
Can an LED profile protect an LED tape from water? That depends on the IP rating. This LED profile is IP20 rated only; therefore, it's suitable for indoor use. Still, you can use it in your bedroom, dining room, storage room, living room, office space, hallway, dry zones of the kitchen and more!
Recessed Profile - Only 7mm Deep
Thanks to its anodised aluminium finish, this LED profile will not have any difficulty matching your existing decor and furniture pieces or your future aesthetics. Whether it's traditional, modern, rustic, or a mix and match of various themes, this LED profile can blend in effortlessly!
Aside from that, this LED profile is only 7mm deep, which is ideal for shallow places. Because of this, you'll be able to install them in more areas like your shelves, at the bottom side of your bed frame, or even on your gaming desk! It will definitely elevate your entire gaming setup! So, if you want to boost the visuals of your space, make sure to check out this LED profile.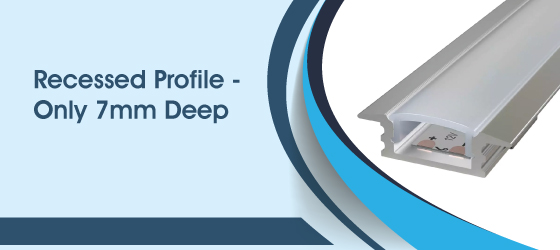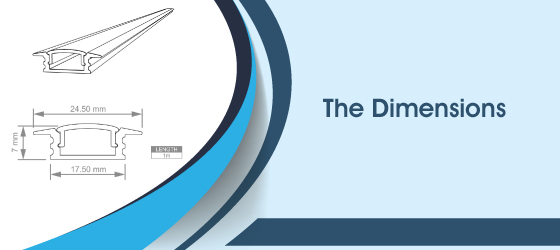 The Dimensions
Regarding installation, knowing the dimensions of your fixtures and the lighting accessory you'll use is as important as learning how to install them. As for this LED profile, being aware of its dimensions will allow you to plan ahead and estimate the quantity you have to purchase. Disregarding this information can result in buying more than you need and troubling you to deal with the excess!
So, remember, this LED profile, as stated earlier, is 7mm tall with a 24.5mm width and 1 metre length. Also, since it's mounted recessed, it requires a 17.5mm cut-out hole. Ensure that you trim the cut-out hole with precision so you won't have any issues later on.
Quick and Easy to Mount
Installing this LED profile is quick and easy. All the end caps, brackets and screws necessary to mount it are included when you purchase. Just study the installation instructions, clean the surface where you'll attach the profile beforehand and prepare all the tools you'll use! Then, you can trim the cut-out hole and wire the strip lights!
Note that this LED profile is extendable, so you can butt together a few to achieve your desired length. Plus, you can cut it if your installation requires something shorter. Just use a chop saw or hacksaw to guarantee a clean and perfect cut! Always be safe when installing this profile with your strip lights, and call an electrician if you're not confident doing it alone!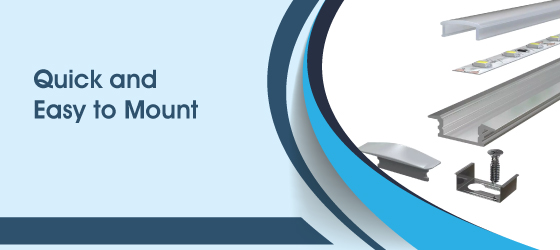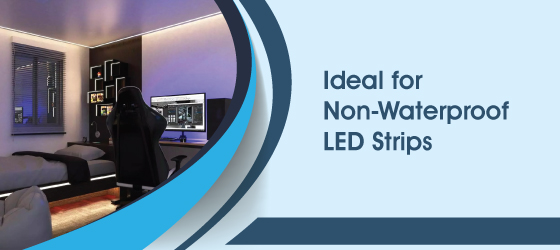 Ideal for Non-Waterproof LED Strips
Although it would be fantastic, you cannot pair this LED profile with just any LED strip lights. It's only ideal for our non-waterproof LED tapes, so other than those, it will not fit. Nonetheless, we have an extensive collection of IP20-rated strip lights that are suitable for this profile! Just check everything before purchasing to guarantee that all will go together perfectly.
Say you want to try using an IP65 LED strip light with this LED profile. It will not be able to slip in because the profile is simply too shallow to accommodate the strip. If you don't want anything to go to waste, it's best to follow the recommendations.
5 Year Warranty
To give you more confidence and peace of mind when you purchase this LED profile, know that it comes with a 5-year warranty! While it is convenient to shop online since you do not have to go out, you cannot physically check the quality of the product before it arrives. So, with this extended guarantee, we hope you will believe in this product's quality.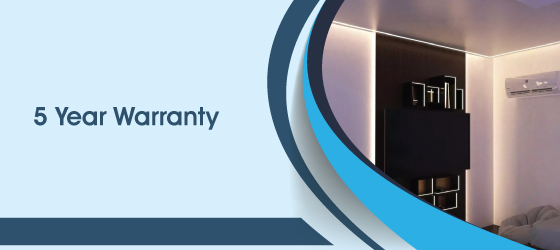 More Information

| | |
| --- | --- |
| Beam Angle | 120° |
| Internal Width | 12.2mm |
| IP Rating | IP20 |
| Height | 7mm |
| Dimmable | Dimmable |
| Length | 1000mm |
| Cut Out Hole | 17.5mm |
| Width | 24.5mm |
| Finish | Anodized aluminium |
| Warranty | 5 Years |
For delivery or returns information, please refer to the page below.