Fire Rated, LED, GU10, Dimmable Downlight, Fixed - Various Finishes
Dimmable and needs a GU10 dimmable LED bulb
Available in Brushed Chrome, Polished Chrome or White finish
High-quality fire rated downlights meeting all UK & BS standards
Diameter: 85mm White or Chrome & 80mm Brushed Chrome.
Cutout Hole: 65mm
What are Lumens?
What are lumens?
When you bought an incandescent bulb you knew that a higher wattage meant a brighter light. However, wattage really measures power consumption, not brightness. Lumens measure brightness. You can use the chart below to match the wattage of an incandescent to its LED counterpart. LEDs use less power and save money.

Need Help Choosing?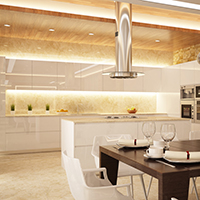 Warm White
Warm lighting is similar to conventional lighting and has a softer feel. This lighting is perfect for living rooms and bedrooms.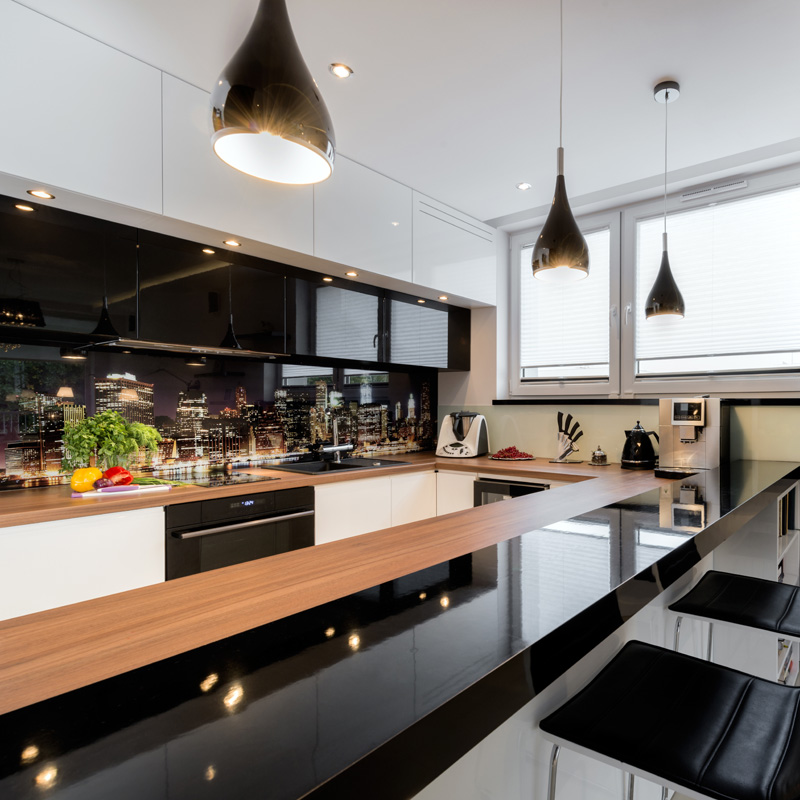 Natural White
Daylight - The colour of the lighting is used to represent 'daylight colour' indoors. It has neither the softness of warm white or the starkness of cool white.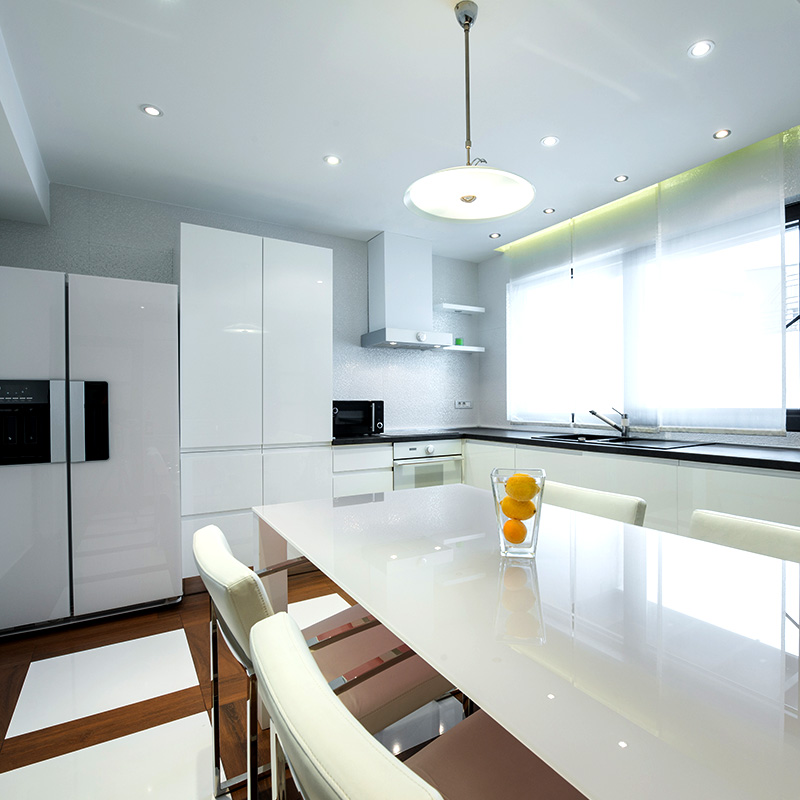 Cool White
Cool white - Is a brighter whiter light and is more suited for the bathroom or kitchen.
£3.95
Was
£9.95
Save £6.00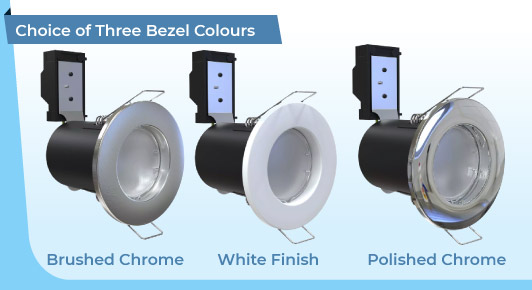 Choice of Three Bezel Colours
When shopping for lights, did you ever experience feeling ecstatic with the technical specification then suddenly miserable because the finish of the fixture doesn't match your aesthetics? Fortunately, that won't ever happen with our GU10 fire-rated dimmable downlight since it's available in three different bezel colours, including polished chrome, brushed chrome and white finish!
So, whether you have a modern layout or a traditional setup, you'll not have a hard time finding the missing puzzle piece to complete your dream home. Aside from that, the finishes of this downlight are neutral colours, meaning they're not attention-grabbing and loud. Instead, they can seamlessly blend in and complement whatever styling or decor pieces you have!
GU10 - No Transformer Required
While some fixtures require a transformer to work, these fire-rated GU10 downlights don't! It's a mains-powered fitting that requires 240v input voltage, which you can get directly from your mains circuit! So, once you buy this fixture, all that needs to be done is to cut the 65mm cut-out-hole, wire the downlights to the mains, and add a bulb. It's a simple and speedy process, and everything that you need is in the box (except the bulb).
Although, even if the installation looks quite simple, it's still better to call an electrician. Since they're the pros, they know the do's and don'ts and can immediately address any issue that may arise.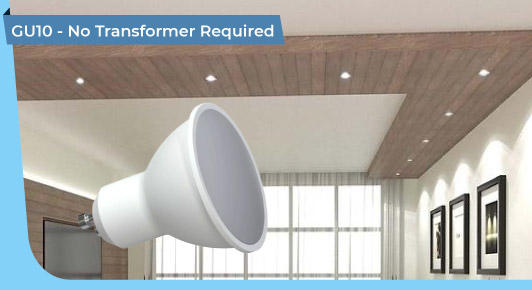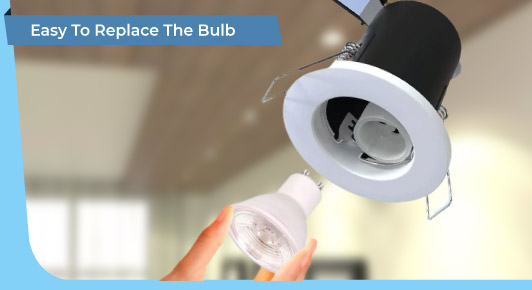 Easy To Replace The Bulb
There will come a time when your bulbs will start to grow dim and need to be replaced. If you had to always call for an electrician to do this for you, especially if it's only one or two bulbs that need to be changed, it would be a waste of money.
Lucky for you, our GU10 fire-rated downlight is not an overly complicated fitting that will give you a hard time when it comes to replacing the bulbs! Just remove the spring clip, then swap your old GU10 bulb with a new one, reattach the spring clip, and you're done. Once you successfully replace your old bulbs, your downlights will be back to functioning like you just bought them yesterday!
The Dimensions
Having an excessively large downlight recessed in your ceiling may look a bit awkward and may not be beautiful design-wise. With this GU10 fire-rated downlight, that will not be the case! This fitting is 108mm in height and 85mm in diameter if you select White or Polished Chrome & 80mm when you select Brushed Chrome. It's not too big that it will look like there is a hole in your ceiling and not too small that the light output would be insufficient.
In addition, as mentioned earlier, it has a cut-out hole of 65mm. Make sure that you inform the person installing your lights about this, or else you might end up with hanging downlights instead of recessed! The cut-out hole must be accurate, so your light fixtures will fit snuggly.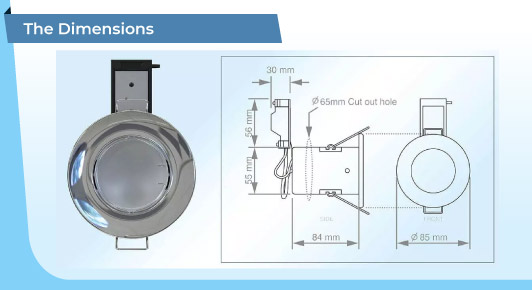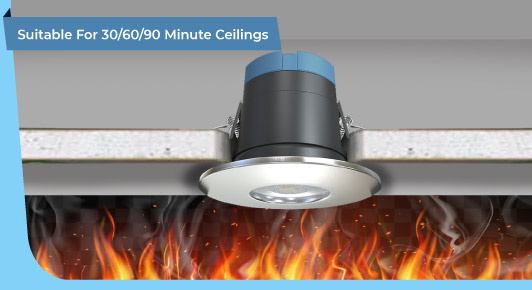 Suitable For 30/60/90 Minute Ceilings
Being prepared is the key to averting any crisis. That is why your home should be equipped with all the possible preventative measures to ensure that you and your family are safe in an unexpected event. So, if you're installing downlights, it's essential that you get one that's fire-rated like this GU10 dimmable downlight! You see, once you mount your downlights, a hole is cut into your ceiling, weakening the fire protection of your home.
With fire-rated downlights, it can seal the hole that you cut and reinforce your ceiling to increase the time that it takes for fire to spread through it, in this case, for 30, 60, and 90 minutes of protection. Ordinary downlights don't have this feature, so make sure that you go through the technical specifications to know if your fittings can protect you if a fire breaks out.
Choice of three LED Colours
This GU10 fire-rated downlight does not come with a bulb. While you may think that it's a bad thing, it's actually not! Since it does not come with a bulb, you get to choose what works the best for you. There's no fixed area where downlights should be positioned, and because of that, each room will require a different LED colour. For this downlight, you can pair it with a dimmable GU10 bulb in cool, natural, or warm white light!
So, for your bathroom, go with natural white light for a clear view. In your kitchen, get a natural or cool white light for task lighting. On the other hand, in your bedroom or living room, choose a warm white light for a cosy ambience!
More Information

| | |
| --- | --- |
| Downlight Type | Fixed |
| Base | GU10 |
| Height | 108mm |
| Diameter | 85mm |
| Dimmable | Dimmable |
| Input Voltage | 220-240v |
| Warranty | 3 Years |
| IP Rating | IP20 |
| Cut Out Hole | 65mm |
For delivery or returns information, please refer to the page below.