Square 8 x LED Plinth Light Kit In Natural White LED - 4000K
The total electrical power used of the light. A higher wattage no longer guarantee's that the light is brighter. EG: there are LED products which are 5w which is equal in brightness to a 50w incandescent bulb.
8 x Square LED Plinth Lights
Includes one mains wireable LED Driver
Lovely natural white LED light colour
Frosted diffused covers
3-year warranty
What are Lumens?
What are lumens?
When you bought an incandescent bulb you knew that a higher wattage meant a brighter light. However, wattage really measures power consumption, not brightness. Lumens measure brightness. You can use the chart below to match the wattage of an incandescent to its LED counterpart. LEDs use less power and save money.

Need Help Choosing?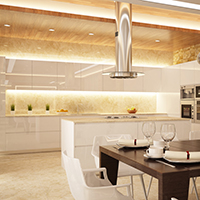 Warm White
Warm lighting is similar to conventional lighting and has a softer feel. This lighting is perfect for living rooms and bedrooms.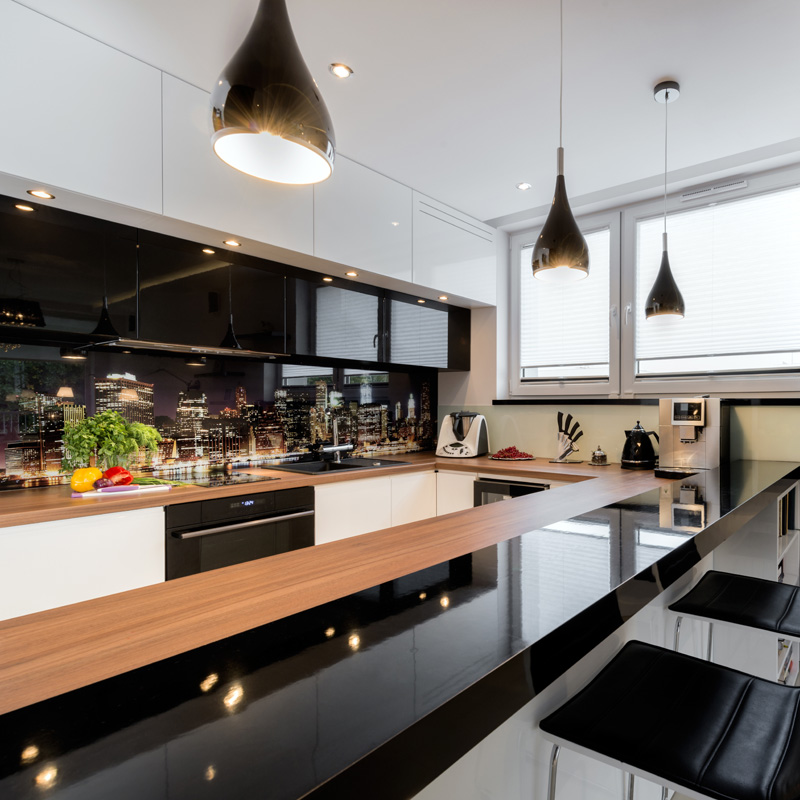 Natural White
Daylight - The colour of the lighting is used to represent 'daylight colour' indoors. It has neither the softness of warm white or the starkness of cool white.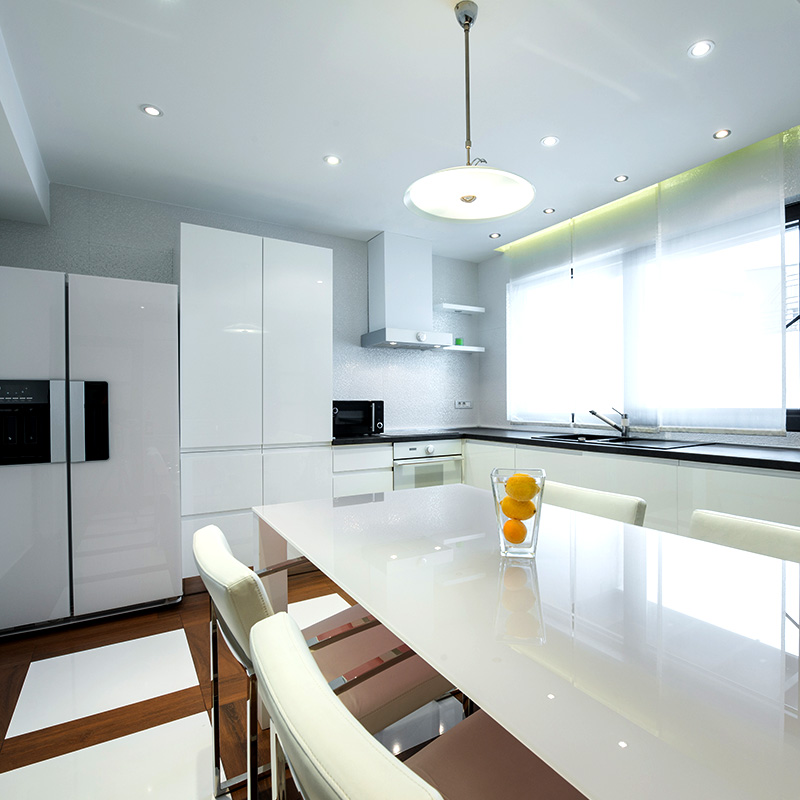 Cool White
Cool white - Is a brighter whiter light and is more suited for the bathroom or kitchen.
£24.99
£29.99
Was
£39.99
Save £10.00
Multi-Pack of 8 High-Quality LED Plinth Lights
LED plinth lights are low-level lighting that illuminates the floor area and enhances the overall visual appeal of the space. You can use it as a night light to avoid tripping and slipping in the dark when the primary lights are switched off. This lighting solution may be small, but the improvements it brings to the room are immense!
If you're only starting out, buying an LED plinth light kit like this is better than individually purchasing each component. When you get this multi-pack, you'll have access to eight high-quality LED plinth lights and an LED driver to make it work! With this, you can proceed to installation immediately and not worry about which driver is compatible with your lights.
Low Energy Consumption - 8w Only
LED lighting is known for being eco-friendly, low maintenance, and long-lasting. However, those are not the main reasons people prefer this lighting solution over others - it is their unrivalled efficiency! LEDs can convert the majority of the energy they consume into light with very minimal becoming waste. As a result, although it runs at a relatively low wattage, it can still produce outstanding illumination!
Powered by that technology, this LED plinth light only requires 8w to power eight fittings, with each having a 90-degree beam angle! Aside from that, it has an average lifespan of 30,000 hours, which is ten times longer than an incandescent or halogen lighting fixture.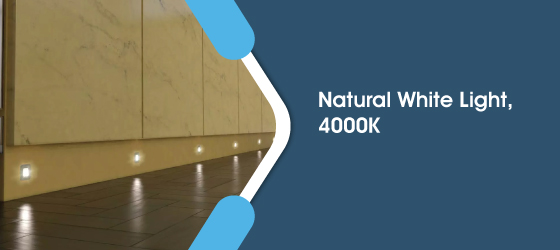 Natural White Light, 4000K
This LED plinth light can produce a natural white colour temperature (4000K). Unlike warm white light with a yellowish tone that's similar to an old incandescent bulb or cool white light with a crisp bluish shade, natural white light has no hints of blue or yellow. It is like a cloudless sunny day, clear and stunningly bright!
Natural white light is typically used for task lighting. It can create a work-friendly environment that promotes focus and productivity while keeping you comfortable even if you're working for extended hours. If you feel cool white light makes your space look like a clinic or hospital, natural white may suit your preference better!
Stunning Brushed Chrome Finish
With its stunning brushed chrome finish and simple square design, this LED plinth light will be able to match any design scheme, be it traditional, modern, rustic, retro, or modern mid-century. Even with your existing decor and furniture pieces, it will not have any difficulty blending in!
If you like styling and restyling your home for every season, it is best that you have minimalist lighting fixtures like this LED plinth light, which will give you more flexibility with the aesthetics that you can try. Customising everything will require you to do a major makeover every time you want to switch, which can be costly and impractical in the long run.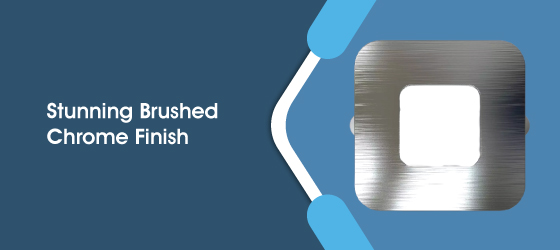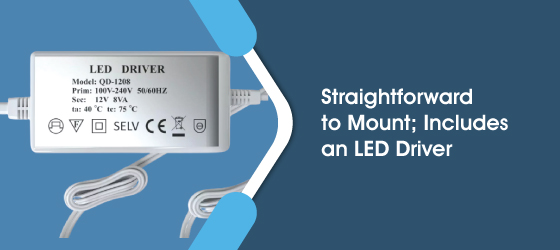 Straightforward to Mount; Includes an LED Driver
Are you afraid that the installation of this LED plinth light will be complicated? Don't be because it's straightforward and quick! As mentioned before, you'll get a compatible LED driver to make it work when you purchase this kit. The driver is mains wireable, meaning you can connect it directly to the mains circuit or add a plug at the end and plug it into an available socket.
Besides that, each plinth light comes with a 2-metre cable, and the LED driver comes with a 1-metre cable. This will give you the freedom to position the fittings wherever you please! So, what are you waiting for? Boost your space's aesthetic, functionality, and safety with this LED plinth light!
3 Year Warranty
We offer a 3-year warranty for this product so you can enjoy them with peace of mind for a long time. Online shopping has pros and cons. While you can purchase almost anything without leaving your home, there's no assurance whether or not the product you will receive will be the same as the images you saw on the website. So, with this extended warranty period, we hope that the confidence we have in this plinth light kit will be reflected, and, in turn, encourage you to buy it!
If you have any questions about this plinth light kit or any of our products, feel free to call or email us, and we'll gladly answer them!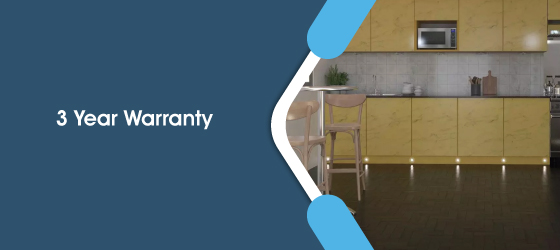 More Information

| | |
| --- | --- |
| Depth | 28mm |
| Length | 33mm |
| Width | 33mm |
| Average Life (Hours) | 30,000 |
| IP Rating | IP20 |
| Finish | Brushed Chrome/Nickel |
| LED Colour | Natural White 4000K |
| Beam Angle | 90° |
| Dimmable | Non-Dimmable |
| Input Voltage | 220-240v |
| Power | 8w |
| Warranty | 3 Years |
For delivery or returns information, please refer to the page below.