Pack of 50 6w, Colour Adjustable Fire Rated Downlights, Brushed Chrome
The total electrical power used of the light. A higher wattage no longer guarantee's that the light is brighter. EG: there are LED products which are 5w which is equal in brightness to a 50w incandescent bulb.
A measure to the brightness of a LED Light. Example being 320 lumens would be the equivalent in brightness to a old fashioned 50w Halogen spot light.
Pack of 50 fire-rated downlights
Slimline bezel with brushed chrome finish
Fire-rated to 30, 60 and 90 minutes
Colour adjustable and dimmable
IP65 rated - for all rooms
600 lumens 
Ideal for solid joist and I-joist 
3-year warranty
What are Lumens?
What are lumens?
When you bought an incandescent bulb you knew that a higher wattage meant a brighter light. However, wattage really measures power consumption, not brightness. Lumens measure brightness. You can use the chart below to match the wattage of an incandescent to its LED counterpart. LEDs use less power and save money.

Need Help Choosing?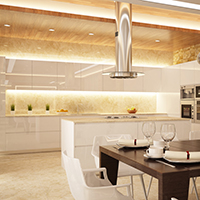 Warm White
Warm lighting is similar to conventional lighting and has a softer feel. This lighting is perfect for living rooms and bedrooms.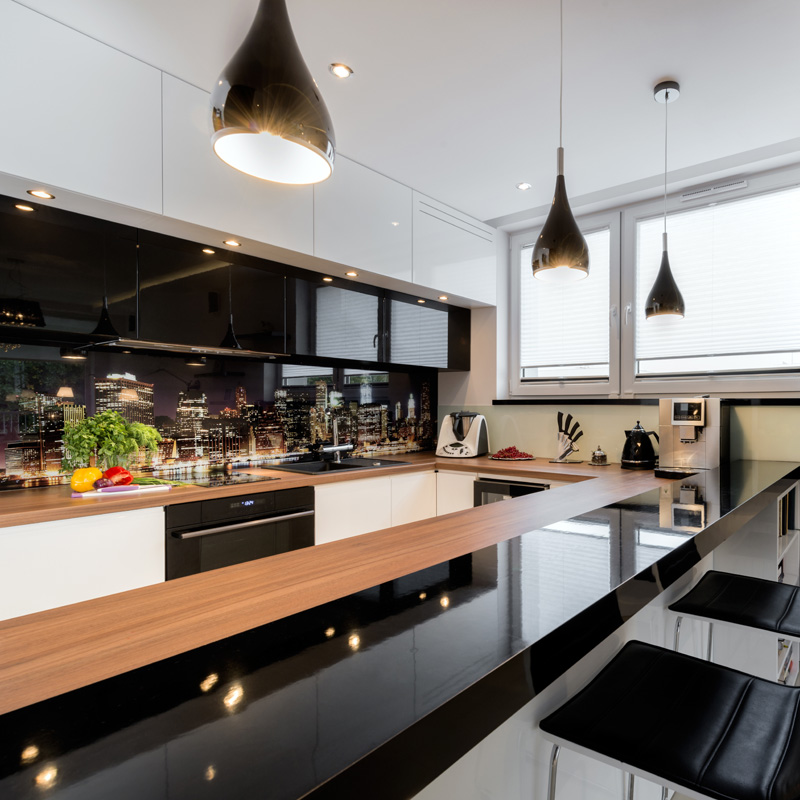 Natural White
Daylight - The colour of the lighting is used to represent 'daylight colour' indoors. It has neither the softness of warm white or the starkness of cool white.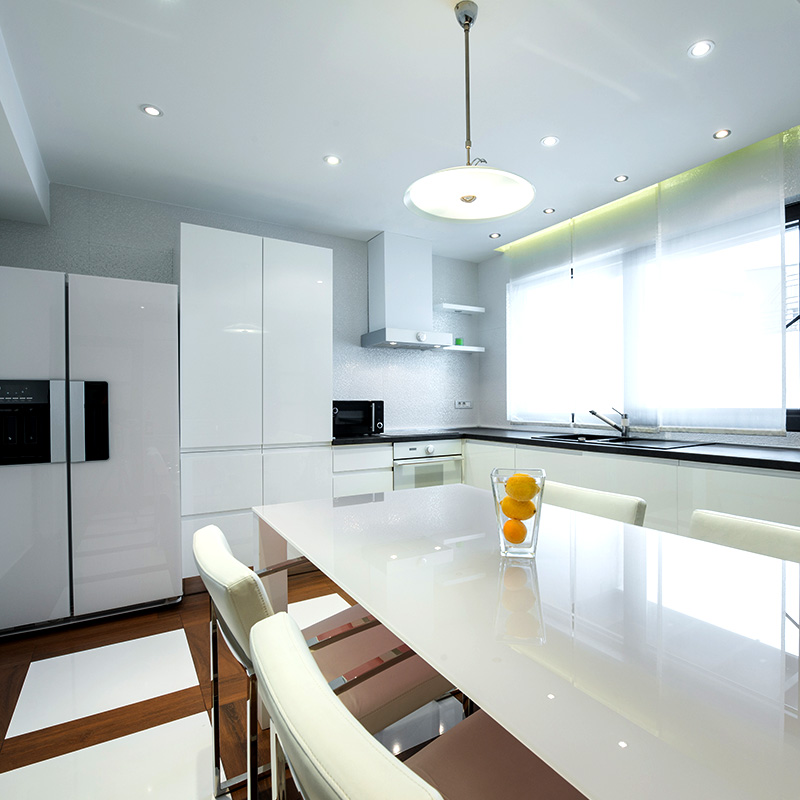 Cool White
Cool white - Is a brighter whiter light and is more suited for the bathroom or kitchen.
£270.00
£324.00
Was
£599.50
Save £275.50
Pack of 50 Downlights! Super Bright - 600 Lumens
When you buy this bundle, you will get a super-pack of 50 LED downlights suitable for large-scale builds and renovations. With this LED downlight, your home will be rejuvenated with brilliance, elevating its functionality and visual appeal!
Aside from that, since it is powered by LED technology, this LED downlight can efficiently convert most of the energy it consumes into light with very minimal becoming waste. So, while it only needs 6w of power to work, it can produce 600 lumens maximum brightness with a 60-degree beam angle! No non-LED alternative can rival this level of energy efficiency. Therefore, if you want to experience it, switch to this LED downlight!
Dimmable & Colour Adjustable
If you're unsure whether to get cool white, natural white, or warm white light, why not choose all? This does not mean that you'll have to buy three fixtures. With this LED downlight, you get all three colour temperatures in one unit! Since it's colour adjustable, all you have to do is swipe the small toggle switch at the back of the fixture to the left or right and pick the colour temperature you prefer!
In addition, this LED downlight is also dimmable, so aside from changing colours, you have complete control over the brightness level of your lights! With this, you'll be able to customise the ambience of your rooms to suit your mood or the activity you're doing.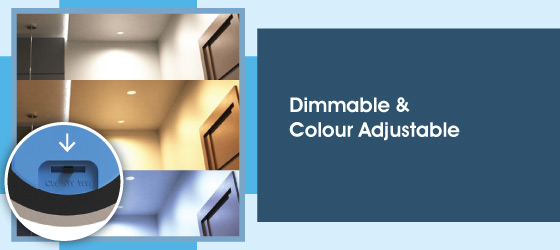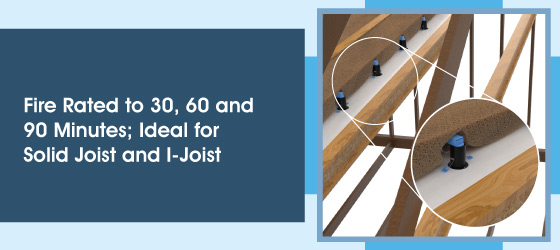 Fire Rated to 30, 60 and 90 Minutes; Ideal for Solid Joist and I-Joist
This LED downlight is fire-rated to 30, 60, and 90 minutes of protection which means the hole you trim to mount your lights are entirely resealed (made possible because of its built-in intumescent pad), and your ceiling is reinforced to delay the time when the fire will spread. Having this extra time will allow you to safely exit your home and prevent severe damage to its structure!
Also, this LED downlight is ideal for solid joists and I-joists for 30 minutes of protection. Not many lighting fixtures can accommodate these joists. So, if you want to ensure the fire protection of your home, it's best to choose this LED downlight!
3 Year Warranty
We offer a 3-year warranty with this LED downlight! Shopping online is convenient since you can buy anything without leaving your home. However, there are times when you're hit with a reality versus expectation situation, especially if you come across an untrusted website. So, with this extended guarantee, we hope that the confidence we have in this LED downlight will be reflected and, in turn, encourage you to purchase it!
Feel free to give us a call or send us an email if you have questions or issues with this LED downlight or any lighting solution listed on our website. Our team is always looking forward to hearing from you and is ready to assist you with your concerns!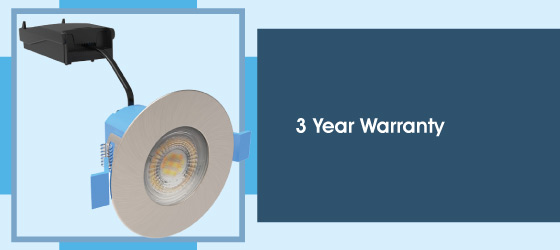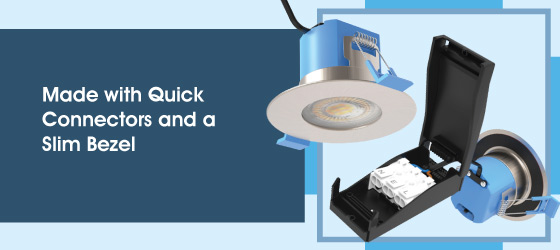 Made with Quick Connectors and a Slim Bezel
Designed with a stylish slim bezel and a gorgeous brushed chrome finish, this LED downlight will not have any difficulties fitting in with the rest of your decor and furniture pieces! Also, you won't struggle with its installation since it's constructed with a loop in/out push-fit terminal block with quick connectors, simplifying the wiring process! Just bear in mind that this LED downlight is 50mm tall, 86mm in diameter and requires a 55mm to 70mm cut-out hole. You will need this information when it's time to install your fixtures!
Please note that this LED downlight is insulation coverable. Therefore, it's safe to place insulation over the installed lighting fixtures. Remember, unless clearly specified in the packaging or product description, never cover your lights with anything, including insulation!
IP65 Rated - Suits All Rooms
Since this LED downlight is IP65 rated, you can freely use it anywhere in your home! It is suitable in your bedroom, hallways, home office, living room, dining room, kitchen, storage room, garage, bathroom (including zone 1), etc. It is water-resistant, so even if jets and splashes of water come into contact with this LED downlight, it will not malfunction or short-circuit!
While this LED downlight is perfect for a variety of applications, you cannot use it for those that need to be submerged underwater. You have to look for a fixture with an even higher IP rating - one that can totally block all the water from entering the fitting!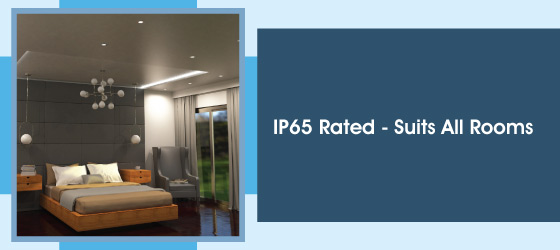 More Information

| | |
| --- | --- |
| Average Life (Hours) | 30,000 |
| Downlight Type | Fixed |
| Height | 50mm |
| LED Colour | Tunable |
| Beam Angle | 60° |
| Lumens | 600 |
| Diameter | 86mm |
| Dimmable | Dimmable |
| Input Voltage | 220-240v |
| Power | 6w |
| Warranty | 3 Years |
| IP Rating | IP65 |
| Cut Out Hole | 55-70mm |
| Finish | Brushed Chrome/Nickel |
For delivery or returns information, please refer to the page below.