Pack of 3 Shallow 7mm Surface Mounted LED Aluminium Profiles, 2m
Pack of 3 LED profiles
2m Aluminium LED Profile
Designed with a frosted cover
Comes with end caps and metal mounting brackets
5-year warranty
What are Lumens?
What are lumens?
When you bought an incandescent bulb you knew that a higher wattage meant a brighter light. However, wattage really measures power consumption, not brightness. Lumens measure brightness. You can use the chart below to match the wattage of an incandescent to its LED counterpart. LEDs use less power and save money.

Need Help Choosing?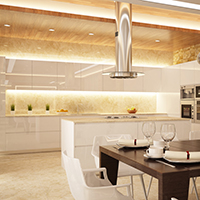 Warm White
Warm lighting is similar to conventional lighting and has a softer feel. This lighting is perfect for living rooms and bedrooms.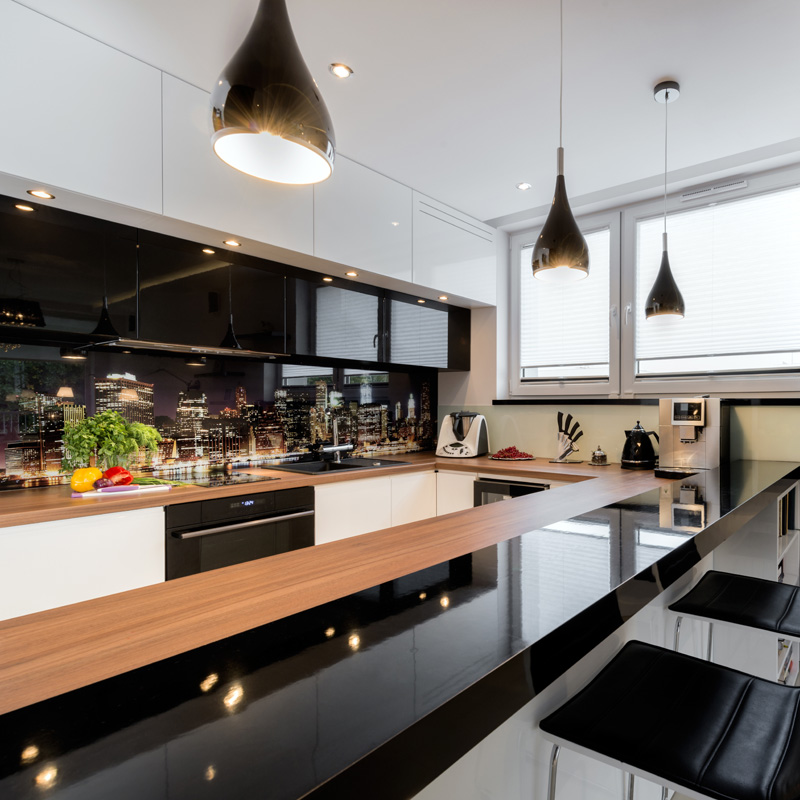 Natural White
Daylight - The colour of the lighting is used to represent 'daylight colour' indoors. It has neither the softness of warm white or the starkness of cool white.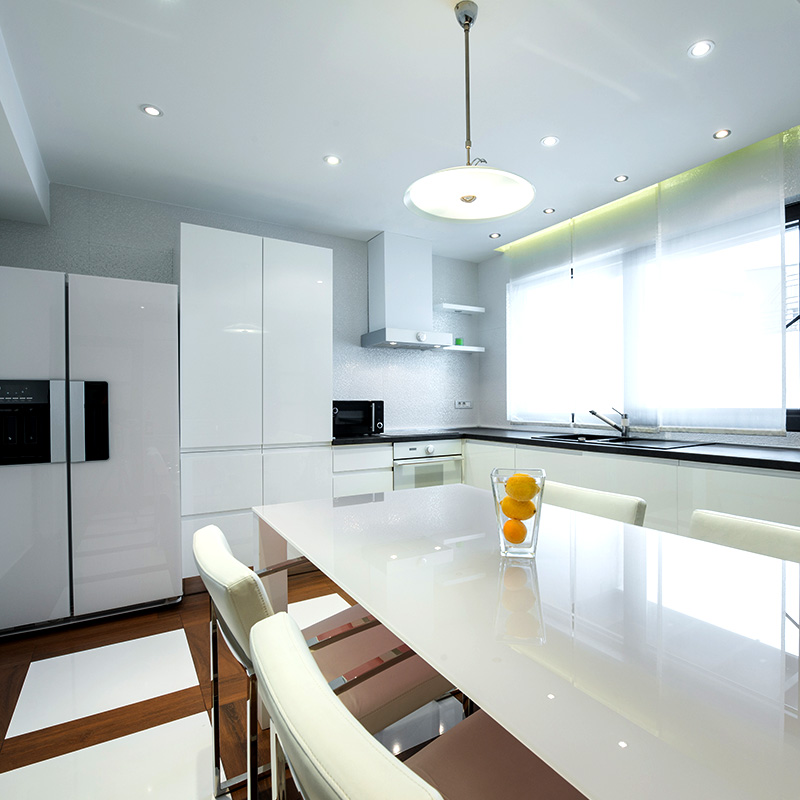 Cool White
Cool white - Is a brighter whiter light and is more suited for the bathroom or kitchen.
£25.00
£30.00
Was
£84.00
Save £54.00
Up to
5 year guarantee
on lightbulbs
Free delivery
if order is over £75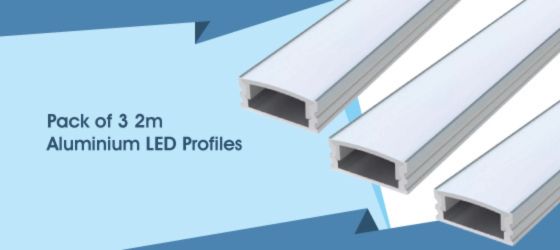 Pack of 3 2m Aluminium LED Profile
LED strip lights are versatile and suitable for many applications. Because of this, it's becoming the go-to lighting solution in many residential and commercial establishments! If you are one of those who are using LED strip lights to transform your interior's lighting design, here's a tip to make it look better. Enclose the strip lights in an LED profile!
An LED aluminium profile is a housing design to protect the strip lights by covering them against dust, dirt, and curious fingers. So, are you planning to get one? If that is the case, try this bundle instead of purchasing them individually. In one pack, you will get three high-quality LED profiles!
Slimline Design - 7mm Deep
This LED aluminium profile is surface-mounted; therefore, you do not need to cut holes into the surface you intend to mount. Aside from that, it is super slim, only 7mm deep, and comes with a frosted cover that guarantees even light distribution. The frosted cover also blurs the individual LED chips, giving you a clean finish!
Because this LED profile has an anodised aluminium finish, it is suitable for various interior designs! Whether it is traditional, vintage, retro, modern, or something that is out of the ordinary, this LED aluminium profile will not have any difficulty keeping up and blending in with the rest of your furniture and decor pieces!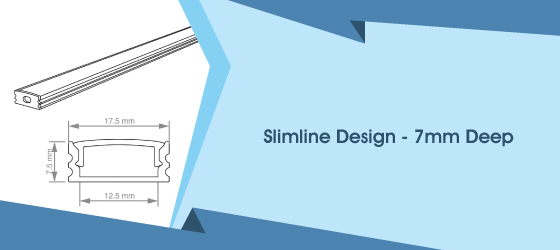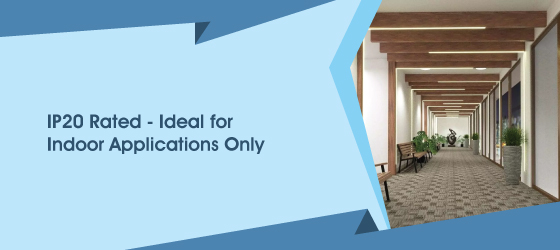 IP20 Rated - Ideal for Indoor Applications Only
Will an LED profile protect your strip lights against water? Well, that depends on the IP rating of your profile. If it is IP20-rated only, like this LED aluminium profile, it will not be able to guarantee the protection of your lights against liquids. However, if the profile is IP65-rated, it has enough protection against jets and splashes of water!
As mentioned, this LED profile is just IP20-rated, so it is suitable for indoor applications only. Nonetheless, there is no need to be disappointed because you can pair it with the strip lights in your living room, dining room, kitchen (away from water sources), bedroom, storage room, hallways, and more!
Easy to Mount
Since LED strip lights are only peel-and-stick, naturally, you'll want accessories that are also quick to mount. Well, this LED profile will not give you a hard time! It's fast and effortless to install as long as you review the mounting guidelines and follow them step-by-step. All the end caps, brackets and screws you'll need to attach to the profile are included with your purchase, so just prepare your tools and ensure that you clean the surface where you'll intend to mount.
You can trim this LED profile to the size you need using a chop saw or hacksaw to guarantee a clean cut! If you don't feel confident DIY-ing the installation, call for an electrician or someone you know with electrical experience.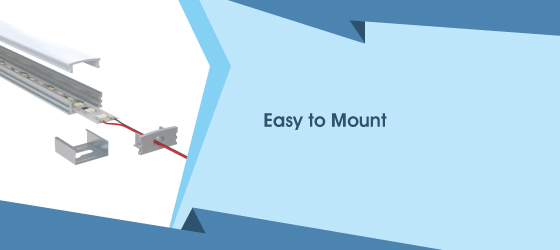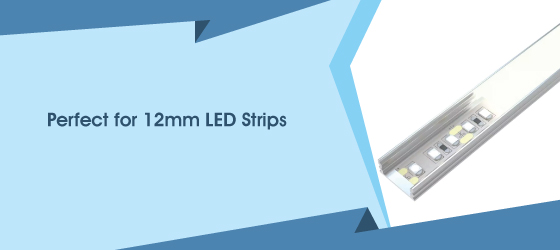 Perfect for 12mm LED Strips
This LED aluminium profile is only compatible with 12mm wide LED strip lights. Yes, it's unfortunate that there's a specific width that this profile can accommodate. If you have a strip light that's wider than that, it will not fit. So, to avoid being disappointed, always check the measurements of your strip lights and profile to see if they're compatible.
Still, there's no need to disregard this LED profile completely! We house a massive collection of LED strips that will surely match this lighting accessory. Just go through our website, and you will be able to find one that is compatible with this LED profile and appealing to your style!
5 Year Warranty
This LED profile bundle comes with an extended 5-year warranty so that you can use it to the fullest without any worries! We know that shopping online has advantages and disadvantages. While it's super convenient since you can get almost anything without leaving your home, there's no guarantee whether or not the product you'll receive will match your expectations. So, we hope that through this warranty period, the confidence we have in this product will be reflected, and in turn, encourage you to purchase it!
If you have any questions about this LED aluminium profile bundle or any of the products listed on our website, feel free to contact us!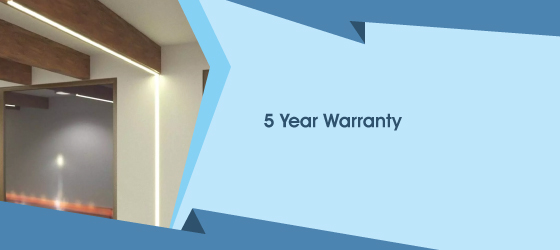 More Information

| | |
| --- | --- |
| Internal Width | 12.2mm |
| IP Rating | IP20 |
| Height | 7mm |
| Dimmable | Dimmable |
| Length | 2000mm |
| Width | 17.5mm |
| Finish | Anodized aluminium |
| Warranty | 5 Years |
For delivery or returns information, please refer to the page below.