Pack of 25, 8w LED Fire Rated Downlight, Chrome Bezel
SKU
FR-LED-CCT-CHROME-25PK
The total electrical power used of the light. A higher wattage no longer guarantee's that the light is brighter. EG: there are LED products which are 5w which is equal in brightness to a 50w incandescent bulb.
A measure to the brightness of a LED Light. Example being 320 lumens would be the equivalent in brightness to a old fashioned 50w Halogen spot light.
Pack of 25 Fire-rated Downlight
Adjustable colour temperature (warm, natural, and cool white light)
With loop in/out push fit terminal block
Integrated with insulation coverable clip
Fully fire-rated to 30, 60 and 90 minute and suitable for I-Joist and Web Joist
Sturdy protected spring clips
Chrome bezel with a twist and lock feature
Flicker Free
What are Lumens?
What are lumens?
When you bought an incandescent bulb you knew that a higher wattage meant a brighter light. However, wattage really measures power consumption, not brightness. Lumens measure brightness. You can use the chart below to match the wattage of an incandescent to its LED counterpart. LEDs use less power and save money.

£208.12
£249.75
Was
£324.75
Save £75.00
Up to
5 year guarantee
on lightbulbs
Free delivery
if order is over £75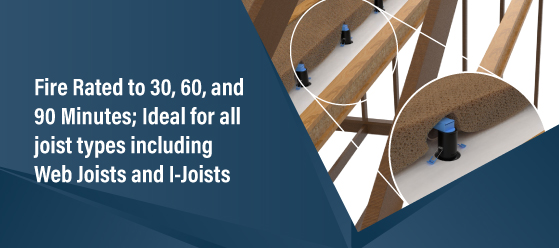 Fire-Rated to 30, 60 and 90 Minutes & Suitable for All Joist Types, including I-Joist and Web Joist
Installing downlights will require you to cut a hole in your ceiling. Unfortunately, because of this, its fire integrity weakens. Even if you put your fitting into the hole, there are still small gaps where fire can easily slip through. The only way to prevent this is by using a fire-rated downlight instead of a regular one!
This downlight is fire-rated to 30, 60, and 90 minutes of protection, meaning the hole you cut to mount your light is resealed, and your ceiling is reinforced to prolong the time when the fire will spread. Aside from that, it's suitable for all joist types, including I-joists and web joists, ensuring complete fire protection. Not many fire-rated downlights are compatible with these types of joists, so if you're interested in getting one, opt for this instead!
Adjustable Colour Temperature - Get Cool, Natural & Warm White Light
Can't decide between cool white, natural white and warm white light? No worries, because this LED downlight is the only fixture you need! It has an adjustable colour temperature, giving you access to cool white, natural white and warm white in one lighting unit! With this, you don't have to rush into things and can carefully decide the colour that's most ideal for your space.
To switch between the colours, you just need to locate the small toggle switch at the side of the fixture. So, after installing, you can style the room and test the different colour temperatures to see how each would react with your decor and furniture pieces!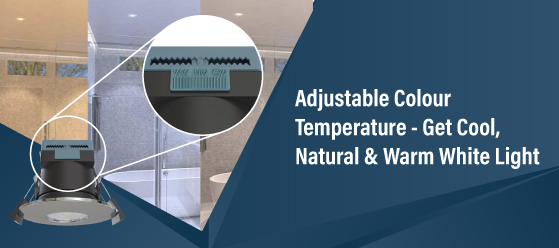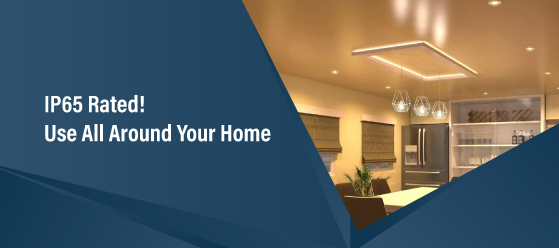 IP65 Rated! Use All Around Your Home
Finding lighting fixtures for your bathroom takes more time and effort since you need to carefully examine their construction. You must make sure that it's water-resistant and sturdy enough to withstand water, humidity and splashes. You don't want your lights to short-circuit while you're taking a bath!
This LED downlight is IP65 rated; therefore, you can use it throughout your home, even your bathroom's zone 1! It will survive against jets and splashes of water, so you don't have to worry whenever you shower. Just don't completely submerge this fixture underwater. If that's the application you're after, you have to look for a fitting with an even higher IP rating.
Quick & Easy Installation
Not a fan of spending hours figuring out which wire goes with which? If that's the case, you'll love this LED downlight! It's made with everything that simplifies the installation process, which can speed up your entire renovation! This downlight is integrated with a push-fit terminal, enabling an easy loop in/out wiring, chrome bezel with twist and lock feature, insulation coverable clip, and fit drivers!
During installation, remember to prioritise your safety above everything. If you have experience, knowledge and the right tools, go ahead if you prefer to do the mounting yourself. Otherwise, it's better to call for an electrician instead of doing it alone. While paying extra, at least you're safe and confident that your downlights are installed correctly!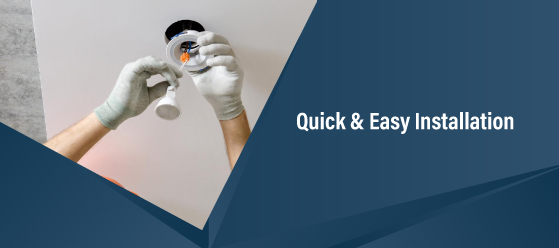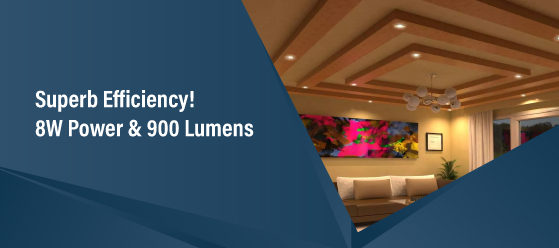 Superb Efficiency! 8W Power & 900 Lumens
Have you been using incandescent or fluorescent lighting? If that's the case, you should consider swapping them out for these LED downlights! LEDs can produce the same amount of brightness as traditional fixtures for a fraction of the energy they use. Therefore, if you utilise incandescent and fluorescent lamps, you're feeding your electricity bill but not getting the results you ought to be enjoying!
This LED downlight is super efficient because it only requires 8w of power to produce 900 lumens maximum brightness with a 60-degree beam angle. Also, it can last for 30,000 hours, so you'll not only get savings from a lower electricity bill but also from the reduced maintenance cost!
Dimmable with a Compatible Dimmer Switch
What are the benefits of a dimmable fixture? Aside from the aesthetic elevation it brings into a space, it makes your lights even more energy-efficient. Since the fitting is not working at total capacity 24/7, the energy consumption is not always at maximum. Anyways, you don't have to use the brightest setting of your lights most of the time, so it's a practical money-saving solution!
These downlights are trailing or leading-edge dimmable, and extensive testing is performed to ensure wide compatibility. Just note that while these lights will very likely work well on other LED dimmer models not shown in our list of recommended dimmers, we cannot guarantee complete compatibility on any dimmer model that is not listed. So, to prevent any flickering and malfunctions, it's advisable to stick with the recommendations.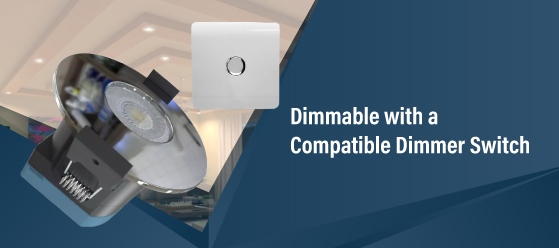 More Information

| | |
| --- | --- |
| Average Life (Hours) | 30,000 |
| Downlight Type | Fixed |
| Height | 70mm |
| LED Colour | Tunable |
| Beam Angle | 60° |
| Lumens | 900 |
| Diameter | 88mm |
| Dimmable | Dimmable |
| Input Voltage | 220-240v |
| Power | 8w |
| Warranty | 5 Years |
| IP Rating | IP65 |
| Cut Out Hole | 68mm |
| Finish | Polished Chrome |
For delivery or returns information, please refer to the page below.