Automatic Motorised Pop Up Plug Socket with QI Charging For Worktops
Three plug sockets and two 2000mA USB sockets

Built-in QI wireless charger

Pop-up plug socket with

anti-trap safety feature

3250w maximum power

111mm diameter requires 95mm cut-out hole
What are Lumens?
What are lumens?
When you bought an incandescent bulb you knew that a higher wattage meant a brighter light. However, wattage really measures power consumption, not brightness. Lumens measure brightness. You can use the chart below to match the wattage of an incandescent to its LED counterpart. LEDs use less power and save money.

Need Help Choosing?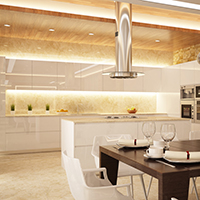 Warm White
Warm lighting is similar to conventional lighting and has a softer feel. This lighting is perfect for living rooms and bedrooms.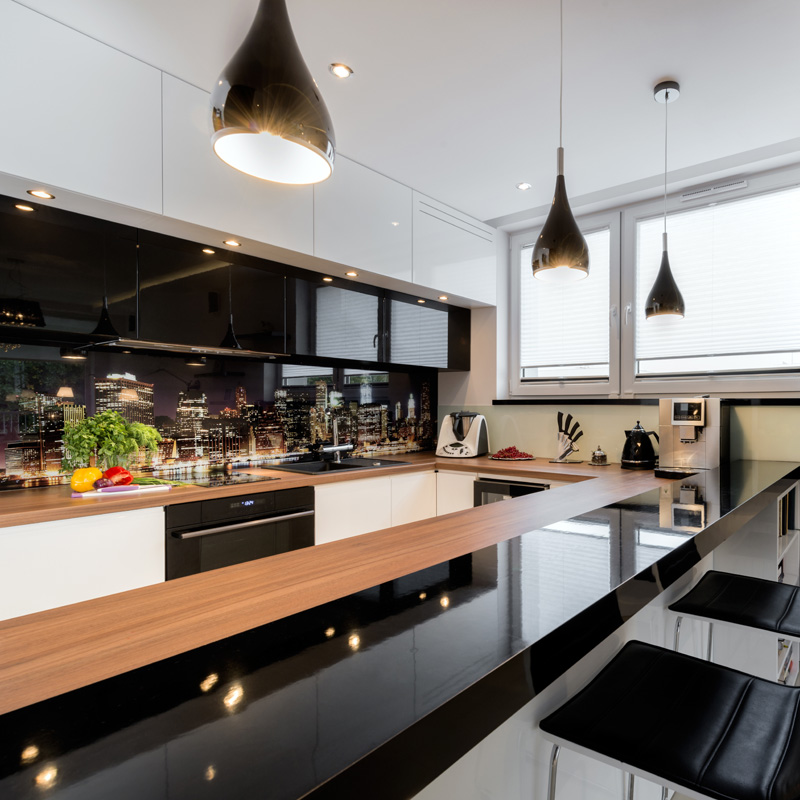 Natural White
Daylight - The colour of the lighting is used to represent 'daylight colour' indoors. It has neither the softness of warm white or the starkness of cool white.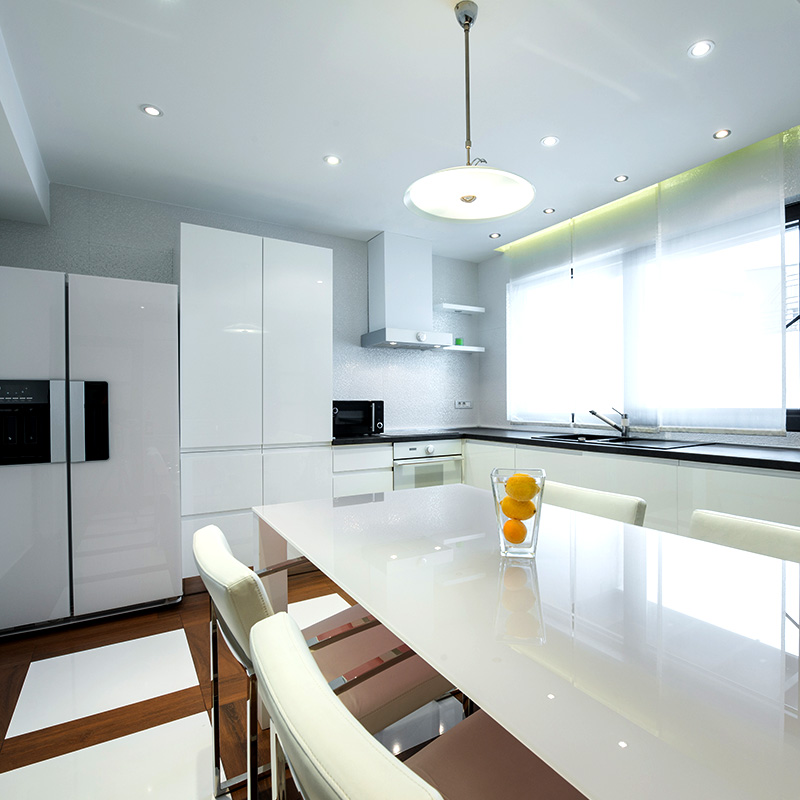 Cool White
Cool white - Is a brighter whiter light and is more suited for the bathroom or kitchen.
£133.32
£159.99
Was
£269.99
Save £110.00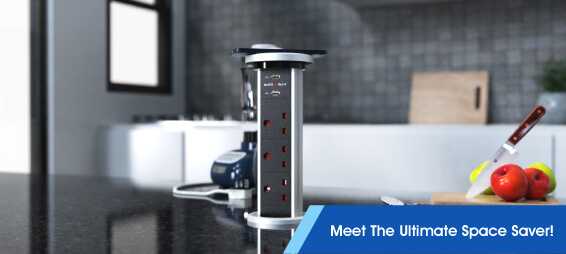 Meet The Ultimate Space Saver!
Constantly bothered that you might spill over the extension cord that's lying on top of your kitchen island? Don't have enough sockets to power all the appliances you need for cooking? Have a headache with all the tangled wires sprawled across your not-so-spacious kitchen? Well, we have the answer to all these problems!
Meet our Automatic Motorised Pop Up Plug Socket with QI Charging! With this space-saving gadget, not only will you have enough power supply to run your kitchen gadgets, but you'll also have an organised and clutter-free space! Plus, you can tuck the socket in whenever you're not using it, preventing short-circuiting due to accidentally spilled liquids.
Motorised - It Automatically Goes Up and Down
This Pop Up Plug Socket is different from the regular ones that you need to physically 'pull up' whenever you want to plug something in. Here, all you have to do is touch your finger to the centre of the top part of the socket, and it will automatically rise.
The motorised feature is especially helpful if you suddenly need to plug something in during meal prep etc. but cannot be bothered to wash your hands. Aside from that, you cannot deny that an automatic pop-up socket is five times cooler than a regular one. It makes your home look super modern and hi-tech! Just remember not to force it up, or you may damage the device.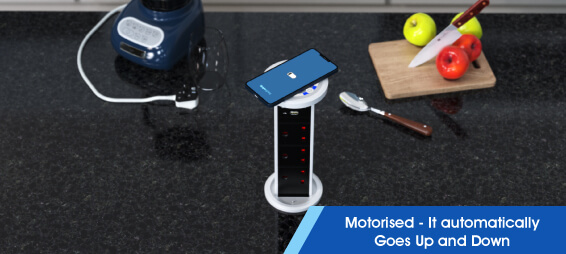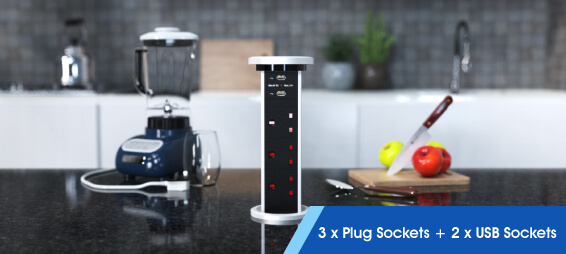 3 x Plug Sockets + 2 x USB Sockets
What's incredible about this motorised pop-up plug socket is that it not only comes with three sockets ready for all your appliances, but it also has two 2000mA USB sockets suitable for your smartphone, tablet, or other devices. Now, you can easily follow the recipes of your favourite chefs on your tablet without having to worry about your device running out of power!
In addition, even when you're cooking with multiple electric kitchen tools, you can still utilise the USB ports if you have other USB compatible devices. With this, you don't need to go in and out of the kitchen just to check the notifications on your charging phone!
Built-in Wireless QI Charger
If the three sockets and 2 USB sockets are still not enough to give you space for charging your phone, then you can use the built-in QI charger instead! This feature can be found at the top of the pop-up socket and works perfectly with most QI supported devices. It's a pretty convenient feature to have ready anywhere in your home since most devices today support this function. Just make sure that the pop-up socket is closed wherever you plan to use the QI charger.
It's best not to boldly balance your expensive phone on top of an open and relatively tall pop-up socket. You don't know what accident may happen, especially in busy places like the kitchen!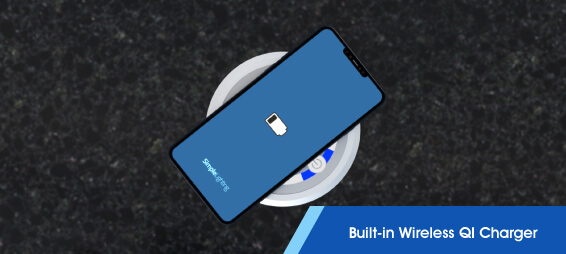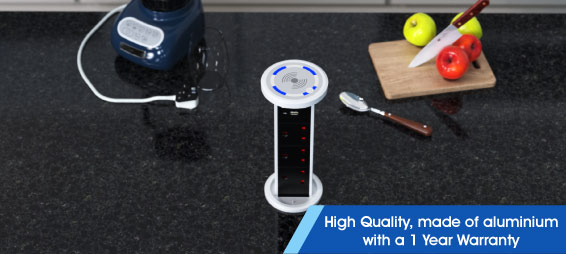 High Quality, Made Of Aluminium
Compared to numerous wall sockets mounted across your kitchen, this automatic pop-up plug socket can add more power outlets in your space with a visually appealing approach. Instead of boring, white, rectangular sockets, you'll have a silver coaster-looking plate atop the surface of your kitchen counter or island! If you think outside the box, you can even develop various ways to use these pop-up plug sockets as decore! In addition, this device is guaranteed high quality and is made from aluminium. Because of that, you don't need to constantly worry that your socket might rust or tarnish wherever you use it.
Anti Trap Function
One of the biggest concerns you may have with this device's motorised function is what if your finger accidentally gets stuck while it's closing. Worse still, what if it's your small kid who's just curious what the "silver round thing on the counter" does. Well, rest easy because this pop-up plug socket is equipped with an anti-trap function!
How do the anti-trap work? It's like a sensor that wherever there's a finger or object in the way as the device closes, it will stop closing and lift to allow safe removal. This function is not only ideal for you and your kids but also if you have pets that may end up near your pop-up plug sockets.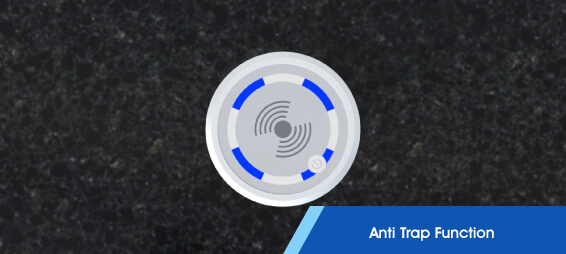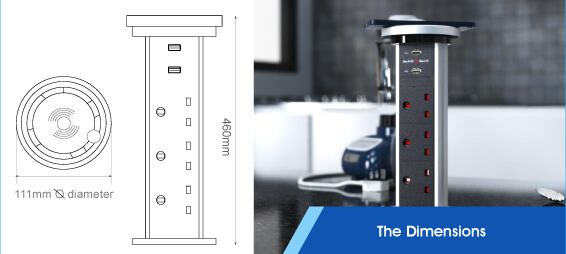 The Dimensions
Our motorised pop-up plug socket has a 111mm diameter which is neither too big nor too small. It's just the perfect size to sit against your countertops without looking out of place and being extremely noticeable. For the cut-out hole, so you can recess it into your kitchen islands, you'll need a 95mm diameter. Just make sure that the person installing this socket is knowledgeable about the measurement, or the fit will not be snug.
In addition, this socket is 460mm tall, so ensure that you have enough clearance space underneath your counters for this size to fit. You don't want your pop-up sockets to look like a mole-in-the-hole since it does not have enough room to close!
More Information

| | |
| --- | --- |
| Quick Order Code | SOCKET-SIL-M |
| Cable Length | 1800mm |
| Diameter | 111mm |
| Height | 460mm |
| Input Voltage | 220-240v |
| Number of Sockets | 3 |
| Number of USB Ports | 2 |
| Cut Out Hole | 95mm |
| USB Port Power | 2100mA |
| Finish | Silver |
| Warranty | 1 Year |
For delivery or returns information, please refer to the page below.