8w LED Fire Rated Downlight, Matt Black Bezel
The total electrical power used of the light. A higher wattage no longer guarantee's that the light is brighter. EG: there are LED products which are 5w which is equal in brightness to a 50w incandescent bulb.
A measure to the brightness of a LED Light. Example being 320 lumens would be the equivalent in brightness to a old fashioned 50w Halogen spot light.
Adjustable colour temperature (warm, natural, and cool white light)
With loop in/out push fit terminal block
Integrated with insulation coverable clip
Fully fire-rated to 30, 60 and 90 minute and suitable for I-Joist and Web Joist
Sturdy protected spring clips
Black bezel with a twist and lock feature
Flicker Free
What are Lumens?
What are lumens?
When you bought an incandescent bulb you knew that a higher wattage meant a brighter light. However, wattage really measures power consumption, not brightness. Lumens measure brightness. You can use the chart below to match the wattage of an incandescent to its LED counterpart. LEDs use less power and save money.

£8.32
£9.99
Was
£19.99
Save £10.00
Up to
5 year guarantee
on lightbulbs
Free delivery
if order is over £75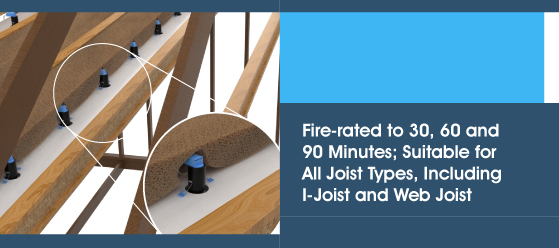 Fire-rated to 30, 60 and 90 Minutes; Suitable for All Joist Types, Including I-Joist and Web Joist
This LED downlight is fire-rated to 30, 60, and 90 minutes of protection. This means the hole you cut to install your downlights is resealed completely, and your ceiling is reinforced to extend the time when the fire will spread. Fire-rated downlights are able to do this because they're made with an intumescent pad that activates when exposed to a particular temperature, blocking every tiny crevice where fire may slip through.
Besides that, this LED downlight is suitable for all joist types, including I-joist and web joist! With this, you and your family will have more time to escape, and the damage to your home's structure will not be as bad!
Adjustable Colour Temperature
Having a hard time deciding whether to buy cool white, natural white, or warm white light? It's an important decision, so you should not rush into it. Instead, get this LED downlight!
This lighting fixture is colour temperature adjustable, meaning you'll have cool white, natural white and warm white light in one unit. All you have to do is locate the small toggle switch at the side and slide it left or right to switch between colours. Now, you can wait until all your styling and furnishing are finished before testing out which colour temperature will suit your space best! If warm white light does not work, switch it to cool white or natural white!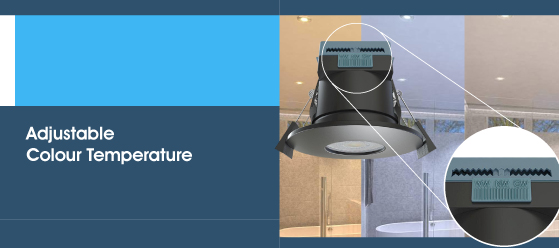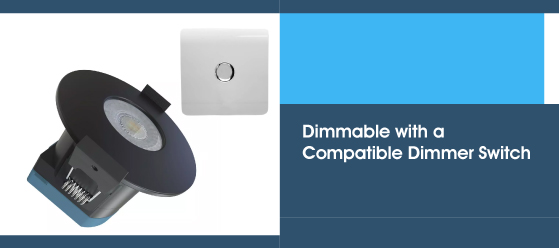 Dimmable with a Compatible Dimmer Switch
This LED downlight is trailing or leading-edge dimmable, and extensive testing is done to guarantee its broad compatibility. Still, please note that while these lights will very likely work well on other LED dimmer models not shown on our list of recommended dimmers, we cannot guarantee compatibility on any dimmer model not included. So, to avoid any discord between the downlight and the dimmer switch, we advise that you choose one from the recommendations. That way, you won't waste your time, money and effort, and you'll be able to enjoy this dimmable LED downlight to the fullest!
Having dimmable lights not only improves the ambience and aesthetic of the space but also enriches the lighting experience and makes the fitting more energy-efficient and long-lasting!
Water Resistant! IP65 Rated
What's excellent about this LED downlight is you can use it anywhere in your home! It's IP65 rated, so you can install it in your living room, bedroom, dining room, kitchen, garage, hallway, storage room, and your bathroom's zone 1. Even if you mount it directly above the shower, where jets and splashes of water can come into contact with it, this LED downlight will still work fine! It will not short-circuit or malfunction.
So, if you are in the market for an all-around lighting fixture to have a uniform look throughout your space, choose this LED downlight! It has adequate protection to brighten and elevate every room in your home.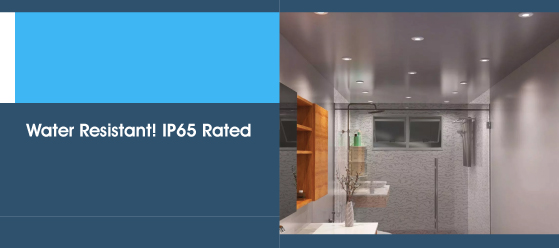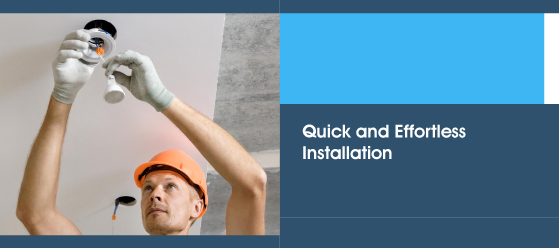 Quick and Effortless Installation
Installing this LED downlight is not a hassle because it's designed with features that streamline the mounting process. It has a push-fit terminal for easy loop in/out, twist and lock bezel, and insulation coverable clip and fit drivers. With this, you won't take that long, unlike with mounting lighting solutions that don't have all these elements!
Aside from that, this LED downlight is mains powered; therefore, you don't need to purchase a separate driver or transformer to make it work. After marking the placements of your lights and trimming the cut-out holes, you can wire it directly to the mains circuit, select your preferred colour temperature, and you are done!
Energy-Efficient! 900 Lumens & 8w Power
Similar to other LED lighting solutions that can convert the majority of the energy they consume into light, this LED downlight is also highly energy-efficient! While only consuming a minimal 8w of power, it can produce 900 lumens maximum brightness with a 60-degree beam angle!
On top of that, this LED downlight can last for 30,000 hours which is ten times longer than its non-LED alternatives! Suppose you want to lessen your energy consumption, lessen your electrical and maintenance expenses, help protect the environment by lowering your carbon footprint, and enjoy all the other benefits of an LED fixture. In that case, this LED downlight will enable you to do so!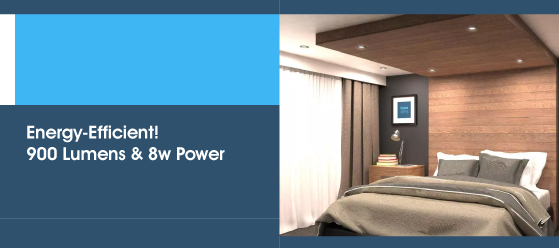 More Information

| | |
| --- | --- |
| Average Life (Hours) | 30,000 |
| Downlight Type | Fixed |
| Height | 70mm |
| LED Colour | Tunable |
| Beam Angle | 60° |
| Lumens | 900 |
| Diameter | 88mm |
| Dimmable | Dimmable |
| Input Voltage | 220-240v |
| Power | 8w |
| Warranty | 3 Years |
| IP Rating | IP65 |
| Cut Out Hole | 68mm |
| Finish | Black |
For delivery or returns information, please refer to the page below.