5 x 18w LED Polo Twist & Lock Bulkhead / Dome Light With Microwave Sensor
A measure to the brightness of a LED Light. Example being 320 lumens would be the equivalent in brightness to a old fashioned 50w Halogen spot light.
Pack of 5 LED bulkhead lights
Colour adjustable - select between warm, natural and cool white LED by flicking a switch
Dual wattage - can switch the bulkhead from 12w to 18w, adjusting the brightness to the required level
Built-in microwave sensor, so the light can automatically switch on / off when the light senses movement
Dimensions: 320 (D) x 65mm (H)
Lumens: 1620
IK08 Rated - can withstand being dropped
IP65 - perfect for indoor and outdoor applications
What are Lumens?
What are lumens?
When you bought an incandescent bulb you knew that a higher wattage meant a brighter light. However, wattage really measures power consumption, not brightness. Lumens measure brightness. You can use the chart below to match the wattage of an incandescent to its LED counterpart. LEDs use less power and save money.

Need Help Choosing?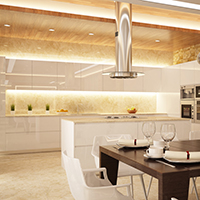 Warm White
Warm lighting is similar to conventional lighting and has a softer feel. This lighting is perfect for living rooms and bedrooms.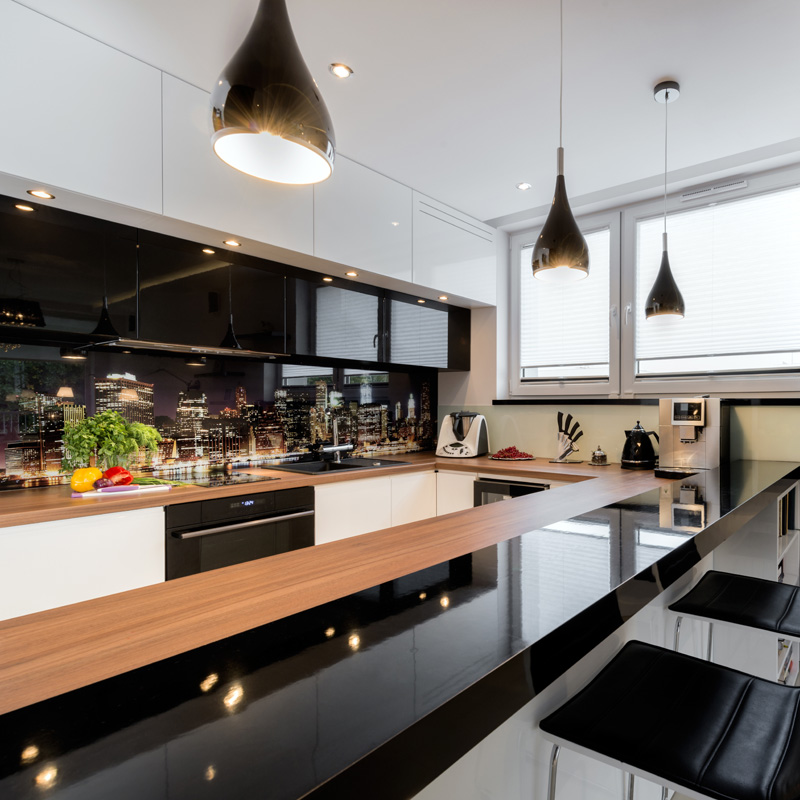 Natural White
Daylight - The colour of the lighting is used to represent 'daylight colour' indoors. It has neither the softness of warm white or the starkness of cool white.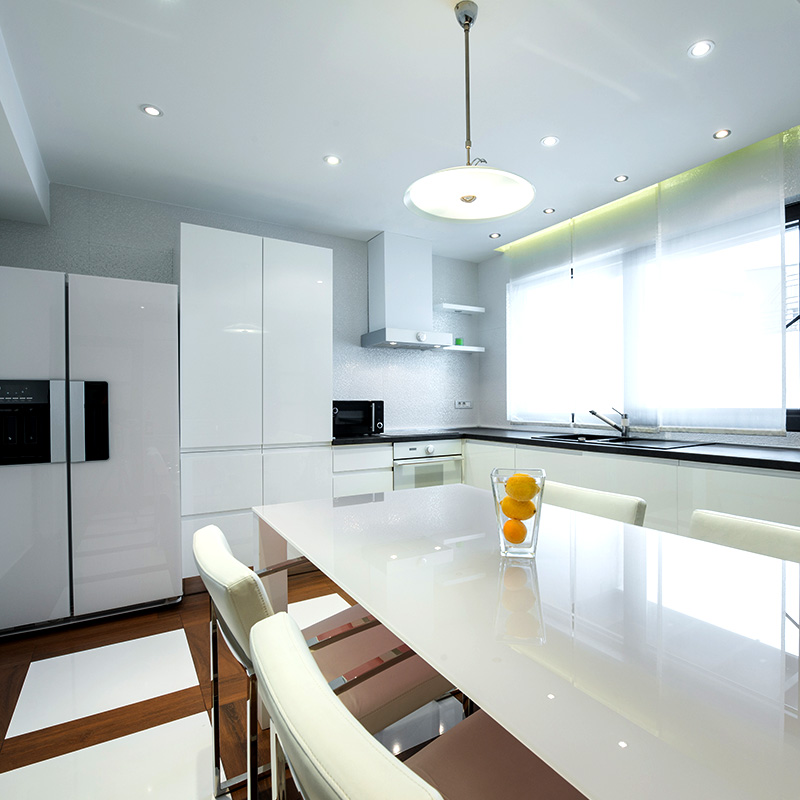 Cool White
Cool white - Is a brighter whiter light and is more suited for the bathroom or kitchen.
£91.62
£109.95
Was
£299.95
Save £190.00
Up to
5 year guarantee
on lightbulbs
Free delivery
if order is over £75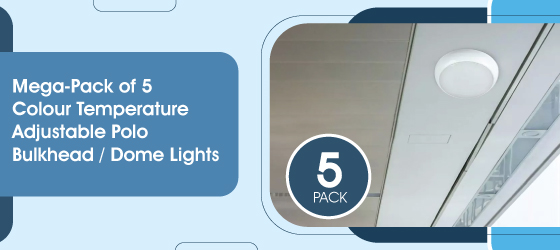 Mega-Pack of 5 Colour Temperature Adjustable Polo Bulkhead / Dome Lights
Cool white, natural white, or warm white light? If you cannot decide which to buy, get this LED bulkhead light instead! This LED bulkhead is colour temperature adjustable, meaning you get access to all three LED colours in one unit. All you have to do is locate the small toggle switch and slide left or right until you arrive at your preferred colour!
Is a colour temperature adjustable fixture better than a single-coloured one? Unless you're 100% sure of your choice and the purpose of your lights will not change, it'll benefit you if you get a colour temperature adjustable fitting. That way, even if the initial result is unexpected, you can flick the switch until you get what you want. In addition, this LED bulkhead comes in a pack of 5, giving you more lights to work with!
Multi-Wattage Option & Designed with a Microwave Sensor
This LED bulkhead light is constructed with a Merrytek-branded Microwave Sensor, allowing it to turn on and off automatically when it senses movement within its surroundings. Also, there are dip switches on the internal microwave sensor that enable you to tailor-fit the time the light remains switched on and the detection range/sensitivity of the sensor. The minimum time this LED polo bulkhead will stay switched on is 5 seconds, and the maximum is 30 minutes.
Aside from that, this LED bulkhead light has multi-wattage options, which means you can choose between two power options: 12w or 18w. When you select 12w, you're fixtures will produce 1080 lumens. On the flip side, if you pick 18w, the LED bulkhead will produce 1620 lumens.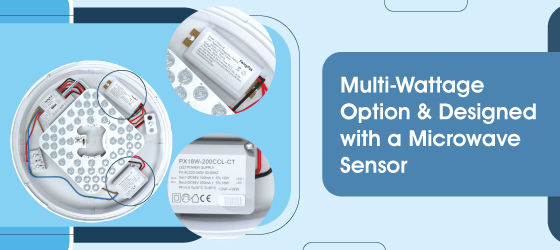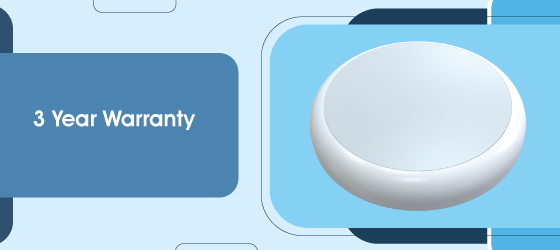 3 Year Warranty
We offer a 3-year warranty with this LED bulkhead light because we want you to enjoy your brilliant space to the fullest for a long time with peace of mind! When you shop online, there are times when the product exceeds your expectations, you get what you expect, or it's a total expectation-versus-reality moment. So, while it's super convenient since you can buy almost anything, many hesitate to shop online.
With this extended warranty period, we hope that the confidence we have in this LED bulkhead light will be reflected, providing you with extra assurance and encouraging you to purchase. If you have questions about this product, feel free to call or email us!
Easy to Install
Installing this LED bulkhead light is the least of your worries because it's super easy! The entire process will be smooth sailing as long as you review the installation manual and prepare all the necessary tools and equipment before you start to install. The front part of this LED bulkhead has a twist and lock mechanism, so you can easily access the gear tray without dealing with many screws. Plus, its wiring terminals have quick connectors, streamlining the process!
Aside from that, this LED bulkhead light has a slimline design with a white finish, making it the perfect fitting for various design schemes, whether traditional, modern, retro, rustic, etc. In addition, you can use this bulkhead in many areas, including hallways, patios, garages, warehouses, offices, retail spaces and more!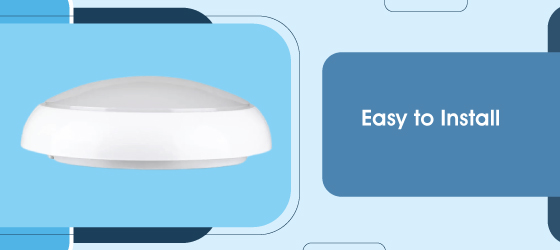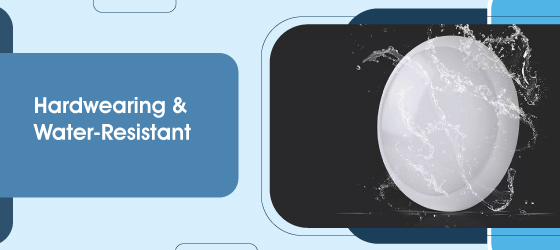 Hardwearing & Water-Resistant
Outdoor lighting fixtures and indoor lights have different construction, materials, and characteristics. Outdoor fittings are exposed to a harsher environment, so they are designed to withstand those conditions. So, before you purchase an outdoor fitting, check the product description and technical specifications and ensure that it's durable and water-resistant!
This LED bulkhead has an IP65 rating. Even if jets and splashes of liquids come into contact with it, it will not malfunction or short-circuit. Plus, it's IK08-rated, meaning it can withstand severe impact if it's suddenly dropped or if someone tries to break it. With this LED bulkhead solid construction, it will safely live out through its extended average lifespan!
Outstanding Brilliance! 1620 Lumens
LED lighting fixtures are popular because they are eco-friendly, cost-effective, low maintenance, and long-lasting. Above all, LED lights are highly efficient! They can convert most of the power they consume into luminance with very minimal ending up as waste (heat). Because of this, even if they have a relatively low wattage requirement, LED lighting fixtures can still showcase remarkable illumination!
Powered by that same technology, this LED polo bulkhead light only requires 18w of power to produce 1620 lumens maximum brightness with a wide 120-degree beam angle! Aside from that, this LED bulkhead has an average lifespan of 30,000 hours, which is ten times longer than a standard traditional lighting fixture.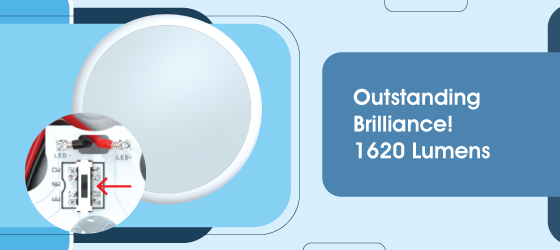 More Information

| | |
| --- | --- |
| Diameter | 320mm |
| Height | 65mm |
| Finish | White |
| IP Rating | IP65 |
| Dimmable | Non-Dimmable |
| Lumens | 1620 |
| Input Voltage | 220-240v |
| LED Colour | TrioTone |
| Power | 18w |
| Average Life (Hours) | 30,000 |
| Beam Angle | 120° |
| Warranty | 3 Years |
| Emergency Function | No |
| Microwave Sensor | Yes |
| Corridor Sensor Function | No |
For delivery or returns information, please refer to the page below.