Set Of 4, Sky Cloud LED Panel Lights
A measure to the brightness of a LED Light. Example being 320 lumens would be the equivalent in brightness to a old fashioned 50w Halogen spot light.
The total electrical power used of the light. A higher wattage no longer guarantee's that the light is brighter. EG: there are LED products which are 5w which is equal in brightness to a 50w incandescent bulb.
Pack of 4 Sky LED Panels
Brilliant for showrooms, sensory rooms, offices etc
2500 lumens max brightness
Ultra Thin Panels
High-resolution sky projection
2-year warranty
What are Lumens?
What are lumens?
When you bought an incandescent bulb you knew that a higher wattage meant a brighter light. However, wattage really measures power consumption, not brightness. Lumens measure brightness. You can use the chart below to match the wattage of an incandescent to its LED counterpart. LEDs use less power and save money.

Need Help Choosing?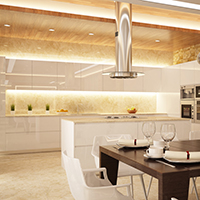 Warm White
Warm lighting is similar to conventional lighting and has a softer feel. This lighting is perfect for living rooms and bedrooms.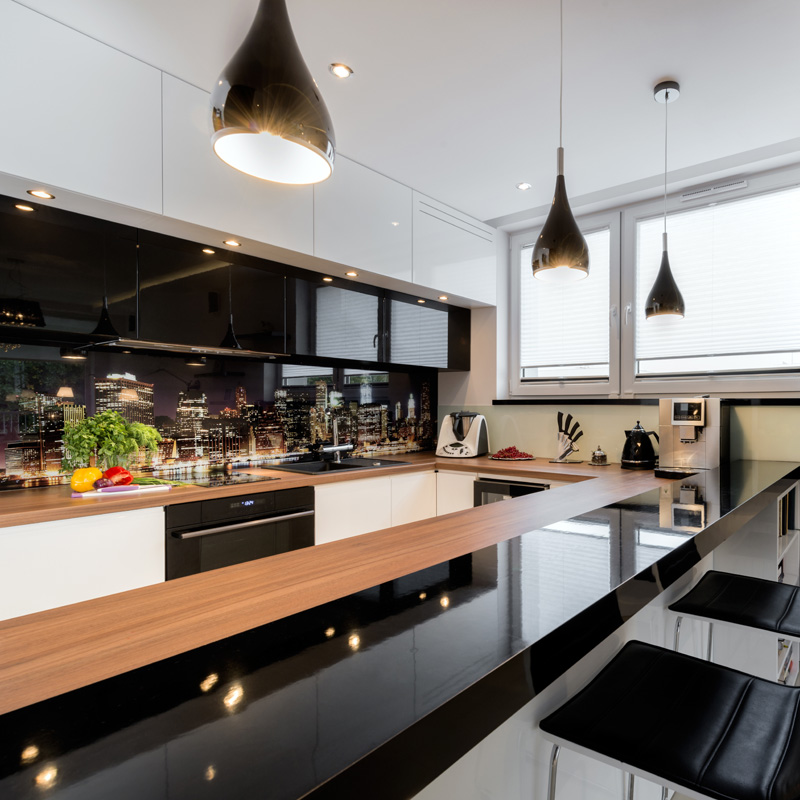 Natural White
Daylight - The colour of the lighting is used to represent 'daylight colour' indoors. It has neither the softness of warm white or the starkness of cool white.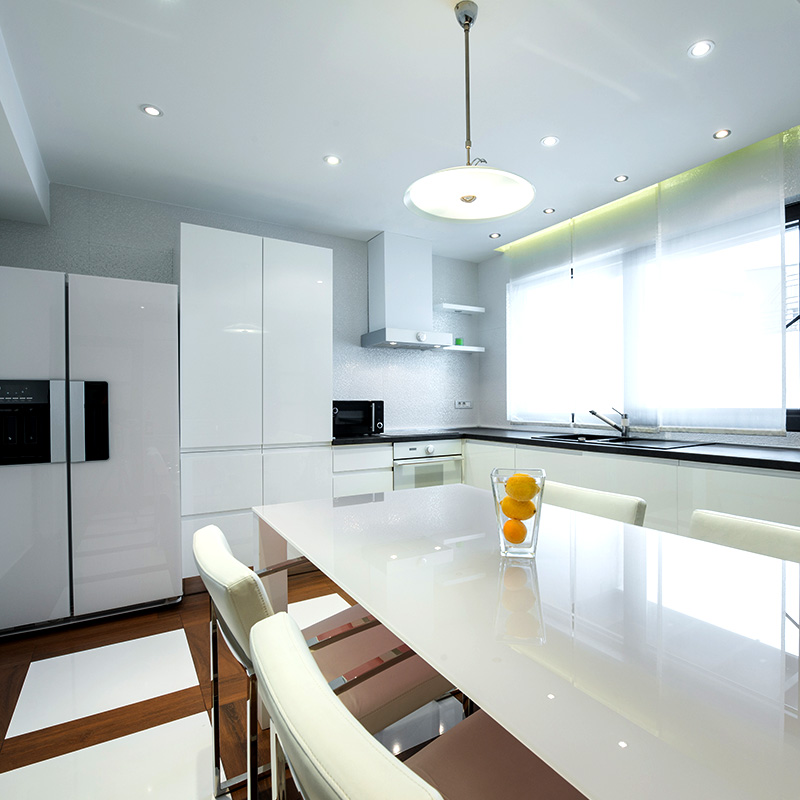 Cool White
Cool white - Is a brighter whiter light and is more suited for the bathroom or kitchen.
£99.99
£119.99
Was
£229.99
Save £110.00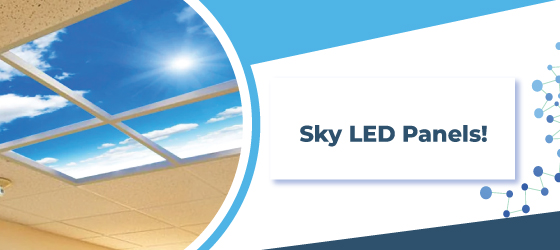 Sky LED Panels!
If your office setup consists of endless lines of cubicles, several filing cabinets and cold white lights, this is a sign to revamp your space! You don't want to live in the past and shoo away potential employees and clients because of your uninviting workspace. So, how can you revive your current arrangement without putting a massive dent in your expenses?
Simple - by adding this LED panel! Unlike regular panel lights, this LED panel can project a clear image of the sky, bringing life into any space. It'll give you a break from the typical dull white ceiling tiles, uplifting people's moods and enhancing the atmosphere of the whole office!
Set of 4 Panels - Creates a Large Sky Image
An ergonomic workspace is not only aesthetically pleasing but also enhances the productivity and health of the employees! Therefore, you need to set up an adequate lighting system before selecting the appropriate worktable and chairs.
When you purchase this product, you'll get four LED panels with a crystal-clear image of a sky. Because it mimics natural lighting and nature itself, it can help alleviate stress and anxiety. Also, this unique addition to interior design can catch the attention of your guests and clients and set your company apart from the rest! So, if you want to create a healthy work environment and stand out without looking too much, adding this panel lighting will do the trick!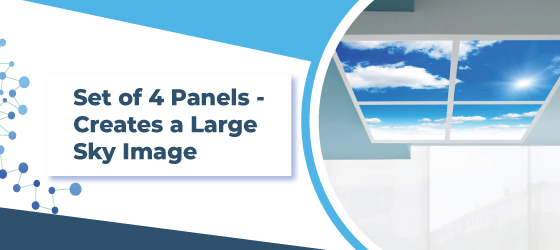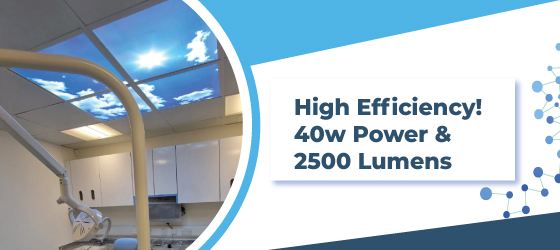 High Efficiency! 40w Power & 2500 Lumens
If your current lighting consumes energy like an exhausted runner quenching their thirst, you probably consider your electrical bills as hate mail. Well, this does not have to be the case always. There are lighting solutions that can produce outstanding brightness without needing that much power!
This LED panel only requires 40w of power to produce 2500 lumens maximum brightness. You won't be able to find this level of power-to-light efficiency in traditional lighting fixtures! With this panel installed in your office, you can enjoy its stunning luminance without worrying about the arrival of your electric bills! So, if you want to keep your expenses at bay but don't want to compromise on the quality of your lights, try this LED panel!
6000K LED Colour, Known as Cool White
Offices require bright lighting to encourage people to focus and be productive. If you have dull, flickering lights, it'll be challenging to concentrate and feel motivated to work. You'll be distracted and eventually feel sick because the fixtures that are supposed to help you see better are the ones that are making it more complicated!
This LED panel can produce cool white light (6000K), which has a bluish tint that can help you see better and work comfortably. Typically, this LED colour is used for task lighting since its brilliance will enable you to get a clear view of everything and help you pay attention to whatever you're doing.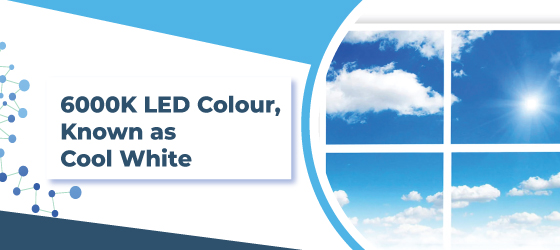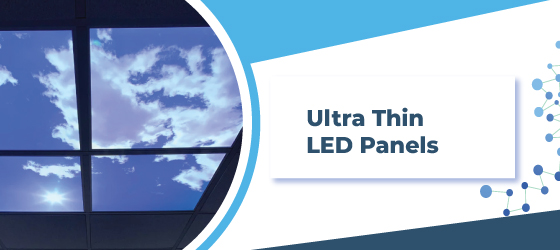 Ultra Thin LED Panels
Do you have a narrow ceiling void, or is your office's vertical space limited? If that's the case, this LED panel is perfect for you! It's 60 x 60 cm with an ultra-slim profile that can sit on your ceiling flat. Even if you have tall guests, clients, or employees, they won't have to duck whenever they pass through the hallway or while walking around the room!
Having this panel in your office will elevate its aesthetic, making it look sleeker and more modern. Also, even if your space is windowless, it can create the illusion of having a skylight! It's a plus, especially for people who want to enjoy nature while sitting at their desks.
2-Year Warranty
Shopping online is difficult and sometimes heartbreaking, particularly if the product you order arrives broken or it does not meet your expectations. While we know that the quality of our lighting fixtures is guaranteed, we acknowledge your hesitation since you cannot physically examine the product.
Therefore, to give you extra peace of mind when you check out, we are informing you that this panel light comes with a 2-year warranty! Within this period, you'll have enough time to enjoy your fixture without any worries. Anyways, should you have any questions or issues, you can always send us an email or give us a call! Our team of experts are ready to address any of your concerns!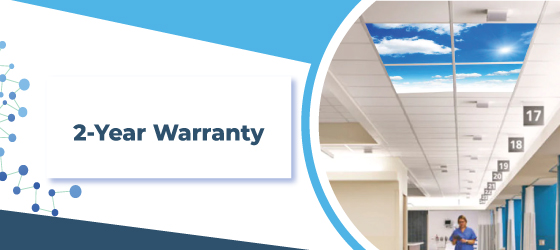 More Information

| | |
| --- | --- |
| Length | 600mm |
| Width | 600mm |
| Average Life (Hours) | 30,000 |
| LED Colour | Cool White 6000K |
| Lumens | 2500 |
| IP Rating | IP20 |
| Dimmable | Non-Dimmable |
| Input Voltage | 220-240v |
| Power | 40w |
| Warranty | 2 Years |
For delivery or returns information, please refer to the page below.