Pack of 3 Corner Aluminium LED Profiles - Angled 45 Degree, 1M
Pack of 3 LED profiles

Available in a 1-metre long length

45-degree angle of light

18.35mm deep and 18.35mm wide

Sleek and stylish design

5-year warranty
What are Lumens?
What are lumens?
When you bought an incandescent bulb you knew that a higher wattage meant a brighter light. However, wattage really measures power consumption, not brightness. Lumens measure brightness. You can use the chart below to match the wattage of an incandescent to its LED counterpart. LEDs use less power and save money.

Need Help Choosing?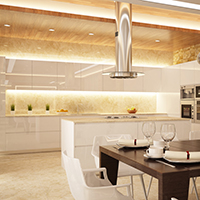 Warm White
Warm lighting is similar to conventional lighting and has a softer feel. This lighting is perfect for living rooms and bedrooms.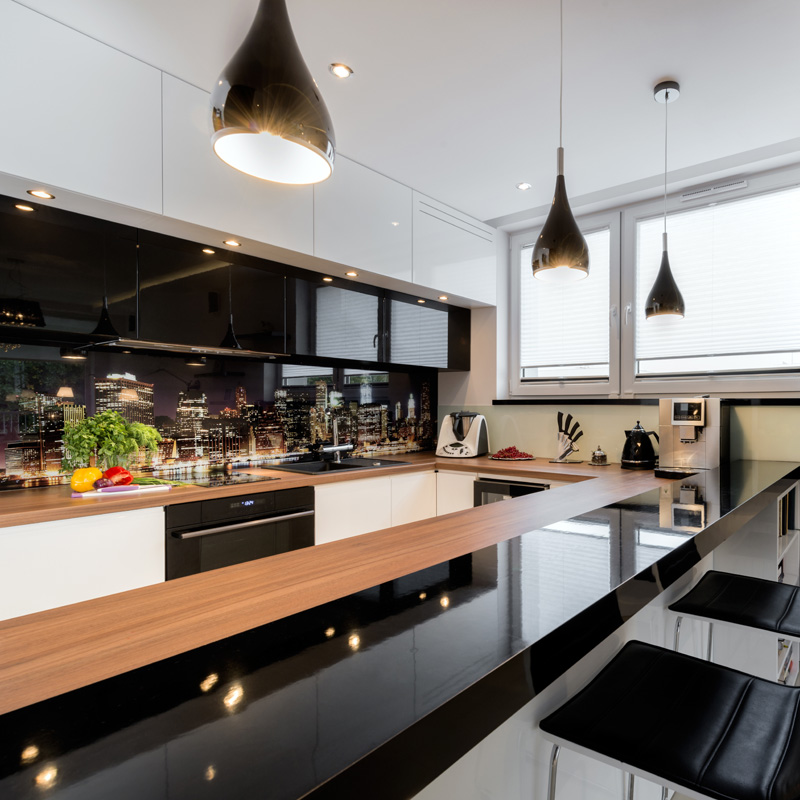 Natural White
Daylight - The colour of the lighting is used to represent 'daylight colour' indoors. It has neither the softness of warm white or the starkness of cool white.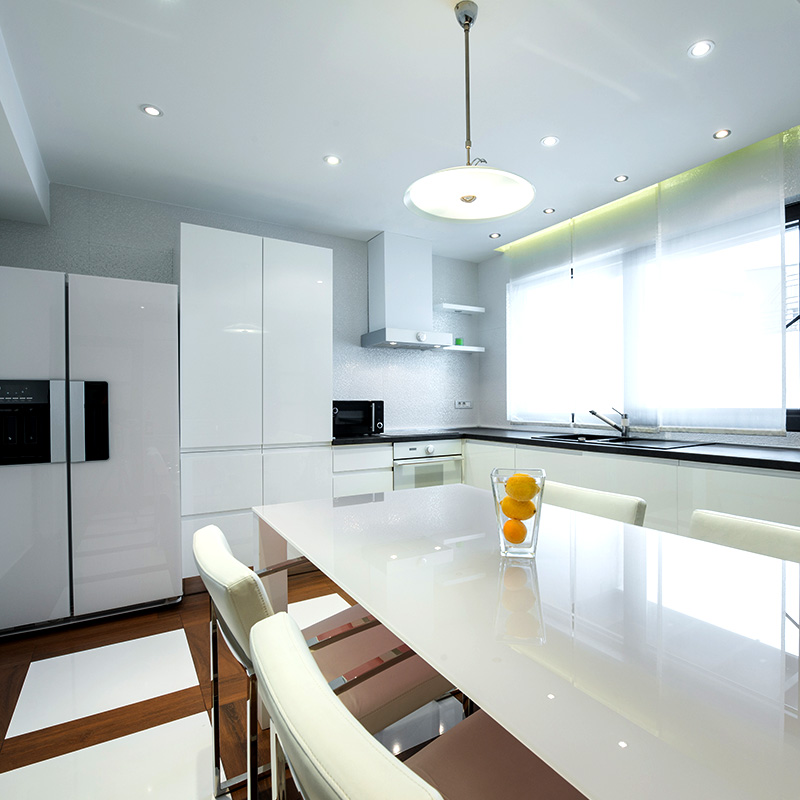 Cool White
Cool white - Is a brighter whiter light and is more suited for the bathroom or kitchen.
£14.87
£17.85
Was
£35.97
Save £18.12
Up to
5 year guarantee
on lightbulbs
Free delivery
if order is over £75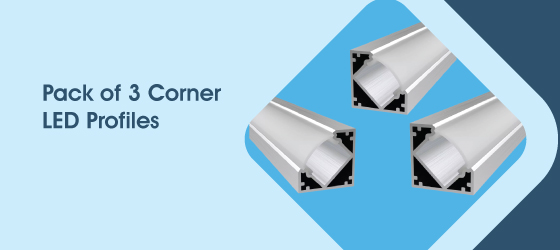 Pack of 3 Corner LED Profiles
Are you looking for a way to illuminate the corners of your cabinets, countertops, shelves, and the joints where your walls and ceiling meet? If that's the case, why don't you try to do it with LED strip lights? However, instead of leaving them as they are, enclose your strip lights in this LED profile!
This LED profile has a 45-degree angle, allowing you to brighten the space in a completely different way than most LED profiles. You mount this in a corner, and the light beams are directed forward or down. In addition, when you purchase this product, you'll get three top-quality corner LED profiles that are ready to elevate the aesthetics of your room!
Hassle-Free Installation
While adding this LED profile will increase what you need to do, once you see the result, you know it's worth it! Still, there's nothing to worry about because the entire process is hassle-free. You only need to review the step-by-step mounting instructions, clean the surface where you intend to mount this LED profile and prepare all the necessary tools and equipment!
If your project requires this LED strip to be shorter, you can easily cut it using a hacksaw or other cutting tools. On the flip side, you can butt several of these LED profiles together if you need a longer length! Anyways, it is sold with all the fixing brackets and end caps.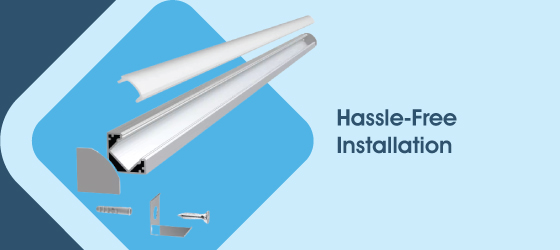 IP20 Rated - Suitable for Indoor Use Only
This LED profile has an IP20 rating, so you can only use it for indoor applications. You cannot install it in your bathroom or outdoors because, besides the profile being IP20-rated, it can only accommodate non-waterproof strip lights. Never forget that you can only use this profile in dry areas. Otherwise, you will likely say goodbye to your hard work after a few water splashes hit your lights.
Suppose you're concerned that this will limit your mounting options. While it will prevent you from using it in your bathroom and outdoor space, there are still many rooms in your home where you can mount this LED profile, including your bedroom, storage room, living room, dining room, office area, hallway, water-free parts of the kitchen, etc.
The Dimensions
Knowing the dimensions of this LED profile is as essential as learning its mounting process. Why is it necessary? It will enable you to estimate the number of profiles you must purchase more accurately. If you disregard this information, you may buy more than you need, making you overspend or too little that your construction timeline might get delayed. Also, knowing the size of your profile will allow you to mock up the placements more precisely!
So, to avoid any setbacks and guarantee a stress-free installation, note that this LED profile is 18.35mm tall, 18.35mm wide, and 1-metre long. If you know all these dimensions, you will encounter fewer issues when you start your project!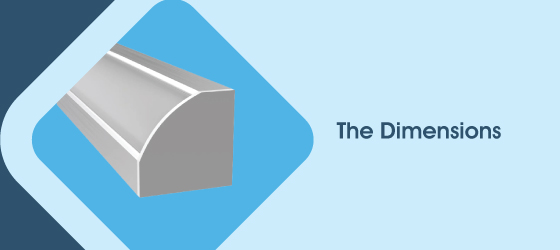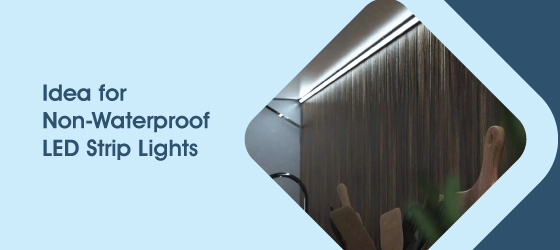 Idea for Non-Waterproof LED Strip Lights
As mentioned above, this LED profile is only suitable for non-waterproof LED strip lights. Anything other than that will not fit, so double-check everything to avoid wasting your resources. Nevertheless, you have nothing to worry about because we have an extensive selection of IP20-rated strip lights that you can pair with this LED profile!
If you place an LED strip inside an LED profile, will it waterproof your lights? That depends on the IP rating. If you're using an IP20-rated profile and strip light, it's not waterproof. However, if the strip light is IP65 and up, even if the profile is IP20 rated, it's water-resistant since the strip light itself is IP65.
5 Year Warranty
We offer a 5-year warranty with this LED profile bundle so that you can use it to the fullest for a long time without any worries! Online shopping has positives and negatives. Yes, you can purchase almost anything without stepping out of your home. However, there's no guarantee that the item you'll get will have the same quality as the images you saw online.
So, we hope that through the extended warranty period, our confidence in this LED profile bundle will be reflected, providing you with extra assurance and encouraging you to purchase it! If you happen to have questions about this LED profile, feel free to call or email us.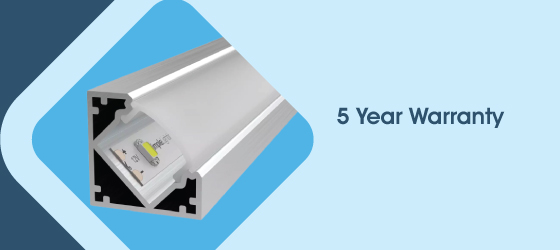 More Information

| | |
| --- | --- |
| Beam Angle | 90° |
| Internal Width | 12.2mm |
| IP Rating | IP20 |
| Height | 18.35mm |
| Dimmable | Dimmable |
| Length | 1000mm |
| Width | 18.35mm |
| Finish | Anodized aluminium |
| Warranty | 5 Years |
For delivery or returns information, please refer to the page below.