200w IP65 LED Floodlight With Photocell, 6000K IP65 Black
A measure to the brightness of a LED Light. Example being 320 lumens would be the equivalent in brightness to a old fashioned 50w Halogen spot light.
Designed with a Photocell sensor
Cool white light
IP65-rated, ideal for outdoor use
Constructed from aluminium and polycarbonate
2-year warranty
What are Lumens?
What are lumens?
When you bought an incandescent bulb you knew that a higher wattage meant a brighter light. However, wattage really measures power consumption, not brightness. Lumens measure brightness. You can use the chart below to match the wattage of an incandescent to its LED counterpart. LEDs use less power and save money.

Need Help Choosing?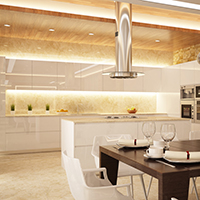 Warm White
Warm lighting is similar to conventional lighting and has a softer feel. This lighting is perfect for living rooms and bedrooms.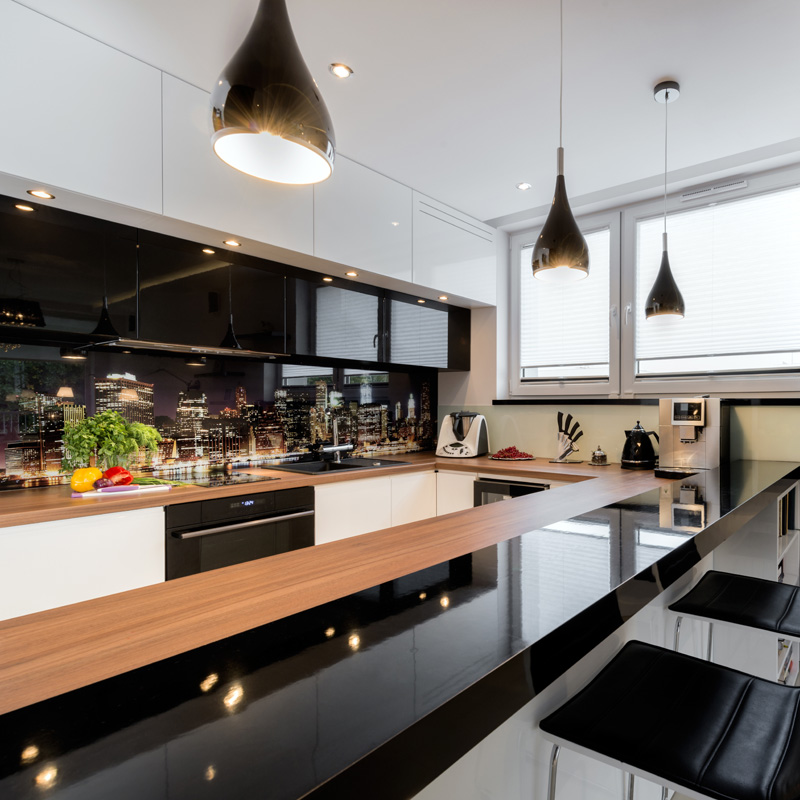 Natural White
Daylight - The colour of the lighting is used to represent 'daylight colour' indoors. It has neither the softness of warm white or the starkness of cool white.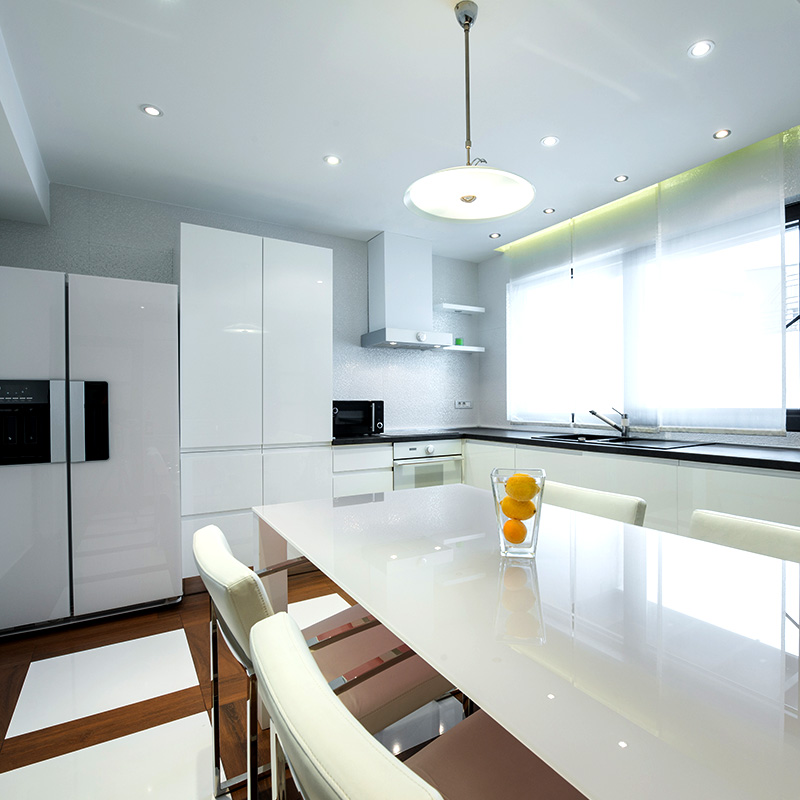 Cool White
Cool white - Is a brighter whiter light and is more suited for the bathroom or kitchen.
£99.99
£119.99
Was
£159.99
Save £40.00
Up to
5 year guarantee
on lightbulbs
Free delivery
if order is over £75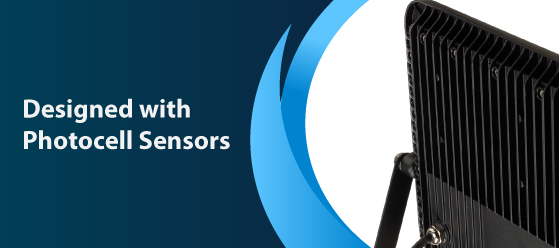 Designed with Photocell Sensors
Have you ever considered getting an outdoor light with sensors? If not, here's why you should! Incorporating a sensor with your outdoor lighting will make it more energy-efficient since it's only working when needed. Aside from that, it can double as a security measure for your property because when you go for extended trips, your lights will still switch on/off when it is dark/bright, creating an illusion that someone's home (photocell sensor).
When you buy this LED flood light, you don't need to get a separate sensor device because it is already designed with a photocell sensor. With this, you just need to install your fitting as is and enjoy the convenience an automated lighting solution brings!
Outstanding Energy Efficiency! 200W & 19,600 Lumens
Outdoor lighting would always require more lumens output compared to indoor lighting. It's simply because outside your home is a more open space, while inside gives the light a chance to bounce around the walls. So, if you purchase a fixture with a high light output but consumes power as much as the luminance it produces, it won't look good on your electricity bill!
Instead of getting those, opt for this LED flood light! At only 200w of power, it can consume 19600 lumens maximum brightness with a 120-degree beam angle! No non-LED fitting can stand near this excellent energy-to-light conversion. With this brilliance and coverage, even with only a few of these LED flood lights, you'll be able to illuminate your backyard adequately!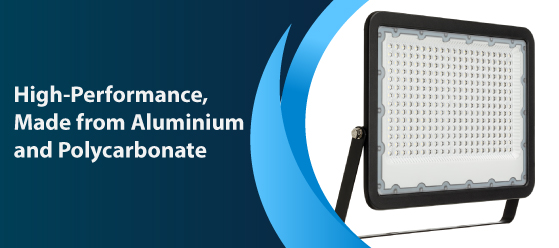 High-Performance, Made from Aluminium and Polycarbonate
Have you ever had an outdoor light fixture that rusts easily? Well, you don't have to worry because you won't have a repeat of that experience with this LED flood light! It's designed with high-quality aluminium and polycarbonate, so it will not rust or tarnish even if you've had them for years.
While ensuring that your lights have a high IP rating is the top priority, you also need to check the materials used for their exterior. If the construction is flimsy and sub-quality, the expected average lifespan of the fixture may be cut short because the outer shell may break easily! Therefore, you need to stick with this LED flood light to guarantee that your lights will live out their expected duration.
Suitable Outdoors - IP65 Rated
As mentioned earlier, a high IP rating is necessary to ensure that your lights can survive outside your home. Without it, various elements, like water, dust and dirt, can easily reach and damage the electrical components of the fixture. So, what IP rating is required so the fitting can hold its own outdoors? It needs to have an IP65 rating like this LED flood light!
Having an IP65 rating enables this LED flood light to withstand jets and splashes of water. Even when it rains or snows, it won't get ruined! Just make sure that it does not get submerged underwater. If that's inevitable for the application you're planning, you'll need to get a fixture with a higher IP rating.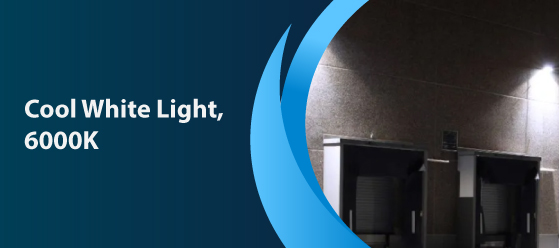 Cool White Light, 6000K
This LED flood light can produce cool white light, which is typically used for task lighting because of its crisp bluish tone. It's the best colour to have in an outdoor setting because it'll make the space stunningly bright!
Aside from that, this colour temperature will help you lessen the moments when you may trip on uneven surfaces, slip on liquids and miss a step when you go down your deck or porch. It can also help strengthen the security of your property because it can eliminate shadows when your fixtures are correctly positioned! With a well-lit space, it will be easy to see everything that's happening in your surroundings.
Effortless Installation & Ultra-Slim Design
Installing outdoor lights can be complex since you must consider all the external elements that may come into contact with your system. So, if you have the chance for an effortless outdoor lighting installation, you should go for it!
This LED flood light is straightforward to mount. It already has an integrated LED driver, so you don't need to purchase a separate one. Also, it's pre-wired with a 1-metre cable and supplied with an angled bracket; therefore, once you get it, you can immediately proceed with the installation! Just remember to be safe and switch off your circuit breaker before you connect anything.
In addition, this LED flood light will fit your style aesthetic because it has a gorgeous black finish that matches anything and a slimline design (336mmx403mmx25mm), making it look chic and sleek!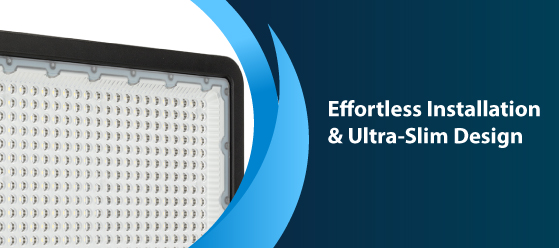 More Information

| | |
| --- | --- |
| IP Rating | IP65 |
| Average Life (Hours) | 30,000 |
| Beam Angle | 120° |
| Finish | Black |
| Depth | 25mm |
| LED Colour | Cool White 6000K |
| Lumens | 19600 |
| Length | 336mm |
| Width | 403mm |
| Dimmable | Non-Dimmable |
| Cable Length | 1000mm |
| Input Voltage | 220-240v |
| Power | 200w |
| Warranty | 2 Years |
For delivery or returns information, please refer to the page below.