When you think of spring, what comes to mind? Blooming flowers, a new beginning, warmer weather, and of course, spring cleaning! For many years, people have made it a tradition to declutter, reorganise, and renovate during this season. Many of us consider Spring the ideal time for remodelling because:
It's the perfect weather conditions:

You don't have to worry about the cold winter and the hot summer. With the milder climate, you'll have fewer weather delays, and you'll be able to complete the task quicker. Also, you can take advantage of the extended daylight, which will get the remodelling done faster.

You'll get the best deals on supplies:

Since the season is changing, many suppliers are trying to sell out previous stocks. So, if you start your remodelling in spring, you have the chance of getting the best deals.

You'll have more time to enjoy summer:

If your friends or family plan to get together at your place during the summer, it's best to finish all the preparations before then. Also, you'll be able to enjoy a fresh new interior and relax for the entire summer.

You can increase your home's value:

Spring is the season for house-hunting in most places. So, if you plan to sell your home, completing renovations in early spring will give you a bigger market to sell. 
Spring Cleaning and Renovation Tips
Now that you've decided whether or not to remodel this spring, decluttering and reorganizing should come next. Yes, it can be a daunting task, especially if you plan to do a major clean up by yourself. So, to help you with this, here are a few tips that you can try while channelling your inner Mrs Hinch.
Make a schedule and clean one room at a time.
Look around and see what you need to do. Do you need to replace your under-cabinet lights? Maybe your home office needs a major declutter? Do you need to redecorate your bedroom and improve its ambience? Now that you've listed everything do it room by room. You'll feel less overwhelmed if you're completing one area at a time. 
Organise and declutter
One of the main goals of spring cleaning is to get rid of things you don't need or use anymore. Take everything out, then sort through your stuff. Make a pile for donations, the ones that you'll keep and those that you'll throw away. After sorting, take the clutter out to give you more space to organise. 
Work from top to bottom
You don't want any falling dust or debris after you've cleaned the floor. So, to save you from hassle, remember to clean from top to bottom. 
Reorganise your closet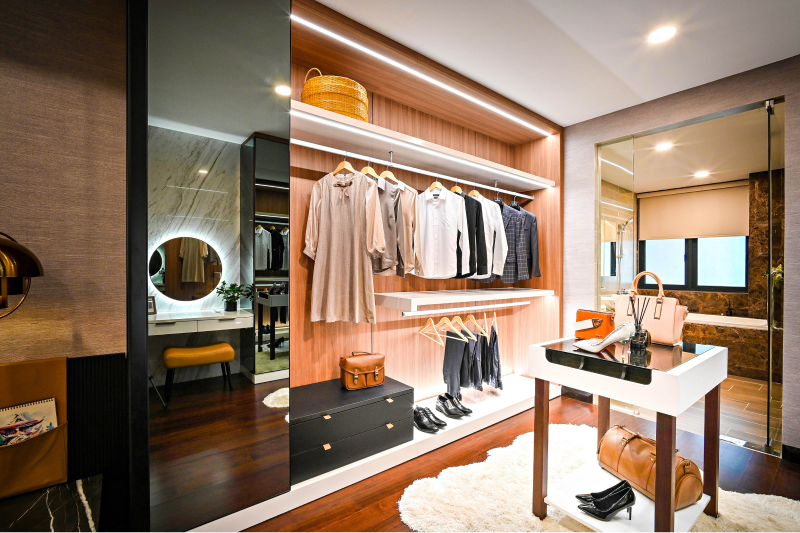 Since the weather is changing, it's the perfect time to tackle your wardrobe. Store your thick winter jackets and replace them with the latest spring trends. Also, you can do a bit of a renovation with it. You can add some pendant lights to give it more character and improve the lighting of the space.   
Update your kitchen and bathroom
Since you're already cleaning and renovating parts of your home, including your kitchen and bathroom won't hurt. Just brightening up the area will create a significant impact on the entire look of the room. For your bathroom, add some illuminated LED bathroom mirrors. For your kitchen, installing some plinth lights on the base of your island or beneath your cabinets can have a massive impact. 
Improve your garden by constructing a deck
The best way of enjoying spring's warm weather is by lounging on a patio. You don't have to include this in your tight spring-cleaning plan, but you can consider this as one of your family's spring projects and home improvements. Plan the design and the materials that you'll use. You can install garden lights or deck lights to utilise it even at night. 
Update the colour of your walls
If you plan to give your home a fresh look when spring comes, then you can consider repainting your walls. Like the deck, plan this out carefully so that you won't waste your time and energy. After taking everything out, you can start painting and while you're waiting for it to dry, declutter. Then you can reorganize once everything is dry. This task is an extreme upgrade to the usual spring-cleaning practice, but it's worth it.
So, there you have it! You don't need to feel intimidated by the whole spring-cleaning idea. Just take it one step at a time, and remember that you don't have to finish everything in one day. You can visit our website for all the lighting suggestions we mentioned.