Having a beautiful home is important – but nothing is as important as having a safe home for all of your family members as well as your guests and relatives.
Fire-rated LED downlights are an important feature of any house for helping prevent the spread of fire. The best part is, you can add these safety features at a nominal fee without compromising the style and design of your home.
Ready to learn more about what fire rated downlights are and their importance? Let's get started!
What Are LED Fire Rated Downlights?
Fire rated downlights are a type of recessed light that restores the fire integrity of a ceiling. Once installed, these downlights seal off the hole where the light is placed. This helps slow down the spread of fire in the event of one. It helps to contain the fire and reduce the rate of spreading fire so that the occupants in a house and the fire personnel have more time to react, ensuring safety and less destruction of property in the end.
When recessed lights are mounted, a hole is cut in the ceiling. In the event of a fire, this hole acts as a clear pathway to the rest of the home. This creates a fire hazard, putting the home's inhabitants in danger.
Similar to fire rated ceilings and floorboards, fire rated downlights act as a natural fire barrier. Modern fire rated downlights are fitted with an intumescent pad. When the pad reaches a certain temperature, it swells — blocking the hole and the fire from spreading upwards into the ceiling and throughout the entire home. It seals the gap so it can't reach air which fuels flames to catch the ceiling materials on fire.
When the fire can't get through the recessed hole, it finds another pathway. This delays the fire's progress, giving you and your family more time to escape safely.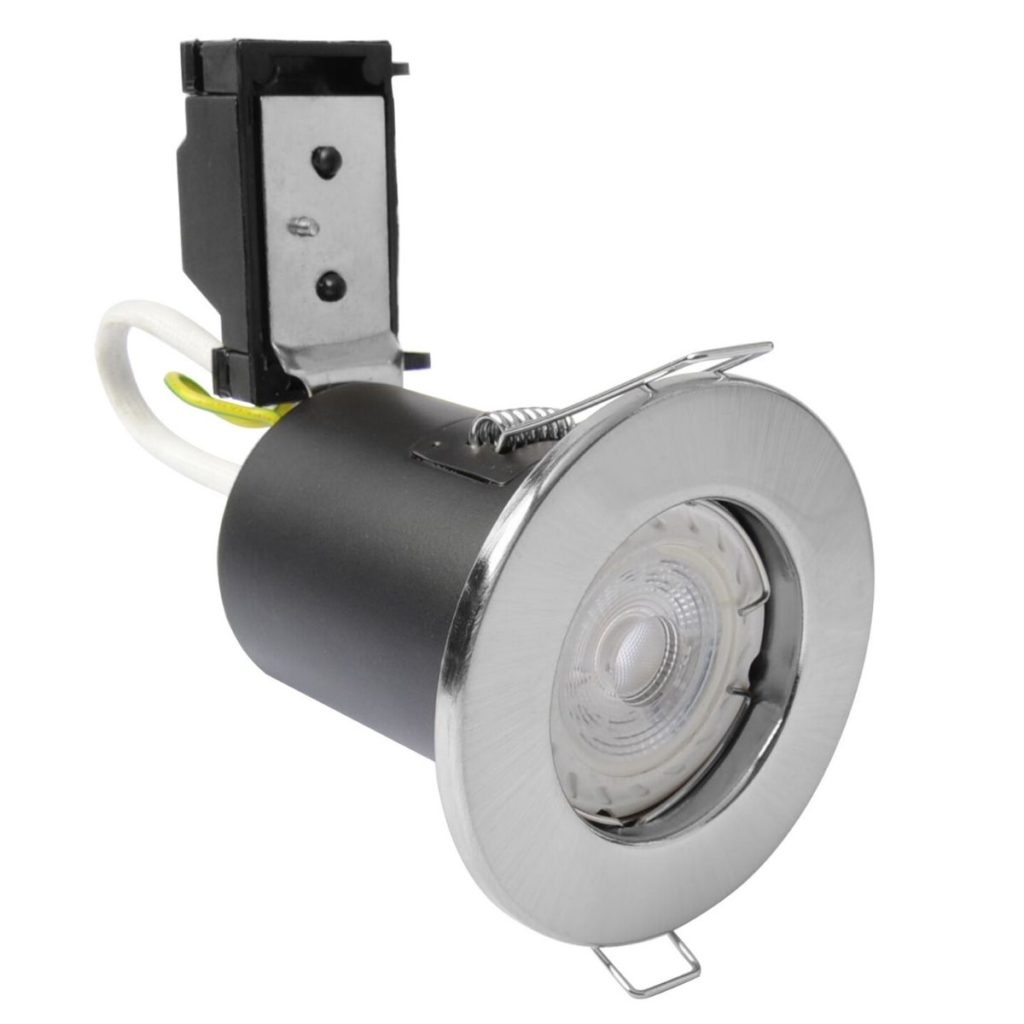 Why Does My Home Need Fire Rated Downlights?
Fire rated downlights are all about creating a safe environment. If your home has recessed lighting, it should be fire rated for your protection.
This is especially true if your home is more than one story. Fire rated downlights slow the spread of fire from one floor to another giving your family more time to escape. When flames come into contact with air they will naturally burn upwards and use any combustible materials as fuel to make the fire hotter and stronger and cause much more destruction.
It also allows additional time for the fire department to arrive and extinguish the flames. Without them, your ceilings are more likely to collapse. Fire rated downlights have a rating system that is based on the tie they can withstand the heat from a fire and prevent it from spreading. The ratings are commonly 30,60 and 90 minutes and the lights are manufactured and tested to maintain this standard of time. The ratings of your downlights are determined by how many floors you have in your home. This type of lighting is required anytime that a home or building has timber beams in the upper ceiling without concrete or metal. The rating of your downlights depends on how many floors your home has.
Downlights rated between 30 and 60 minutes are sufficient for two- or three-story homes. Large buildings with multiple floors (like apartment complexes) might require downlights rated for up to 120 minutes.
All recessed lights require a fire rating, whereas surface mounted downlights don't.
An added bonus of using this type of LED lighting over halogen ceiling lights, is that they are long lasting products and much more energy efficient to save you valuable money all year round on your electricity costs.
Safe Installation
When it comes to installation, fire rated downlights aren't much different than traditional recessed lights. Installation is relatively easy.
Most downlights come with an installation sheet and guide. Be sure to cut accurately sized holes on the ceiling for a snug and secure fit.
You can install fire rated downlights in all areas of your house but they're most commonly found in living rooms, kitchens, and bathrooms (must be IP65 rated).
Shut off all main power sources before beginning the installation process.
Does the loft or gap above your ceiling have a layer of thermal insulation? If so, you may be wondering if you can cover fire rated downlights with thermal insulation.
The answer is it depends. Some downlights can be covered in insulation while other manufacturers suggest you avoid this. If the downlight you choose can't be covered in insulation doing so can actually create an entirely new fire hazard. So it's supremely important to take this into consideration when you buy your new downlights.
Even with LED lamps inside, the insulation could overheat and catch fire inside your ceiling. LED lamps are much cooler when they are on than light bulbs of other types.
If you're replacing your current downlights with fire rated ones and insulation is already in place, invest in an insulation displacement box. This is placed over the downlight to prevent contact between the bulb and the insulation. Insulation displacement boxes are made of galvanized steel as an accessory for all recessed ceiling light fixtures. It insulates the ceiling holes in several different dimensions.
Design Ideas
Just like other home lighting options, LED fire-rated downlights come in a variety of styles and designs. Choose one that compliments your current home decór or use them to upgrade your living space. . Fire rated downlights also are space saving as they don't take up a lot of ceiling room and they appear with neat and clean lights no matter where you install them.
Here are a few fire rated downlight ideas that pair safety with style.
Set the Mood
Aside from safety, one of the main reasons people choose fire rated downlights is for the ability to create a relaxing ambiance in any room of the house.
Downlights offer both adequate lighting for activities such as homework, reading a book or cooking but are also dimmable for entertaining or a romantic dinner.
GU10 dimmable downlights are a great option if you're looking for variety and versatility. These LED bulbs provide energy-efficient, soft light that's ideal for any situation and don't create a glare on screens, such as televisions, computers or tablets as well as phones.
Splish Splash
When people consider lighting options for their homes, they often overlook the bathroom. IP65 shower fixed fire rated downlights are a great choice for illuminating your bathroom space.
These fixed fire rated downlights offer both bright, functional lighting for applying make-up and performing your morning routine. They're also dimmable, creating the perfect atmosphere for a relaxing bath or shower.
These bulbs are also an ideal choice for installation near a water source, making them versatile in both bathrooms and kitchens.
You can choose from a polished chrome, satin nickel model to seamlessly match your other fixtures, such as the faucet in your sink, shower and bathtub as well as your doorknobs. If you choose instead, you can install a white model for fading into your ceiling so it's not very noticeable.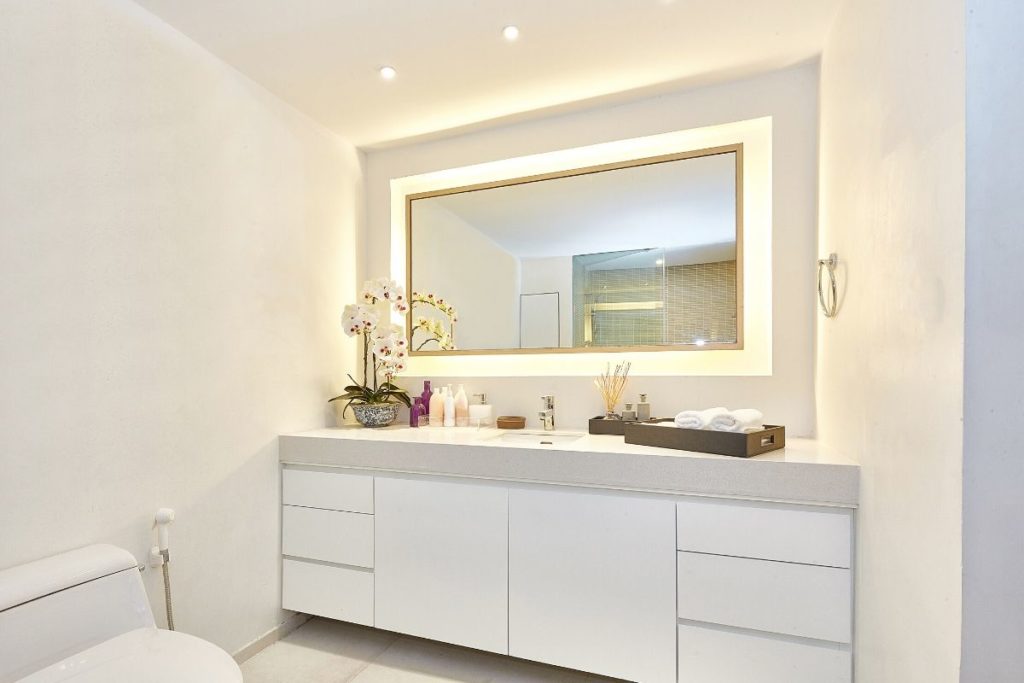 All Shapes and Sizes
Fire rated downlights are surprisingly stylish, giving your home a modern, updated appearance. Unlike other recessed lights, most fire rated downlights are mounted flush to the ceiling. That
means there's no gap between the bulb and the outer casing.
Choose a casing that matches your home decór. The most popular option is white, but it's not your only option.
Downlights come in different shapes and sizes including circles and squares with white, bronze, black or brown casings. You can also purchase downlights individually or in sections of three to four lights together.
Fire rated downlights are perfect for lighting hallways, kitchen counters, living rooms, and yes, bathrooms!
Your lighting needs are completely customizable with tilt, fixed, lock and die and twist downlights so you can have the exact amount of lighting in the perfect spot to brighten a reading nook or a dim corner. Many homeowners use fire rated downlights to tilt and adjust to brighten a focal point such as artwork on the walls, bookcases or curio cabinets.
Fire Rated Downlights: The Safe Lighting Option
Does your home currently have recessed lighting or are you looking to upgrade to this polished look? If so, consider investing in fire rated downlights.
Not only are there countless design options available, but these lights might just save a life. Rated and designed to prevent a fire from spreading, fire rated downlights add precious minutes for you and your family to escape in the event of a fire.
And as an added bonus, less damages to your home from a fire, means it will take less time for repairs that can displace you if your home is uninhabitable due to major repairs being made.
Check out our Help and Advice section and our How-to Guides for more tips and tricks on upgrading your home lighting options.