Under-cabinet lighting is the perfect light for your modern interior design. They can provide bright task lighting and create a warm and welcoming ambience that will wow your friends and family. This type of light comes in round, triangle, wedge, recessed, and superslim/ultrathin shapes. Besides a plethora of designs, there are different finishing options like aluminium, chrome, nickel, and stainless-steel metals with a brushed, matt, polished, or satin finish. These multiple choices ensure that there are fixtures available for every type of décor.
What to Consider When Choosing an Under Cabinet Light
Considering the following factors can help in choosing the right LED fixture for your kitchen.
Recessed vs Surface Mounted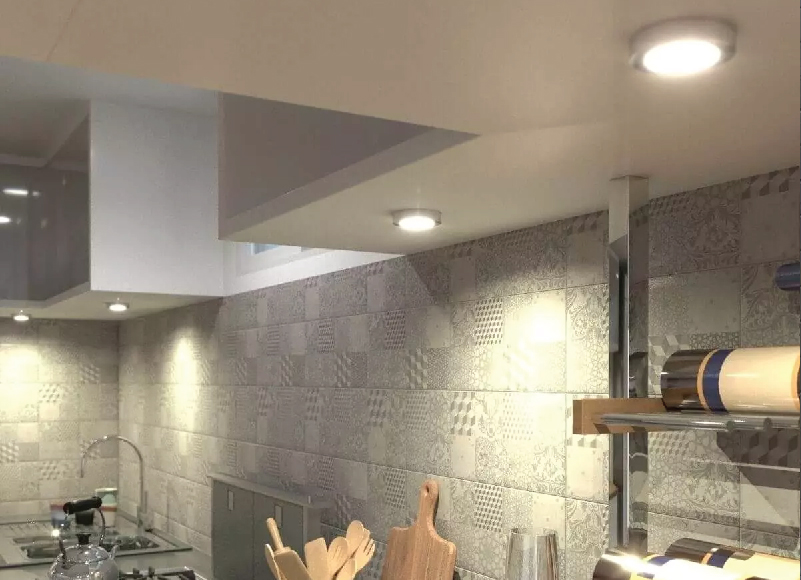 There are two types of under-cabinet lights that you can choose from, recessed or surface-mounted. To install recessed lights, you'll have to cut a hole in the surface of the cabinet. They fit into with little to no part of the light left out. Alternatively, surface-mounted under-cabinet lights are easier to install. They require no cutting or modification to the furniture. Each of these options can come in different designs and styles. Mini Link LED strip lights are another type of kitchen lighting option for illuminating cabinets and displays. These are simple to install and are available in DIY kits. They have different lengths and you can combine multiple of these for a comprehensive solution.
Colour Options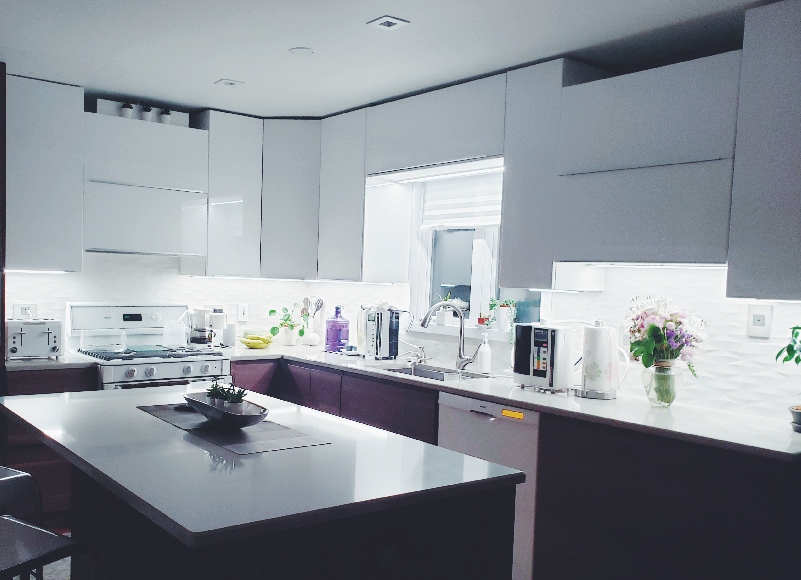 Under-cabinet lights come in various colour options, including warm, natural, and cool white. Also, there are other fixtures that can produce multicoloured beams by adjusting the knob controllers or the remote RGB controllers. Under cabinet lights with colours can make your kitchen design stand out and highlight it to the fullest.
Top Benefits of Under Cabinet Lighting
Energy-Saving
Similar to other types of LED products, LED under-cabinet lights are energy-saving. For this reason, you don't have to worry about the price of your electric consumption. This kind of lighting doesn't require much power, but they provide impressive brightness that's practical and decorative.
Environment-Friendly
You should bear in mind that you can contribute to taking care of the planet by using LED lights instead of the traditional ones. As mentioned before, it's an energy-saving light source, and it doesn't contain mercury or any other toxic ingredients. So, even if you have to replace these lights and throw away the old ones, it won't harm the environment.
Helps Remove Shadows
Having more sources of light will help you to get rid of the shadows in your kitchen. As a result, you'll see everything better, and you'll be able to be more precise while cooking and cleaning. Also, with a well-illuminated kitchen, you can prevent your sight from deteriorating, especially if you're using it late at night.
Elegant Style
Adding these lights is an excellent way to make your kitchen look more elegant without spending too much. They will give a unique touch to any interior and make it exceptional. Also, it will help create a pleasant atmosphere and improve your interior's whole design.
Easy Installation and Maintenance
Under-cabinet LED lights are easy to mount. You can DIY it if you have prior experience, but if you don't you can always call for an electrician. Also, this type of lighting is low maintenance so it won't take much of your precious time.
High-Quality Light
LED under cabinet lighting will provide you with a higher light quality compared to fluorescent or halogen bulbs. Also, they don't produce heat along with the light, so the price of your electricity won't skyrocket. Kitchens are mini hotplates on their own, and adding another product that would also produce heat would make the situation much worse.
Extra Features of Under-Cabinet Kitchen Lighting
Apart from using a mini link in-line switch for controlling your under-cabinet lighting, a motion sensor and a dimmer switch are other options you can try. A motion sensor allows you to manage your lights via hand gesture, making them easy to turn off and on. A dimmer switch can help change the brightness of your lights as needed. 
Now that you know the benefits of kitchen under-cabinet lights, it's time to check them out on our website! We have a variety of selections that you can choose from. So, hurry and shop now!