If you have been using LED tapes for some time now, you might have come across the term LED profile. What are they, and what's their purpose? LED Profiles are used to house your LED tapes to give them a more finished look compared to when you leave them as is. Ideally, you use them for LED tapes that are installed visibly around your home. They are the perfect solution if you hate seeing the circuit board of the LED tapes and want to cover them up in an elegant and visually pleasing way.
What are the benefits of a LED Profile?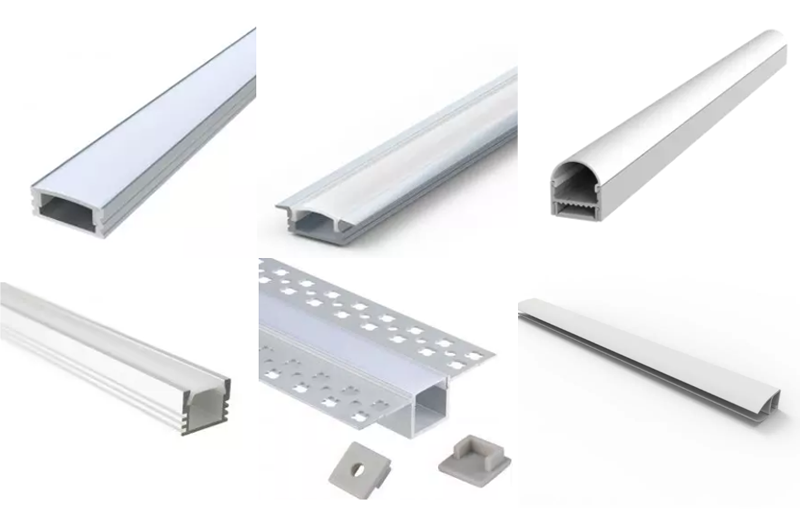 Since LED tapes are versatile and can be applied almost anywhere, it's possible for them to break if they are placed in easy to reach areas. To prevent any damage from happening, you can use LED profiles to protect them. Although they are not waterproof, you can still use them to protect your lights from moisture. If you want to install some LED tape in the bathroom, you can use an IP65 LED tape and secure it with a 15mm deep LED profile. Take note that other types of profiles like the corner profile or shallow profiles may not fit an IP65 LED tape so make sure you get a deep one.  It will help your lights to have an extra layer of defence against moisture or water splashes. With this, you can avoid unwanted electrical shocks that may occur when water comes into contact with your lights. 
Another benefit of using LED profiles is that some types are able to extend the reach of the light by narrowing the LED tape's light beam. Also, others allow you to recess it into your wall or ceiling.
What are the types of LED Profile?
Recessed LED Profile

– They allows your lights to sit flush on the surface, making them look sleeker and seamless. They have various widths, lengths, and shapes and can be installed in three different ways, including standard recessed, plaster-in recessed, or tiled-in recessed. The

 

standard recessed

 requires you to cut a channel in the wall or the furniture you plan to put your LED tape on and the trim of the profile holds them in place. For 

plaster-in recessed

, they are trimless LED profiles made for recessing for plastered ceilings or walls to create a seamless diffused light. With 

tile-in recessed

, it allows you to create a modern aesthetic in your kitchen, bathroom, or other tiled areas with its unique edge rim.

Corner LED Profile

– They are intended to produce a 45-degree angle light. That is why they are perfect for under cabinets and shelves, and ceiling coffers.

Surface Mounted LED Profile

– They are installed using a screw-in mounting bracket. Unlike recessed LED profiles, they protrude from the surface they are mounted on.
Bendable LED Profile – They are excellent in utilising the flexibility of LED tape. They can be used to curve around the edges and create unique shapes.
Where to apply LED Profile?
As versatile as LED tapes, you can use LED profiles in almost every application. Usually, aside from modern home interiors, you'll be able to see them in restaurants, clubs, hotels, and bars. You can spot them in ceilings producing ambient lighting or in the bathroom or kitchen emitting task lighting. Some use them to highlight an accent brick wall to emphasise its texture. There are a lot of ways to use an LED profile. All you need is to let your imagination and creativity flow.
There you have it! Now that you know why LED profiles are essential, it's time to get one for your home! We have all the varieties mentioned here on our website! So, hurry, check it out and shop now!