If no one has ever told you, we'll let you in secret. When it comes to interior design, lighting plays an incredibly critical role in making or breaking your space. Even if you have the most expensive artworks, most luxurious furniture, or the most lavish décor, without a carefully thought lighting plan, all those bits and pieces can go down the drain! So, to ensure that you don't end up disappointed with your home's interior design, here are some helpful tips that you can keep in mind!
Importance of Layered Lighting
One source of lighting is not enough, especially for rooms that have multiple functions. So, before you settle with a single overhead lighting that does not do any justice to your aesthetics, here are the three layers of lighting that you need to have!
Ambient Lighting: This layer comprises 75% of the room, keeping it illuminated for ease of navigation. Without ambient lighting, a space can't function efficiently.
Task Lighting: This layer requires more concentrated and focused lighting to keep your workspace well-lit and bright. With task lighting, it helps you see intricate details better.
Accent Lighting: This layer is for decorative purposes and is usually the finishing touches of a room. Accent lighting is mainly seen enhancing tray ceilings, trims, and coves.
How to Light Each Room
Now that you know the concept of layered lighting let's take a closer look at how you should light each room!
Living Room
In the living room, you do various things like watching TV, catching up with friends, reading, playing board games with the family, and more. Because it serves so many purposes, you'll want lighting that can quickly adapt to the changes from cosy Netflix night to a Paint by Number afternoon.
The best fixtures that you can get for this room is flexible track lighting that can give you a task, ambient, and accent lighting. With this, you'll be able to conveniently move, rotate, and direct the individual lighting heads to diversify the lighting scheme whenever you need some change. Having adjustable beams will give you more flexibility to create the patterns you want or wash the light out without changing any bulbs.
Since most living rooms have televisions, you need to be specific with choosing lights that don't cause glares or shadows. So, aside from track lights, other fixtures that you can add are pendant lamps, dimmable wall sconces, and uplights. If we go to the numbers, around 10-20 lumens per square foot is ideal for the living room.
Kitchen
Since the kitchen is a hectic place that involves a lot of hazards, it's vital that you ensure it's well-lit to prevent any accidents. For ambient lighting, you can use a recessed downlight with a wide beam angle that can distribute light evenly throughout your space. As for the work areas like the kitchen island and countertops, you can install ceiling spotlights (kitchen island) and under cabinet lights (countertops) directly above for sufficient illumination.
To complete the lighting set-up, you can add plinth lights or tape lights on the kitchen kickboards for accent lighting. It will give you a bright, soft light that's perfect for those midnight snack runs or a late-night baking session!
About 70-80 lumens per square metre is necessary to ensure that the task areas in your kitchen are well-illuminated. On the other hand, for the general space where you don't necessarily need bright lighting, about 30 – 40 lumens per square metre will suffice. So, when you start shopping for your fittings and bulbs, keep that in mind so you'll have more assurance that your kitchen will be adequately lit.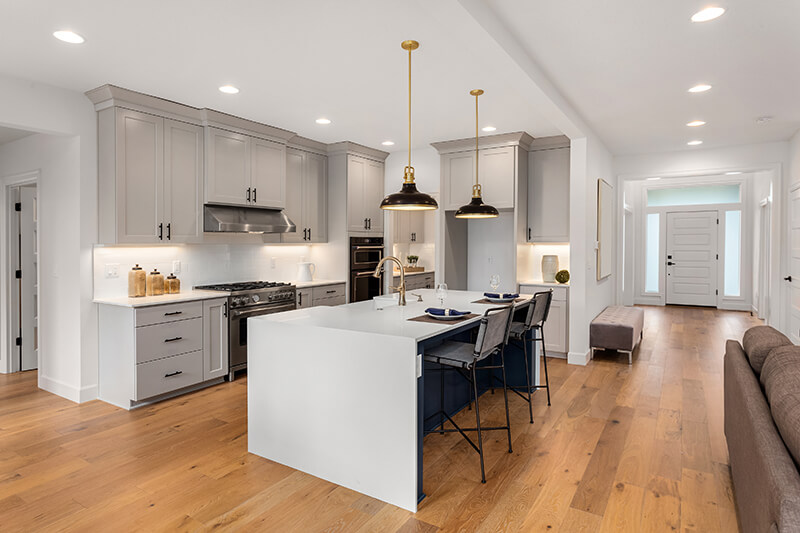 Dining Room
When it comes to this part of your home, you don't want it to be dark and shadowy since it's usually a place of conversation. You need to have excellent overall lighting, so recessed downlights are a good fit in this area. Also, dining rooms are multi-functional, so you need to pay attention to task lighting as well.
If you want to spice up your dining rooms a little bit, you can add a chandelier (bigger spaces) or a pendant light (small area) to serve as the dining room's centrepiece and functional general lighting. Just remember that you need to have at least a 33 inches vertical clearance above the table in a dining area that has an 8-foot ceiling (every 8 feet, add 3 inches above table measurement). This way, your chandelier will not block the way and can effectively brighten up your space while you eat and socialise.
You'll need around 30-40 lumens per square metre to ensure that every part of the dining room is well-lit. Also, keep in mind the layering and position of your lights to make sure that you eliminate all the shadows that can make the room dull and unattractive.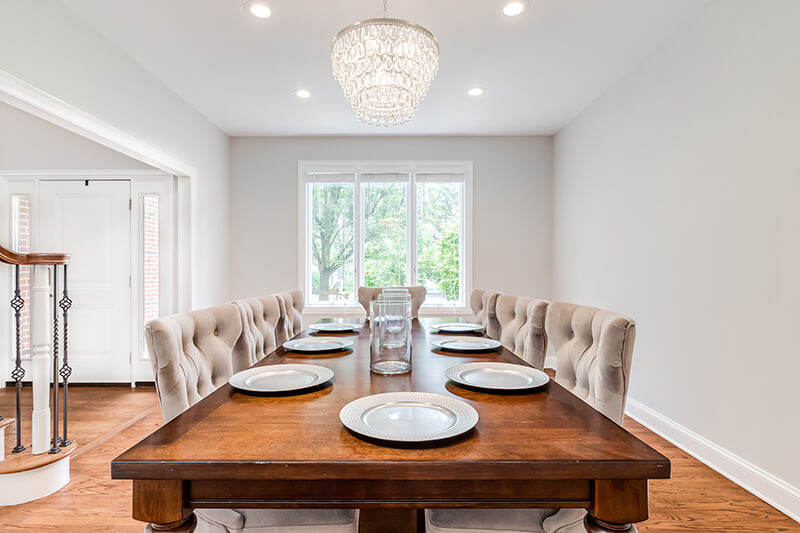 Bathroom
When lighting a bathroom, you need to ensure that the fittings you're using are bathroom safe. You cannot use any kind of fitting because you want to guarantee that you will not get electrocuted while you bathe. Also, layering is essential because aside from having a beautiful layout, you'll want to keep the area hazard-free.
To avoid creating shadows, do not use lights that point down at the mirror. Instead, install fittings like pendant lights and wall sconces on each side of the mirror for more balanced lighting. Bright lights are suitable for the bathroom, and it's best to keep it around 70-80 lumens per square metre.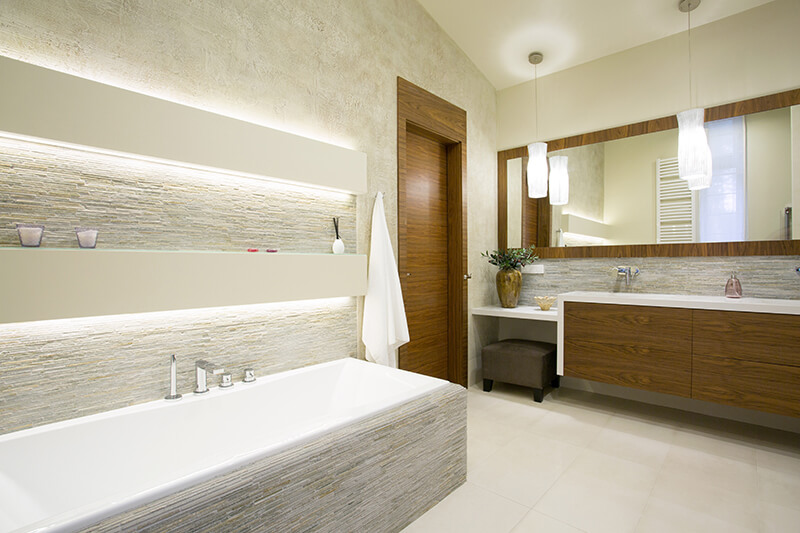 Bedroom
When it comes to bedroom lighting, you want to make sure that it's cosy and relaxing. Your goal is to wind down and get a good night's rest, not keep your mind alert and wide awake throughout the evening. So, for ambient lighting, you can settle for a recessed downlight and for task lighting, you can go with a classic bedside table lamp or some wall lights. You don't need to over-light your bedroom because you don't want to start feeling like you're sleeping in an office.
There you have it! Now that you know how to light every room of your home, it's time to start shopping and updating your interior. If you're looking for premium-quality LED lights, you can head to our website, Simple Lighting!