As of June 16th, 2021, Simple Lighting has officially been recognised as a member of The Lighting Industry Association. With this partnership, we aim to further sharpen our expertise and venture into the other facets of the lighting industry as we move forward with this association.
At Simple Lighting, we sell decorative products such as Fire Rated Downlights, Under Cabinet lighting and plinth lights.
Quality, Safety and Performance
The Lighting Industry Association is an organisation established following the merger of the Lighting Association (LA) and The Lighting Industry Federation (LIF) in January 2012. Before they combined, the Lighting Association catered mainly to the decorative and domestic lighting industry, while The Lighting Industry Federation primarily focused on the street and commercial lighting sector. Because of the extensive expertise of the two organisations, The Lighting Industry Association is recognised as a representative of the lighting industry in the UK. Their mission is "through collaboration – we will develop the quality, safety and performance of the UK Lighting Industry."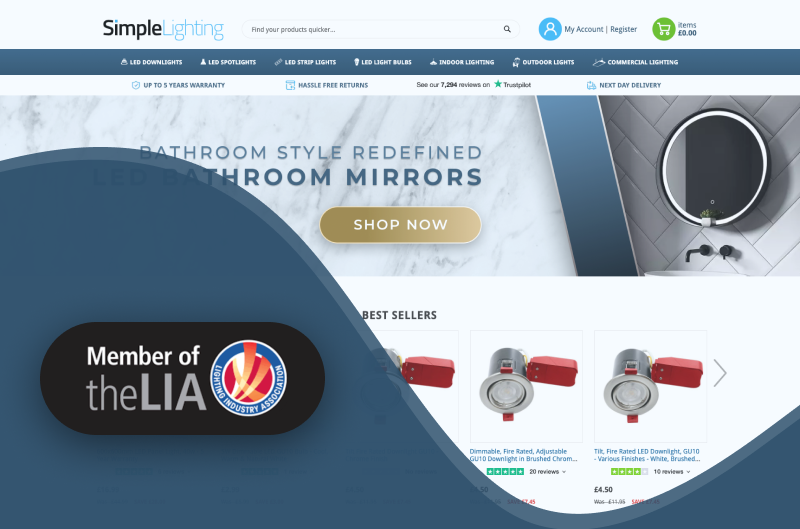 The Lighting Industry Association aims to promote the growth of its members and envisions becoming the pathway for the lighting industry's expertise, knowledge and compliance. They continue to serve this sector and supply chain in the UK, promote the best practices, share valuable information and knowledge, and offer a wide range of services for its members and the wider lighting industry. 
Having joined such an excellent association, we at Simple Lighting are looking forward to all the learning opportunities that we'll be able to receive from the LIA and fellow members of the industry. We look forward to developing and improving our current line of LED lighting and we're excited to create new products for our customers in the future.
We are hoping that through this collaboration, we not only learn, but we can also share our experiences and know-how to help elevate the lighting industry in the UK for the benefit of the public. We know that this is only the beginning for us, and we are beyond thrilled about what we, as a company, will become as we work with this incredible organisation. 
As a brand that prioritises quality, we want to stand by our claims that our products are of premium quality. We want to ensure that all our LED lighting that you receive will not only last for months but will be able to stand the test of time and maintain its initial performance. We're not here to just decorate our products with flowery words because we mean business when we say our products are premium-quality and high-performance. And to back those up, we make sure to partner with industries and associations to help us grow as a brand and constantly evolve our products to be even better versions of the original. There is no limit to improvements, and we want to continue to find better lighting solutions for you. 
We are really excited and looking forward to the outcome of this membership, and we hope that soon, we'll be able to create new types of lighting for you to enjoy in the comforts of your home. Let's all work together in creating a brighter place for everyone to live in and to enjoy!