In recent years, Light-emitting diodes (LED) lights have come into prominence. Technology has revolutionised the lighting industry and produced better quality, long-lasting and energy-efficient lights.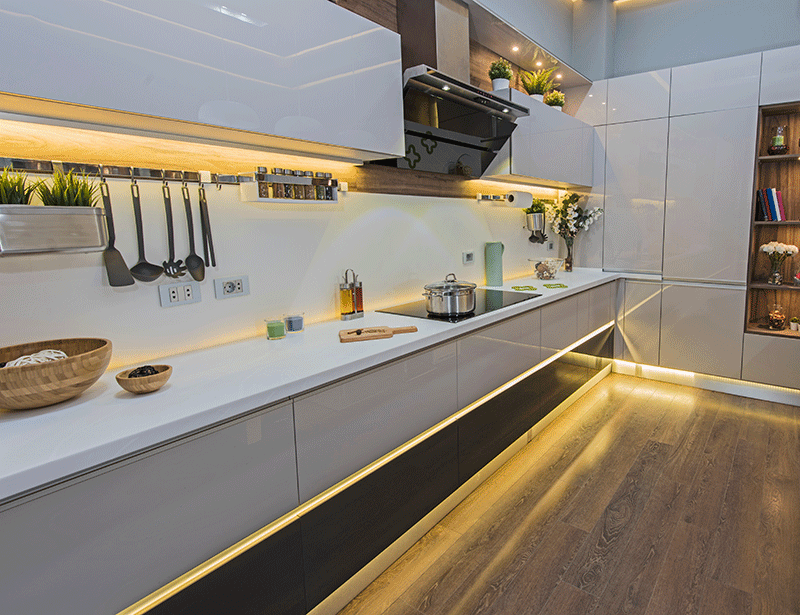 What are LED Strip Lights?
Among all the other types of LED Lighting, LED Strip lights have gained immense popularity because of their versatility. It's a flexible circuit board with embedded LEDs on one side and a double-sided adhesive on the back. You can attach them to almost any type of surface and are suitable for an extensive assortment of installation scenarios. 
There are accessories, such as LED aluminium profiles available that can protect your LED tape against moisture and dust. It can also prevent the adhesive backing of your LED tape from peeling especially when you put them in areas with high temperatures. If you have children at home, these profiles can stop them from touching the strips. Plus, LED profiles will make your LED strip installation look elegant and more finished.
When you include LED strips in your lighting plan for areas where water is present, such as the bathroom, make sure that it's IP65 rated (waterproof). If you add an LED strip lower than that IP rating and water gets to them, then your lights will die and you're at risk of getting electrocuted. Additionally, you can also use an IP65 LED strip for your garden!
Most LED Strip Lights need an LED Driver to work since they operate at a lower voltage than the usual power supplied by regular sockets. The drivers convert the high voltage to the specific lower voltage that your LED strip light requires. 
LED Strip Lights vs Rope Lights
Are you also guilty of interchanging the term rope lights and LED strips when talking about your lighting plan? You'll be surprised to learn that there is, in fact, a significant difference between the two. LED strip lights are brighter than rope lights. You can use them to illuminate hard-to-reach spaces like kitchen cabinets, shelves, and staircases. They come in varying lengths, are dimmable (not all), and have different colour temperatures. Plus, this LED lighting is slimmer, lasts longer, and has an integrated adhesive on the back. On the other hand, Rope lights are used more for decorative purposes and are excellent in producing a soft light accent. Also, they give the appearance of twinkling lights. You mostly see rope lights in production designs and Christmas decors. 
Benefits of LED Strip Lights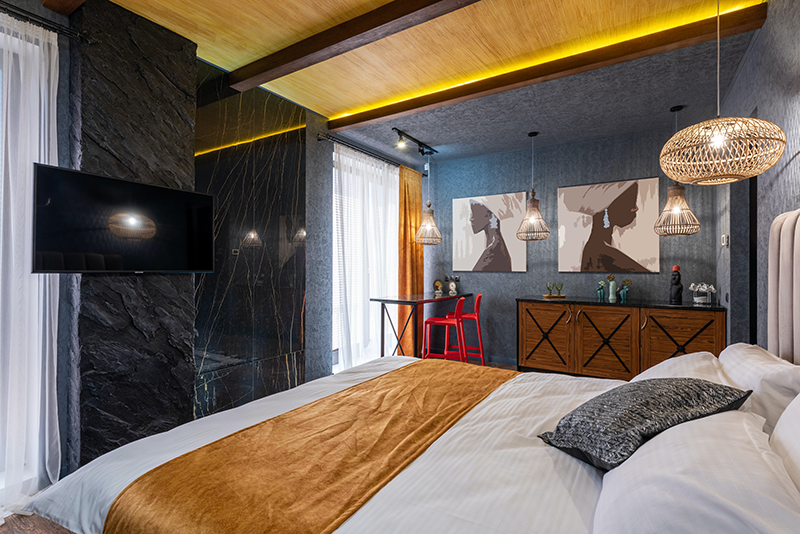 Mood Enhancement.

Scientists and psychologists have found that light affects how the brain functions and that lighting can regulate how a person feels and thinks. That is why lighting is essential in creating a more calming, peaceful environment. Most people would agree that a dark room closed off by heavy drapes and a dim bulb is depressing. The light produced by opening the blinds or lighting a dark area can uplift your spirit and bring a more joyful attitude. Of course, there are times when you want the cosiness associated with a dimmer environment. If you think LED lights are unnecessary during this time, you're wrong. They can set a cosy mood that you can bask in and relax. 

Decoration.

LED strip lights are perfect for decorating areas you want to highlight. You can string them up for a lovely and relaxing atmosphere to fend off the monotony of a dull room. With a bit of creativity, you can develop some jaw-dropping designs that will impress your guests and family. LED strips can create new energy in your home that will inspire you to be even more imaginative. Before you make your purchase, determine the number of metres you'll be needing for your project. Compare quality and prices. Check the colour of LED chip and the number of LED chips per metre of LED strip – the more LEDs per metre, the brighter the LED strip will be. Depending on your planned layout, you may need different kinds of LED strips since they come in various colours. Also, there are a variety of colour

RGB LED tapes

that you can utilise to add character to your room.

Home Security.

LED strip lights can provide brightness in dark areas that criminals may seek out. You can set it up with a PIR or microwave sensor so your lights will activate whenever it detects movements within a certain range. This will instantly illuminate shady walkways or porches as soon as someone or something approaches. Inside your home, it can be the perfect solution for hallways, dark closets, and cabinets. You can supplement sensors that will automatically detect movements within 10 feet and activate the lights. 
Reminders when Buying LED Strip Lighting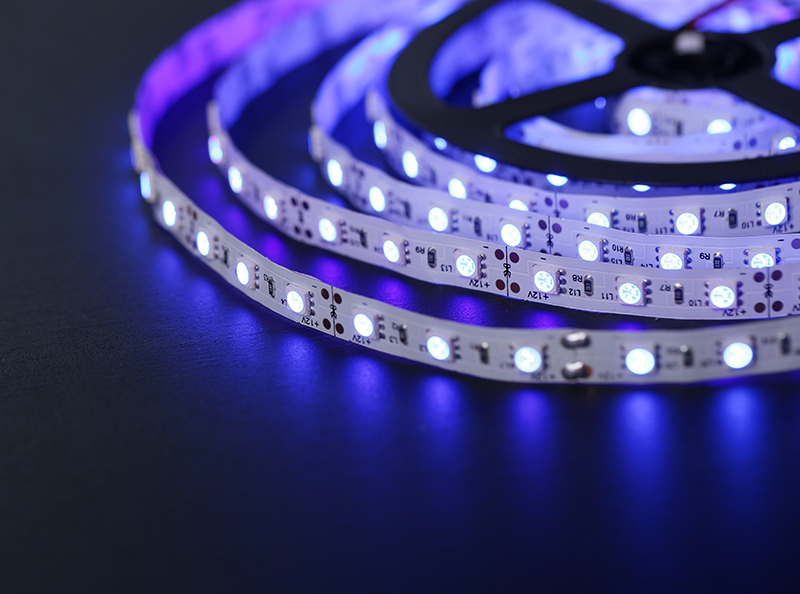 Most LED strips are often sold online by the reel (e.g. 5m or 10m) and you'll be the one to cut it down to the length you need and solder wires on the end of each. Some prefer this because they have the time to cut and solder. But, if you want to skip the cutting and soldering, there are a few companies, that will trim and solder your LED tape based on your needs. This option is cheaper and will save you more time compared to buying in reels. Just look for a supplier that does bespoke service.
When powering your LED strips, you can power more than one LED strip from a single LED driver as long as it will reach and won't overload the driver. To work out what driver you will need, you would simply multiply the watts per metre of the strip (5w per metre in this case) by the length in metres you need (e.g. 5w X 2m = 10w, so you would need to round up to the closest LED driver, which would be 15w in this example). You should also take note that if you are installing LED tape on opposite sides of a room, you may need more than 1 LED driver.
There are multiple ways of controlling LED strips so you can choose which one suits you best. Aside from the PIR or microwave sensors, you can also use a hand movement sensor for your LED strips under your kitchen cabinets. With this, you can conveniently turn them on and off with one swipe! Just find the sensor that will complement the function of your strips!

LED strips are easy to acquire. They are an excellent substitute for xenon, incandescent, and halogen lighting. Also, they are long-lasting, durable, easily powered, and require less energy. The best thing about LED Strips is that they are customizable and have an adhesive back making installation very easy. Just be wary of buying cheap LED strips online. If the price is too good to be true, it usually is! Look for something within a reasonable price range with good reviews. If you see more than 4 stars then it's more likely (or will) work better and last longer!
So, now that you know the basics about LED Strip Lights, it's time to head on to our website and check them out! We have a variety that you can choose from, and we know you'll find something that suits your style.