People love dining in high-end restaurants because they present a complete gourmet experience that stimulates the five senses and satisfies the appetite. Scrumptious multi-course meals, stellar food presentation, five-star service, and exquisite ambience are just the peak of the iceberg. Sometimes, there would be world-class entertainment and a stunning view that makes you full even before starting! However, did you know that you could recreate the same experience at home? Two things that will get you started, good food and a well-lit dining room!
If you love hosting brunch or dinner parties and socialising over drinks and snacks, then that's all the more reason that you need to pay attention to your dining room. So, how do you start? It all begins with your lights! Having layered lighting in your dining room will help add dimensions to the space and create a first-class ambience that you only get in fancy restaurants. Plus, the dining room is not only for eating and entertaining. It's a multi-functional and dynamic space, so you need the lights to keep up with the diversity!
To help you design a great lighting plan, we've made a simple guide that will walk you through the things that you need. You can use this as a baseline for your design scheme and customise it depending on your preferences. That way, you'll have a spectacular outcome that's tailor-fit for you!
How to layer lighting?
Lighting your dining room is not as simple as you think, but you don't have to overcomplicate it either. To create a properly laid-out lighting layer, you need to go beyond the traditional overhead general lighting. You need to add more light sources for task, accent, and ambient lighting that will make your space feel fuller and more alive. Here are some guidelines that you can follow:
Ambient Lighting
Ambient lighting helps set the mood of the space, making it more homey than clinical. With this lighting, you can settle for a less intense light but make sure that you have enough coverage. You don't want to have one section of your dining area looking all cosy and relaxing and the other section completely lacking brightness. Ambient lighting gives you a general idea of the space, but it's not enough to see finer details.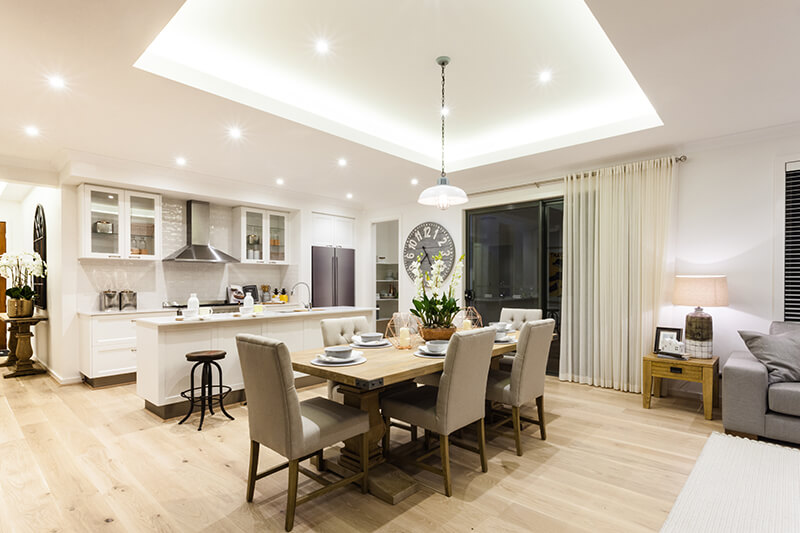 Task Lighting
What ambient lighting cannot provide; task lighting can supplement. As for this layer, it's more specialised and has a sole purpose, to adequately illuminate what you're doing. It can be your dining table pendant light or ceiling spotlights that provide focused lighting on your space. You need this for when you help your children do their homework or icing cupcakes for their project!
Accent Lighting
When it comes to accent lighting, think of it as adding accessories to elevate the beauty of a room. You don't need them to be functional but add more definition and character to your dining room. Here, you can go crazy with the fixtures since there's no particular purpose but to glam up the space. Go big and bold with the designs of your lamps and satisfy your aesthetic desire!
Tips in lighting a dining room
Now that you know the different layers you need for a high-quality lighting setup, here are some tips when lighting your dining room!
Tip #1: Add a chandelier as a centrepiece of your dining room.
A multi-layered chandelier will give you an even light distribution over your dining table and eliminate any dark spots. Also, it connects the people sitting under it so you'll feel closer when conversing and eating together. Depending on your taste and your home's aesthetic, you can choose a vintage chandelier or a contemporary version. Just make sure that you have enough space and height so your chandelier isn't taking a dip in your dipping sauce!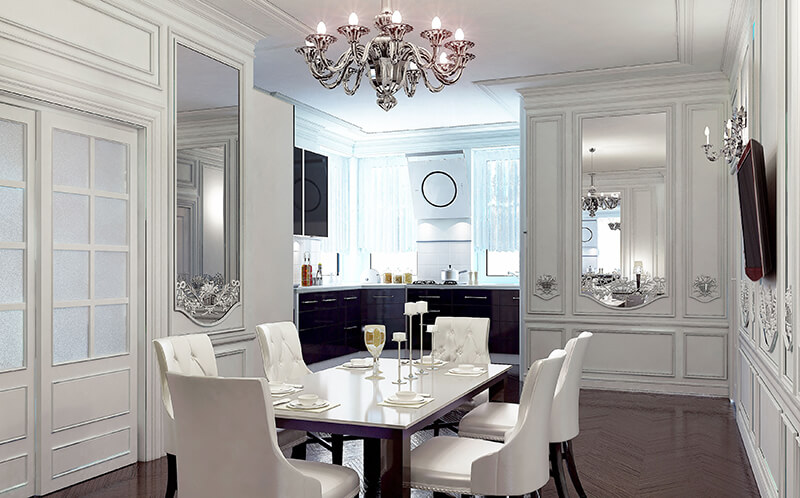 Pro Tip: You can base the design of your chandelier on your dining table. For rectangular tables, you can try a linear fixture that's about one-third of your table's length. If you have a circular table, then a round chandelier is your best bet. Still, designing is about expression, so feel free to bend the rules! Go with the fixtures that you think will embody the layout that you want to showcase.
Tip #2: Make sure that you don't forget to add dimmers!
While dimmers are essential to make your lights more energy-efficient, it's more crucial in the dining room since it gives you more flexibility and support when doing various tasks. You want to make sure that your dining table is well-lit when you're cutting that holiday turkey! On the other hand, if you're having some wine while catching up with your family or friends, it will make the ambience better if you have less bright lights.
Dimmers will give you more options and make your layered lighting more effective. You just need to find the right formula and balance between task and ambient lighting. Once you get it, you'll see a gratifying view that will make you never want to leave your dining room!
Tip #3: Use pendant lights for small spaces.
Since chandeliers are pretty grand (and some are enormous), they're not always compatible with small spaces. If you're working with a small space, a large single pendant light is better than fitting an oversized chandelier. With that, you'll have enough room to move around, and your overhead lighting will not occupy too much of the vertical space. Bigger is not always better if it makes the area feel or look cramped!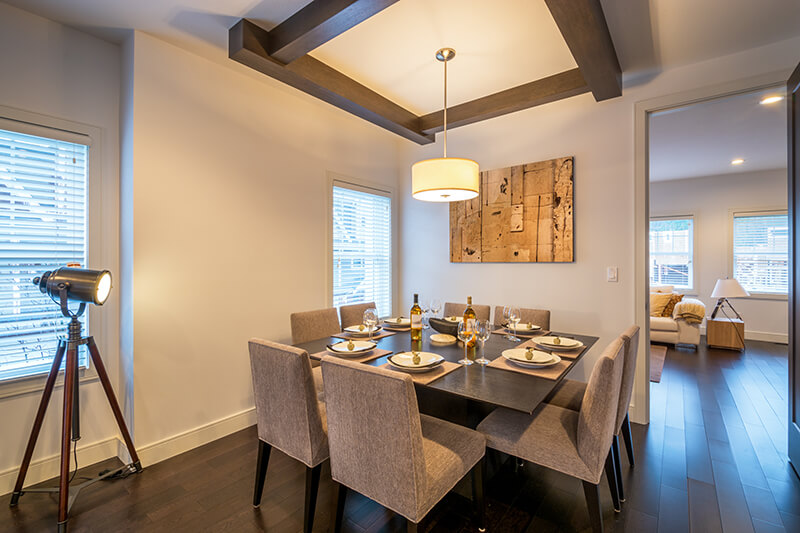 Tip #4: Demarcate the dining area with pendant lights.
If you have an open layout, a good way of setting your dining space apart from the rest of your home is by using pendant lights. If you place them above your dining table, it helps you with the zoning, making you feel like you're in a different room even without the solid walls separating the area. Aside from that, pendant lights help your eyes to focus on the table instead of wandering around in different places.
There you have it! Now that you know how to create a complete dining room lighting setup, it's time to head to our website, Simple Lighting, to shop for premium-quality fittings for your makeover. We have a wide selection of LED downlights, plinth lights, strip lights, and pendant lights that will complement any design scheme you have in mind!