Home decoration often includes things like putting up wall art, building flat pack furniture, and setting up plant nooks. However, if you're not keen on adding those extra ornaments and trinkets, then a pendant light might do the trick! Pendant lighting is the perfect depiction of function meets style. Pendants are available in a myriad of colours, shapes, sizes and textures, and it can add a distinct character to any room. Also, they're a fun way of enhancing the atmosphere of your home and creating a comfortable and inviting vibe!
Although pendant lighting can be a magnificent addition to your home décor, they might give the opposite effect if you don't know how to use them correctly. Since each fitting exuded a unique feeling, what works for a particular room, may not complement the other. With this type of fixture, there are a lot of things to consider. You need to know every detail of your room and think about what kind of pendant lights can work their magic to transform the visuals of the space!
How to choose pendant lights?
Choosing the best pendant lights can be confusing and a whole lot of work. However, once you see how it beautifies your space, you'll know that everything is worth it! So, before you head to your favourite lighting shop, here are a few steps that you need to cover.
Step 1: Indicate the purpose of your pendant light.
The very first thing that you need to do is establish the purpose of your pendant lights. Will you be using it as extra accent lighting to perfect the ambience in your living room, or will it be another task lighting source in your kitchen for when you're plating your meals? Once you've successfully identified the use of your lights, you'll be able to narrow down your choices.
Step 2: Assess which type of pendant lights would work with your requirements.
After you establish the purpose of your pendant light, it will be easier for you to determine which type would get the job done. Some of its well-known categories include globe, lantern, drums, and bell-shaped pendants. Usually, the drums option is ideal for ambient lighting since it's fully shaded, while the bell-shaped pendant is better suited for task lighting. Whatever type you choose, ensure that it can meet your needs instead of just prioritising its style. You might be disappointed if your pedant lamps cannot perform as you expected.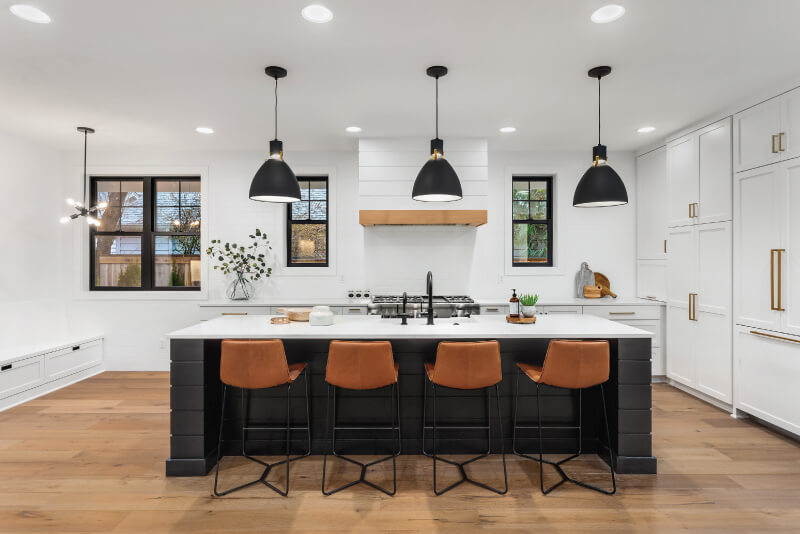 Step 3: Identify the number and size of pendant lights that you will use.
The number and size of your pendant lights depend on where you will place them and what their role is. If you want to add multiple drop pendant lights, you need to ensure that you strike a balance between the fittings and the room. If you're going to go big, don't go multiple. One gigantic pendant lamp is enough to fill the space in your ceiling. If you want to install several pendant lights, it's best if you go for a smaller size. To ensure that the fittings you prefer will look great in the arrangement you want to do, measure how much space you can utilise. By knowing the canvas you're working with, it'll be easier to scale the optimum sizes of the pieces you're using.
Step 4: Measure your ceiling height.
When you know the ceiling height of the room you are decorating, it'll be easier for you to determine whether to go for a short drop pendant or something longer. Aside from that, you need to also think about whether you're placing it above a surface, like a coffee table, kitchen island or countertop, or will it be suspended in an open space. Plus, don't forget about the door! You don't want to hang your gorgeous pendant lights where the door hits when it swings open.
Step 5: Think about the installation.
When it comes to any type of electrical installation, it's always essential to put your safety first. With that being said, make sure to have a professional mount your lights no matter the difficulty level. Even if you bought an easy to DIY pendant lamp, if you have zero experience with electricals, it's best to call the pros! Well, regardless of whether you do it or not, it's also crucial to think about the installation of your pendant lights and how hard or easy it will be once you need to replace your bulbs.
Step 6: Consider an easy to clean pendant light.
Pendant lights go from a simple minimalist design to an elaborate, luxurious style. If cleaning is always pushed to the back of your schedule, go for pendants with an easy to reach surface and less complex look. That way, cleaning will not take too much of your time, but still, you can maintain the stunning look of your lights!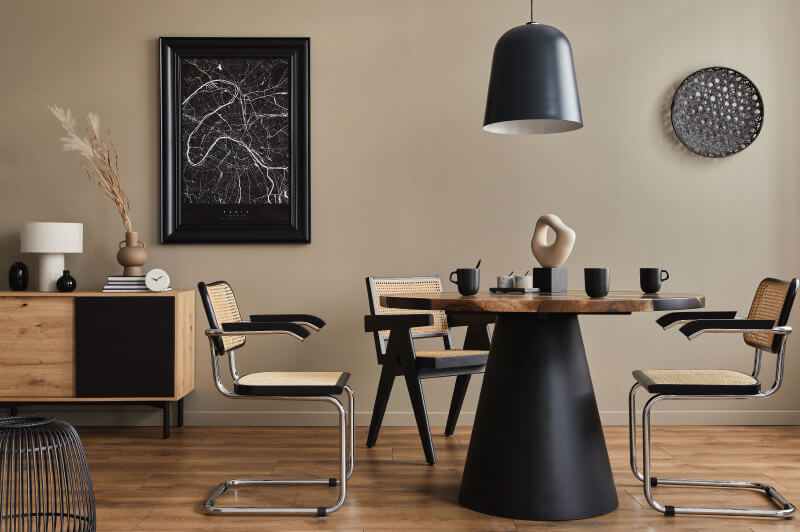 Step 7: Visualise how the style of your pendant lights will coincide with your room décor
After filtering all the choices based on steps one to six, you're now ready to choose the style of your lights. The function is still important but doesn't mean that you cannot go for those contemporary or aesthetic fittings! For now, put all the practicality aside and think about your design scheme. Find the correct balance that can cater to your needs but also satisfy your wants. Look for options that will match your interior and illuminate your fabulous space!
Now that you know all the considerations you need to think about when buying a pendant light, it's time to start shopping! If you're looking for premium-quality pendant lights, you can visit our website, Simple Lighting. We have an extensive collection of pendant lights, downlights, plinth lights, strip lights, and more!