Choosing between


above cabinet lights
and under cabinet lights
For most families, the kitchen is quickly becoming the heart of the home. It is no longer seen as just a functional space used only for cooking, but has many different purposes, whether that is acting as a space for the children to do their homework in or for hosting a gathering for friends and family. It's fair to say it's one of our most used rooms, and so it's important to get the design right so that it works for you.
No matter what you want to get out of the space, the lighting you choose has a big impact on both the look and feel of a room. Get it right, and you can transform your kitchen into the perfect place for your family to enjoy using day after day. With so many different lighting options available, it can be difficult to know where to begin. We're taking hard work out of it and looking at whether you should go above or below the cabinets with your lighting – keep reading to find out the best option for your space.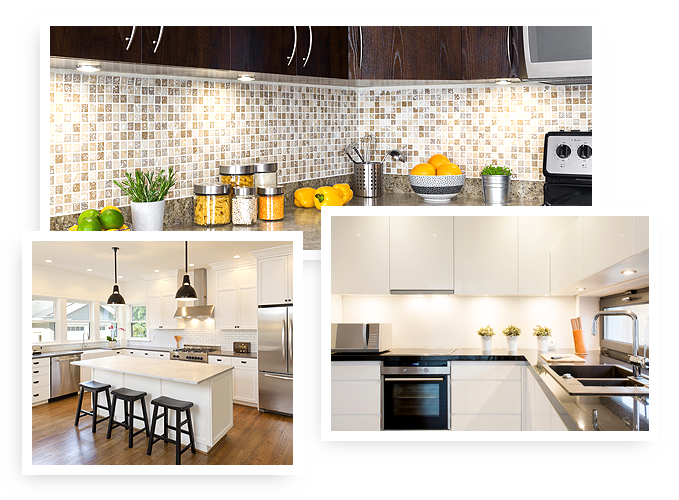 What is under cabinet lighting?
Under cabinet lighting is one of the most common types of lighting for a kitchen. It sits below the top cabinets, shining down and casting light onto the worktops below. It can be used for enhancing both the practicality and style of the room.
Why should I choose it?
The kitchen is a highly functional space, and the worktop is the most used area of the room. By opting for under cabinet lighting, you are creating what's known as 'task lighting', which means you will have plenty of light directly on the hardest working areas of the room, just where you need it the most.
‍
When sat at the front of the cabinet, it can help prevent annoying shadows being cast on the worktop below, providing full and clear visibility for any task you might be undertaking.
When preparing food and handling everything from knives to hot pans, we all want to ensure we are being as safe as possible. Under cabinet lighting is great for helping to prevent accidents by making certain that the area is well lit, in turn ensuring you can see exactly what you are doing and helping to eliminate unnecessary dangers when cooking.
‍
Whilst highly functional, this style of lighting is also discreet. Sitting directly under the cabinet means the lights make the most of the space you have available and are usually hidden from view until turned on, perfect for those who want a sleek and minimal style.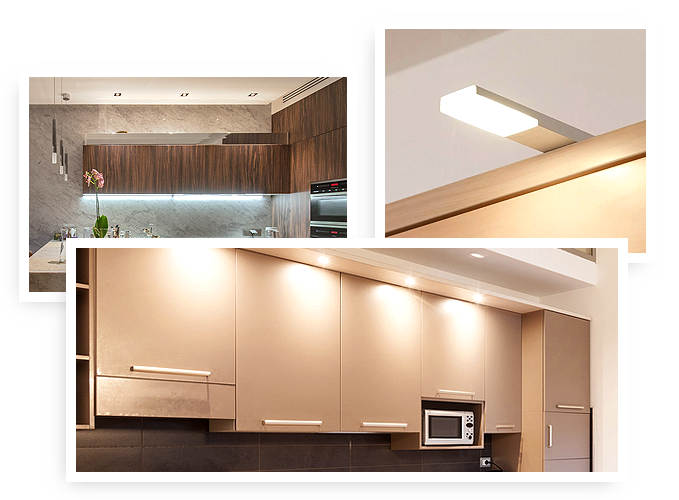 What is above cabinet lighting?
A trend that's growing in popularity, over cabinet lighting sits between the cabinet and the ceiling, providing accent lighting and helping to reduce the amount of light needed in the rest of the room.
Why should I choose it?
If you're looking to use your lighting to create ambience, above cabinet lighting is for you. A great alternative to overhead lighting, it helps to create a warm glow whilst still providing enough light to illuminate the room. If you have low ceilings or a smaller space, uplighting above your cabinets creates a soft light that will give the illusion of extra space, whilst ensuring the room still retains a calm and ambient feel.
‍
Above cabinet lighting is also great at using light to highlight any specific areas of the room you might want to focus on, creating a nice focal point and further zoning your space.
When it comes to indoor lighting, it's all about working with the space you have available to create the right look and feel for your family. For minimal, highly functional light opt for under cabinet lighting, but to create ambience in a small room chose above cabinet lighting. Explore the Simple Lighting range today.