The kitchen is the heart of the home. It's where you cook, gather, and make memories. And that's why good lighting is so important. Whether you're reading a recipe, entertaining, or searching for a midnight snack, LED plinth lights help illuminate your space while adding a suitable ambience.  Not sure what kitchen plinth lights are or how they work? Keep reading to discover how these small additions can significantly impact your kitchen's overall feel and appearance.
What Are Kitchen Plinth Lights?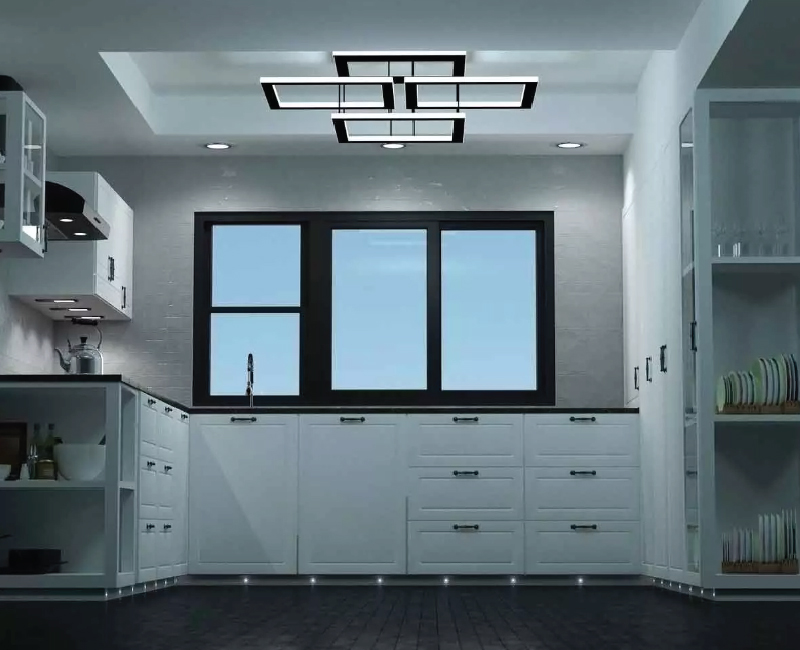 LED plinth lights are small, low-level lights that offer floor lighting for both safety and ambience. They are popular thanks to their clarity and ability to illuminate the floor. LED plinth lights are easy to clean and offer an elegant finish to any living space. These small lights are most often installed directly to the kickboards/plinths of kitchen cabinets, islands, and other units.
Benefits of using them
Usually, people use kitchen plinth lights for their decorative effect. They also enhance the safety of your kitchen and give it a more modern appearance. In most cases, overhead kitchen lighting is a must in the kitchen. After all, you need ample lighting to cook, eat, and work safely. But when it's time to create a more relaxed mood, kitchen plinth lights are the ideal choice.
How to Install Them
Plinth lights are most commonly installed in the kickboards of your kitchen cabinets and other units. Kickboards (a.k.a plinth boards) are a fascia that fits over the recess at the bottom of most cabinets. Their purpose is to hide the supporting legs and gaps, and it's here that you usually install your plinth lights to illuminate the floor. When done right, these lights can make it appear that your kitchen cabinets are floating.  Here are a few essential steps you need to remember for the installation process.
Get the Right Tools
It's ideal to install kitchen plinth lights as a part of a kitchen renovation or remodelling, although it can be done any time. You'll need a level, drill, tape measure, trap to catch sawdust, and workbench or station. Check to make sure you have an outlet low to the ground for your plinth lights to plug into.
Mark and Drill Your Holes
Once you've collected your supplies, it's time to get to work! Measure your kickboard's length where you want to install your plinth lights. When you order your lights, it's best to choose the kits with multiple lights so you can wire them together in a seamless fashion. Mark where you want your lights — spacing them evenly along the base of your cabinet or kitchen unit. Do this step by measuring to the centre of the board and then measure outward, so the lights are evenly spaced. Starting from the middle will allow even spacing and will look like a professional installed them. Be sure to drill the correct size to prevent your plinth lights from falling through or looking sloppy. The correct diameter is shown on the instructions, so make sure to follow them.
Install and Wire the Lights
After you're done drilling the holes, you can start attaching the plinth lights one at a time. If the wires are too long, tie the extra wire with a zip tie and leave it to the side. The cable from your last plinth light does not have to return to the control box. You may need an extension cord or junction to connect the end of the wires to the nearest outlet. Attach any loose wire to the back of the kickboard. All cables should be behind and out of sight for a more polished look. This also eliminates the risk of people tripping. You can also add a timer to your kitchen plinth lights, so they turn on automatically at the same time each day. Motion sensors are another popular option.
Design Ideas
Does the idea of installing kitchen plinth lights sound appealing, but you aren't sure how to incorporate them into your home decór? Here are a few design ideas to help get your creative juices flowing.
Island Oasis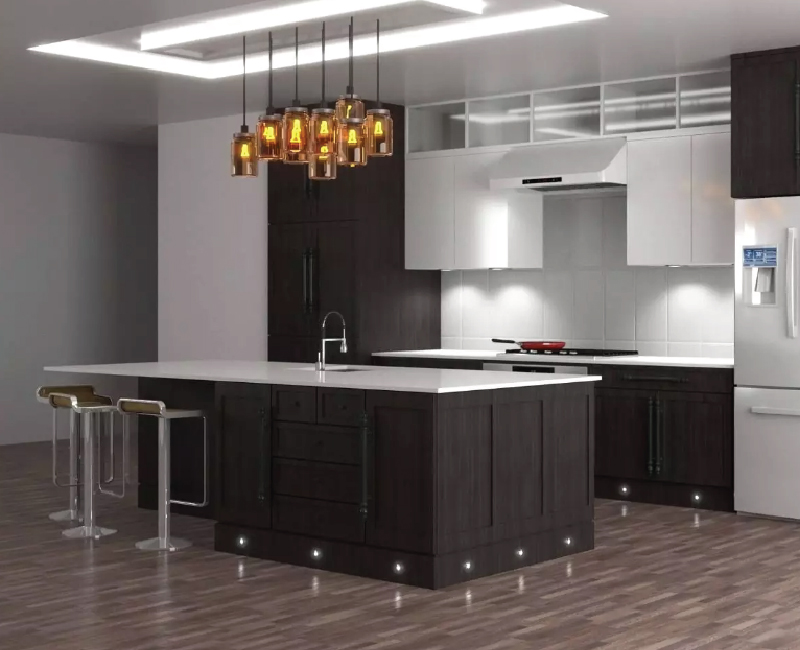 Does your kitchen have an island? Whether you use this centrepiece for cooking, eating, or entertaining, plinth lighting can make this kitchen unit stand out. Installing plinth lights beneath your island can create an illusion of a floating counter. Also, they add a colourful accent below your guests' feet when placed near the seating side of the island.
Underneath Cabinets
If your kitchen cabinets have a kickboard, installing plinth lights is the perfect way to illuminate the floor and add a pop of personality to your space. Add several plinth lights along the kickboard as an accent, as well as a safety feature. Say goodbye to tripping or stumbling as you try to get a glass of water in the middle of the night. These lights can help light the way for your family and visitors by increasing visibility.
Different Shapes, Sizes, and Features
Although most kitchen plinth light fixtures are small in size, you aren't limited to just one design. Plinth lights come in different shapes, with circles and squares being the most popular. You can also choose waterproof plinth lights to install in your countertops near a workstation, kitchen island, or near the kitchen sink. With some models, you can control them with a remote control, and they come in beautiful colours and colour-changing modes. You may consider adding the same type of lighting on the splashguard of your kitchen sink, in the ceiling, and in any other area in your kitchens.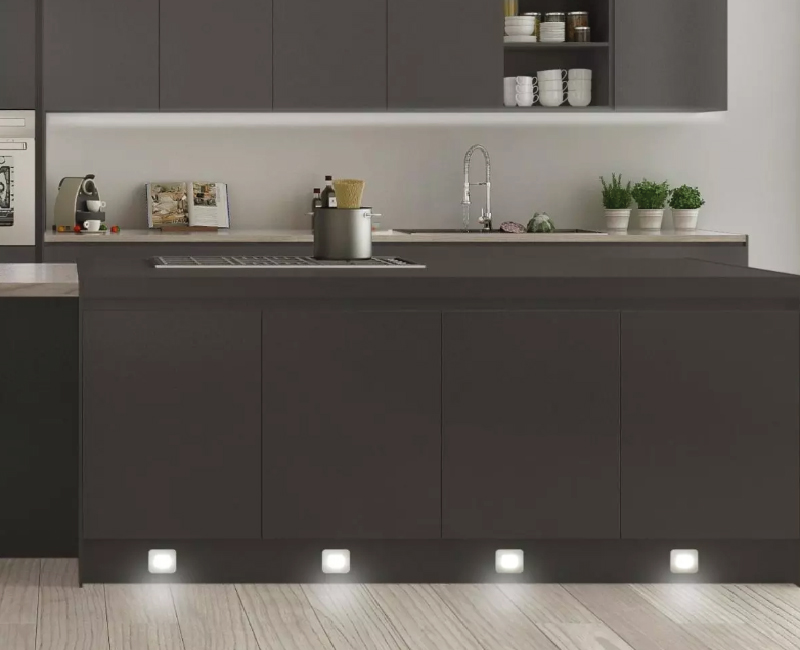 Another fascinating feature of these lights is that you can control them with your smart home settings through Alexa and other smart home devices. This enables you to quickly turn the lights on or off, dim them or brighten them to any percentage you wish when you choose a kit with dimmable bulbs. When you select motion sensor lighting, the light illuminates as you walk through the kitchen at night, so there is no need to fumble with light switches when finding that all-important midnight snack.
Kitchen Plinth Lighting: Elegance on a Budget
Whether you're in the thick of a kitchen remodel or simply want to add an elegant flair to your space, kitchen plinth lights are an easy and cheap solution. This small addition makes a big statement, and it increases the value of your home if you ever want to sell it. This type of lighting is a relatively new concept, and it gives you the ultimate in a wow factor.
Now that you know what plinth lights are and how to use them, visit UK's most trusted LED Lighting store and shop today!