Designing a bathroom lighting plan is like doing a puzzle. Certain pieces fit specific parts, and if you don't put the right pieces together, it will not work out. Technically, lighting set-ups are not that complicated since you can use almost any type of fixtures around your home. But the bathroom is different. There is such a thing called bathroom lighting zones. Aside from that, you need to consider several elements, including exposure to water splashes, the size of the space, the regulations, and the amount of light necessary to give you a bright and clear view.
So, to get the right pieces together, you need to understand your board's layout. In this case, you need to know about the bathroom lighting zones and which lights are suitable for each area.
Bathroom Lighting Zones
There is an obvious risk when mixing electricity and water. If you come into contact with water carrying an electric current, it can lead to severe complications. That is why regulations are made to guide people on how to light their bathrooms safely. Therefore, the first thing that you need to know is the bathroom lighting zones.
The bathroom lighting zone refers to the four zones in the bathroom, with each zone representing the approximated distance of the light fitting to the water source. So, before you start asking what does zone 1 and 2 mean in bathroom lighting or what lights are ideal for each zone, here's an overview:
Zone 0
This area is directly inside the bath and the shower, meaning they come into contact with a lot of water and steam. You'll need an IP67 rated light (a fixture you can submerge in water) to ensure that you will not be electrocuted when you bathe.
Zone 1
This area includes the above the bath or shower up to a height of 2.25 metres from the bathroom floors. To be generally considered risk-free, you'll need an IP65 rated fixture, but you can also use an IP44 rated fixture. Well, most shower lights have an IP65 rating, so you can safely install them above your showers.
Zone 2
This area includes 0.6 metres from the outside border of the wash basin or bath up to a height of 2.25 metres from the bathroom floor. You'll be needing an IP44 rated or above light fitting. As an added precautionary measure, it's good to consider the area around the wash basin (within 60cm radius from any water source) a part of zone 2.
Zone 3 (Outside Zones)
This area is outside zone 0, 1, and 2, and there are no chances of water jets being used or splashes coming into contact with the lights. Here, you can use any lights, but it's better to use an IP20 rated (or up) fitting to be safe.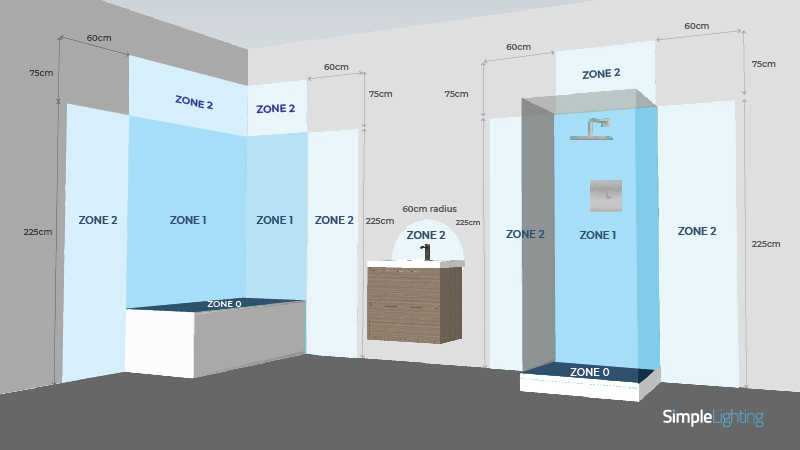 IP Rating and Bathroom Lighting Zones
Now that you know about bathroom lighting zones, a new question must be formulated in your mind. What do IP rated lights mean? What do the numbers signify? To start, IP rating means Ingress Protection or the amount your lights are protected. It is composed of two numbers like IP65 rating, as mentioned earlier. The first number means the protection of the lights against solid materials, and the second number represents the protection against water and steam entering the lights.
To better understand this, here's a simple and fool-proof chart: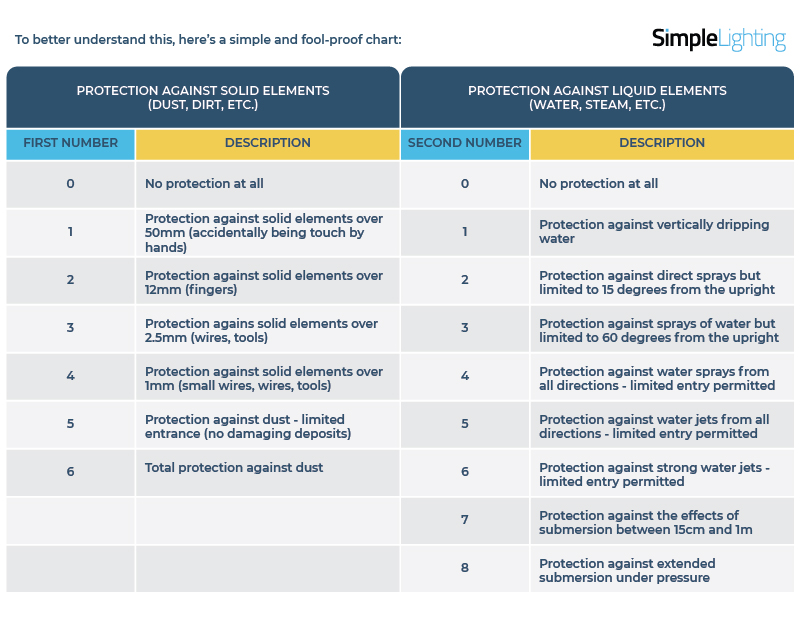 Every lighting has an IP rating, and to fit in a bathroom lighting zone, they need to be higher than the fittings you would use in your bedroom, living room, or dining area. Always keep in mind that a bathroom is a place filled with water and steam, so it's critical that you follow the correct procedures and regulations when adding fixtures.
Safe Bathroom Lighting Tips
Designing your bathroom can be exciting, especially if you're working with a gorgeous space. However, it would be best not to forget the bathroom lighting zones and the IP ratings that we talked about. Aesthetics is just a number two, and safety should be number one.
So, how do you illuminate your bathrooms safely?
Tip 1: Follow the bathroom lighting zones.
There's a reason why these regulations are made, so you need to follow them even if they don't coincide with the layout you have in mind. Anyway, many bathroom light fixtures look fantastic, and you will be able to find one that suits your style. 
Tip 2: Always check the IP rating.
If you don't track the IP ratings, you'll never know what fixtures are safe to use in the various bathroom lighting zones. Everything is listed in the box or the website of the supplier, so read them carefully. Being a little over the top when it comes to the safety of your home and family is not a bad thing.
Tip 3: Get a qualified electrician to fit your bathroom lights.
Even if you like DIYing your installations, it's best to get a qualified electrician to do the job. They have more experience and knowledge in this field. They've dealt with several bathroom installations that they'll be able to advise you in case there are hazards in your plans. Plus, they know more about bathroom lighting zones and IP rating than anyone!
Tip 4: Be practical and safe with your ceiling lights.
IP65 rated Bathroom Downlights are your best bet in having stunning fixtures while keeping your bathroom safe from electrocution. You don't want a hanging pendant light in the shower area or near your bathtub, even if it's aesthetically pleasing. 
Tip 5: Layer your lights.
Having enough lighting is also a way of being safe. You don't want to slip because certain portions of your bathroom are dim. So, to reinforce the ceiling lights, you'll be needing other sources to make sure there are no dark areas. However, while doing this, again, please keep in mind the bathroom lighting zones. Also, use the appropriate IP rating for each. 
Some fixtures that you can use are wall lights, track lights, LED Bathroom Mirrors, or LED tape. Also, to make your bathroom more functional and enjoyable to stay in, you can add some task lights, decorative lights and ambient lights.    
So, there you have it! Now that you know about the bathroom lighting zones and IP ratings, it's time to get your bathroom lights! If you want to get the best quality LED lighting, you can visit our website, Simple Lighting. We have an extensive collection that you should check out!