Deadlines, meetings, consultations, and appointments, with all this piling up in your calendars, you must be wanting to bolt out? Everyone needs an escape to relax so that they can reset and work again. Having a flooded calendar with no space to breathe will only lead to compromise and poor performance. Therefore, you need a safe place to unload some of that baggage and what better place to go than a man cave!
Having a man cave will give you a place to escape from everything that's happening around you. It can be a place to enjoy some "me time", or it can be the designated hangout place with your friends. If you're worried about the expense, don't be. Creating your space doesn't have to break the bank. All you need is the perfect man cave lighting to give your space life!
Man Cave Lighting
You're already done with the prep work, you have a place (can be your garage, a shed, or a spare room), and you have all the furniture you need (you don't need everything new, check eBay or go to a charity shop). Now, it's time for the cool lighting effects to complete your space!
Lighting can make or break any interior design, so you need to plan this carefully or you might end up hating how your man cave lighting turns out. Depending on where your man cave is, you need to be very strategic in setting up your lights. Aside from that, your lighting has a significant impact on the atmosphere of your space. It can look as cold as Siberia or as hot as the Sahara. Either way, finding the perfect balance is what you need to make your ideal man cave a reality.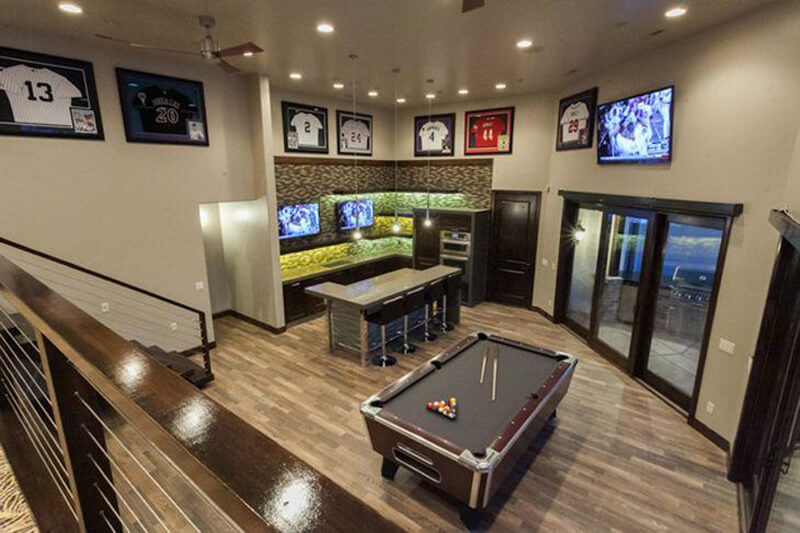 How to create a cool man cave lighting effect?
Provide sufficient illumination, enhance the ambience and add aesthetics; that's how you want to stage your lighting in your man cave. So, how do you do it?
Tip #1: Highlight significant objects
Do you have a prized possession that you want to display in your man cave? Maybe a football signed by your favourite player or an old games console that brings back memories of your childhood? You can highlight those memorabilia using wall lights to give them prominence and add to the aesthetic of your space.
On the other hand, if you have a display cabinet with all the action figures you've accumulated since you were eight, you can incorporate some cabinet lights to accentuate your collection. It will make your man cave look fantastic without having to spend a lot on décor!
Tip 2: Designate an attention-grabbing spot
If you have a bar, an arcade machine, or a pool table, you can use those pieces to be the main attraction of your man cave. So, how can they draw the attention of people? Get a personalised light up garage sign for your bar area, or you can use some LED tape lights to outline your pool table!
The intention of using these lights is not to illuminate but to add artistic detail to your space. So, let your imagination fly and get creative!
Tip 3: Don't stick with conventional fixtures
Chandeliers, pendant lights, downlights, all these are great but, if you want to make your man cave reflect you, you can make a U-turn from your local lighting supplier and head on to your garage or storage room and look for some old liquor bottles that you can DIY!
You can fill the bottles with fairy lights and use them as table lights or backlights for your bar area. Another thing that you can try is using some LED bulbs with a tequila bottle over them and hanging them like a pendant lamp! Check Pinterest or Instagram, and you'll see a lot of ideas that you can try.
Tip 4: Spice it up with Neon Lights
Everyone knows that neon lights are fantastic. If you have one in your man cave, it adds an edgy and incredible vibe to your space. You can get a neon sign or use neon lights to outline your bar area or gaming zone.
Neon lights are perfect for adding a subtle glow that lights up an area. You can consider them as your ambient lighting that makes your man cave extra comfortable and relaxed.
Tip 5: Add cool ceiling spotlights
You can use ceiling spotlights if you want to deviate from the usual wall lights to highlight your focal points. Depending on your taste, you can use a standard track light or go for the cool track lights that use beer cans as lamps! If that suits your preference, then go for it! Anyway, it's your hideout, so feel free to go extra or standard.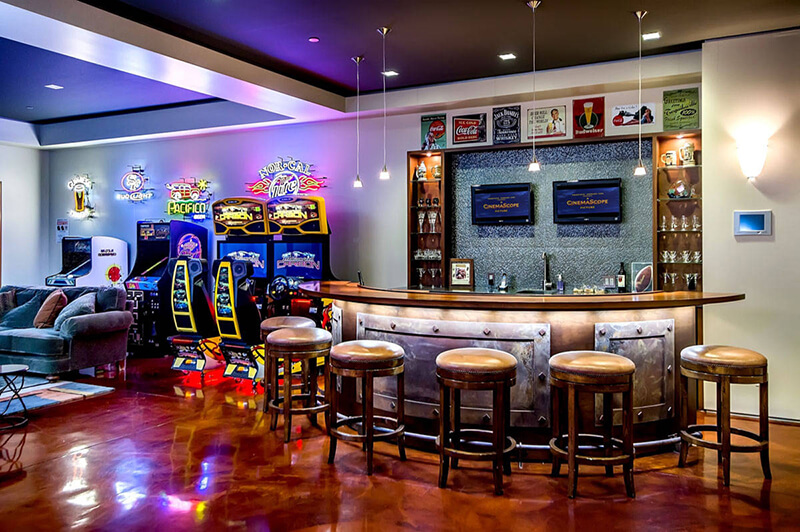 Why is lighting important for your man cave?
Lighting is a critical facet of a space. Even in recreational places like your man cave, lighting should be at the top of your list. Studies have shown that the lack of sunlight influences people's moods and bodies. That is why lighting your man cave properly is imperative because you want to get optimum relaxation in your chill-out hub. You need to plan your lighting set-up properly (consult professionals if necessary). Make it as inviting and warm as you can and avoid making it look like your office cubicle.
To create the proper lighting plan, ask yourself the following questions:
Are there corners or space that needs extra lighting? For example, a small dome or a tiny storage compartment.
Is your current lighting sufficient to illuminate the room, or will you need more to reinforce it?
What will be your source of task lighting, ambient lighting, and accent lighting?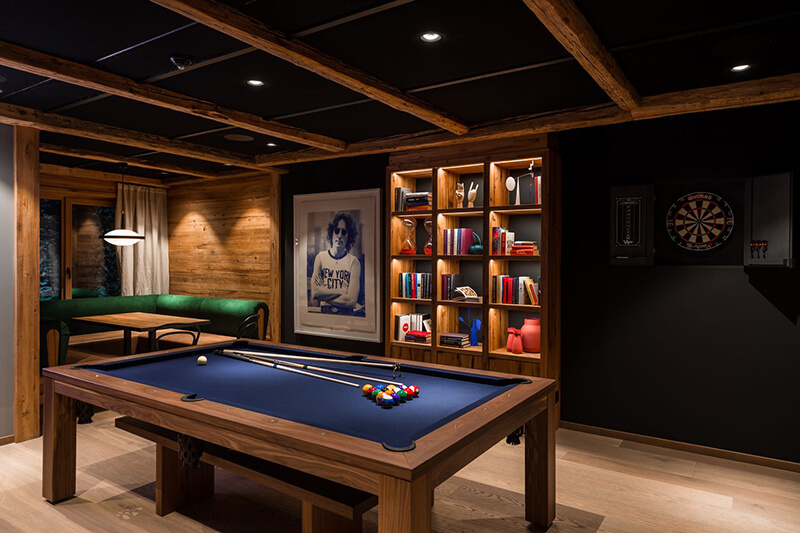 Understanding the space you're working on will help you plan your man cave lighting. So, do your research, sketch your plan, and make a smashing man cave! If you're looking for some high-quality LED light bulbs, LED tape, or awesome pendant lights, you can check out our website, Simple Lighting! We have an extensive collection that you shouldn't miss out on.