Most people usually neglect bathroom lighting in the past. It was all about functionality and never about aesthetics and design. They focused more on choosing under-cabinet lights for the kitchen, beautiful chandeliers for the living rooms, and ambient lights in the bedroom. But now, that has changed.
Lighting the bathroom can be a bit tricky because you have to bear in mind that water and humidity are present which doesn't go well with electricity. Fortunately, there are safety measures that you can follow, which do not limit your design selection. Because of their versatility, energy efficiency, and safety, downlights (primarily LED downlights) are among the most popular choices for bathroom lighting. 
Do You Need Special Downlights for a Bathroom?
There aren't any downlights explicitly designed for a bathroom, but various types may differ in features. What you need to consider while choosing is the IP Rating. It specifies if the product is protected against other potentially damaging particles like solids or liquids. The absolute minimum IP rating for the bathroom should be IP44. But, if you're thinking of placing your lights very near water sources (zone 1 of a bathroom), you should opt for at least IP65 or above to be 100% sure of its safety.
What Are the Best Downlights for Bathrooms?
When it comes to bathroom downlights, you should consider your preferences and expectations. But, to make choosing a little bit easier for you, here are some that you can check out:
IP65 Shower Fixed Fire Rated Downlight – Brushed Chrome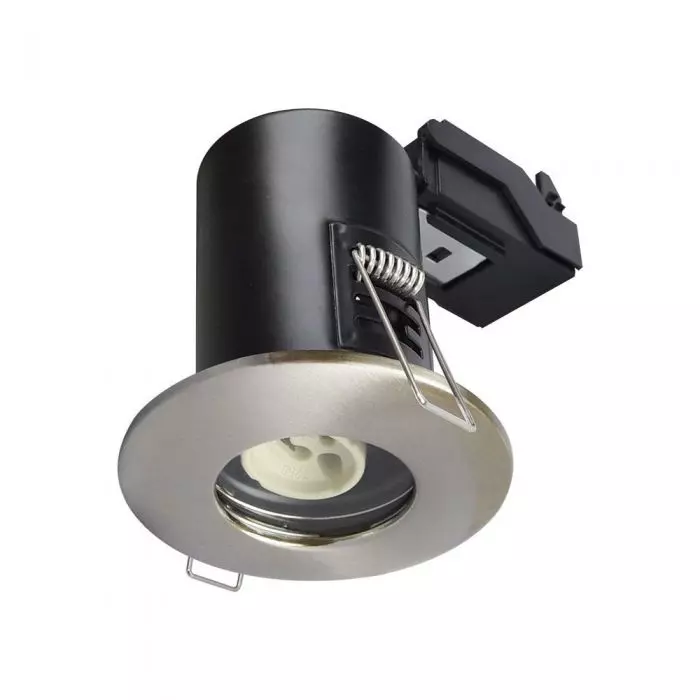 With its efficiency and water resistance, it is one of the most suitable choices for every bathroom. Also, when you're looking for a light to be placed directly above your bath or a shower, this product is perfect. It's IP65, which means it can withstand water splashes and low-pressure jets of water. This stylish, brushed chrome light will make a great addition to every bathroom, as it won't rust or tarnish. Plus, it's dimmable, so it's both functional and capable of setting the mood you prefer.
8w Low Glare IP65 Short Can Dimmable Fire Rated Downlight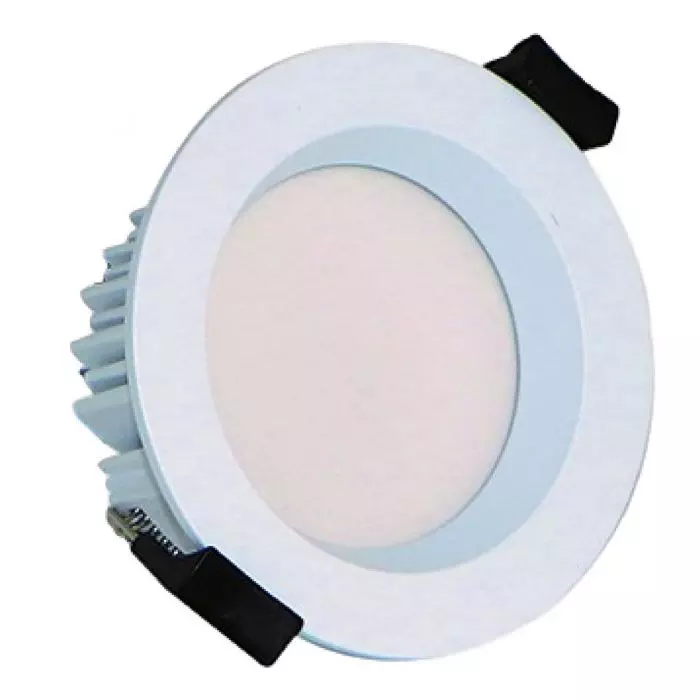 This IP65 light is suitable even for zone 1 of any bathroom. It's fully dimmable and available in both cool and warm colours. It has a 90-degree beam angle and a recessed diffuser, which means you can reduce glare without giving up your fancied angle or brightness.
IP65 Shower Fixed Fire Rated Downlight – Polished Chrome
This fashionable polished chrome light will go splendidly with all modern designs. Since it has an IP65 rating, it is 100% safe to place anywhere in your bathroom, even directly above your shower. It's made of die-cast aluminium, making it rust-resistant, which is a valuable feature when lighting a constantly wet room. It's also dimmable so that you can have task lighting and ambient lighting.
What Are the Bathroom Lighting Zones?
To choose the lights with the correct IP rating, it would be helpful for you to know what the bathroom lighting zones are.
Zone 0 –

 Refers to areas submerged in water, such as the floor of your shower. For this zone, you will need at least IP67.

Zone 1

– It is the area near a water source, e.g., directly above a shower. Here, an IP67 is recommended as well, but IP65 would also be enough.

Zone 2

– Indicates the perimeters of Zone 1, for which you will need IP44 rated lighting, which is the most common rating for bathroom lights.

Zone 3

– There will be no water used, but considering the humidity of the whole room, you should opt for at least IP20 rated lights.
What to Consider While Choosing Downlights?
The abundance of LED downlights available on the market can be overwhelming, so we have prepared a shortlist of things to consider while choosing your LED Downlights.
Brightness.

The brightness of a bulb is measured in lumens (lm), and it tells you how strong (or weak) a light is. It can make or break the lighting of your whole room, so make sure you're set on the effect you're aiming for.

Beam Angle.

Beam angle tells you how wide the light beam is. So, for focal points, get a narrower beam and use a broader beam for accent lighting.

Colour Temperature.

Light comes in a variety of colour temperatures. Warm whites are better for creating a calming, relaxing atmosphere but aren't perfect for performing any tasks. On the other hand, cool whites and natural whites are brighter and more evident, making them ideal for work but a bit tiring for relaxing.

Style.

The bezel is the only part visible in a downlight, and since it doesn't influence the overall quality and performance of your lights, it only has to please you and fit your style. Make sure to choose something that will go well with your bathroom decor. White bezels are the most universal and most frequently chosen.

Fire-rated.

All lights are carefully tested, but not all are fire-rated, which means that they meet all the fire safety standards.
Where Should Downlights Be Placed in a Bathroom?
The positioning of your bathroom downlights is crucial for achieving the most pleasing and functional effect. The first and the most important thing you need to remember is safety measures. If your lights differ when it comes to IP rating, make sure you put the right lights in the correct zones. Another thing to consider is how you will be using your bathroom downlights. Knowing this will allow you to choose the proper brightness, temperature, and beam angle. For example, a mirror where you put your makeup on or shave your facial hair is an important focal point that should be well-lit.
How Many Downlights Do You Need in a Bathroom?
Of course, the final number will depend on the size of your bathroom and the desired effect. But considering that your bathroom has three zones, three downlights are an absolute minimum. Downlights are versatile enough for you to experiment – you can either create some focal points in a room or light it up entirely. It's crucial to determine all focal points to ensure that you have the proper lighting whenever you need it.  If you have some doubts, remember that it's always better to have more lights than end up with too little. You can always use a dimmer switch to regulate its usage. 
There you have it! That is everything that you need to know about LED bathroom downlights! So now it's time to head on to Simple Lighting and start shopping!