The kitchen is the most dangerous room in the house. There are so many injuries from kitchen knives that they're rolling out flat edge chef's knives to avoid stabbings. Beyond stabbings, there's all the accidental finger slicing while cooking.
When you're consistently using super sharp implements to make ingredients smaller it's a good idea to work in a well-lit area. Moreso, it's important to have task lighting right where you'll be dicing and chiffonading on your counter.
So, what does that mean? That under cupboard lighting is a REALLY good idea in a kitchen.
Besides making the counters a whole lot safer they also add a beautiful ambience to the room and a chic elegance missing before their installation. Here we will tell you all about how to choose under cupboard lighting to make your kitchen look better.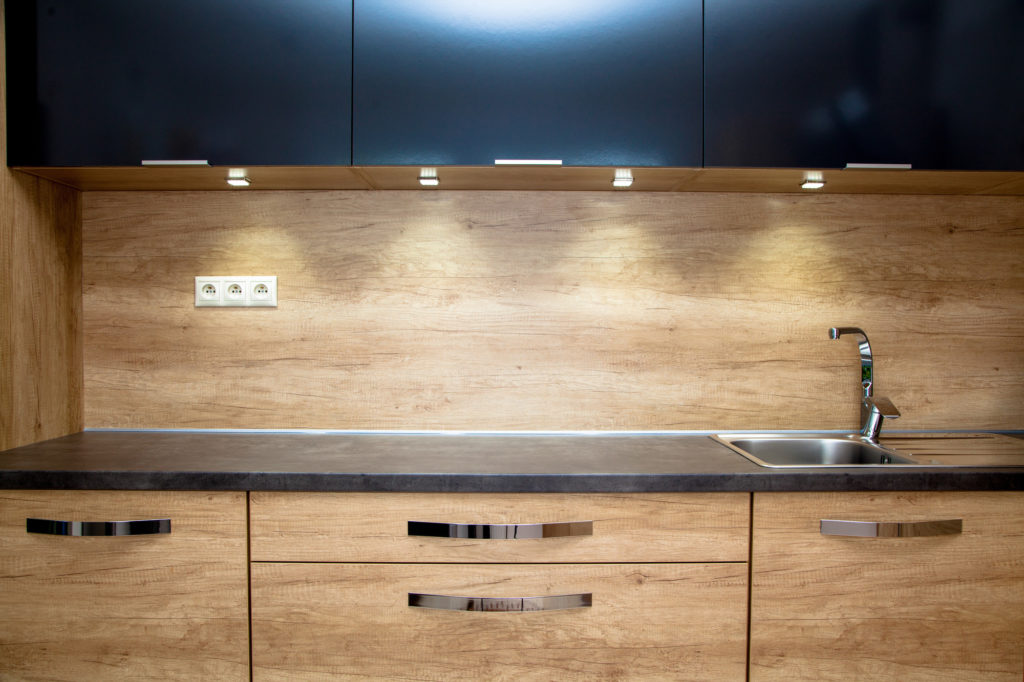 What Will Your Under Cupboard Lighting Be Used Primarily For?
While we already discussed the safety aspect, there are actually 3 reasons why you'd want to use under cupboard lighting.
Simply put, this lighting takes care of:
Task Lighting
Additional Safety
Added Ambience
Here's how one light can make a three-fold difference in your kitchen.
Task Lighting
By choosing brighter lights and the right angle, you can make any part of your countertops into a workable space. This is especially true if you have a large number of upper cabinets in your kitchen.
Install purposeful task-driven lighting under the cupboards to make everything easier. Cleaning included.
Safety Lighting
The great part about modern installations is all the options you have once they're in.
You can place these lights on a dimmer so, while you're cooking, you can have them at full brightness but, on the way to bed you can turn them down so they become a nightlight for anyone looking for a midnight snack or glass of water.
This makes the whole house safer by avoiding little kids slipping or bumping into walls in the middle of the night while making their way back to their room.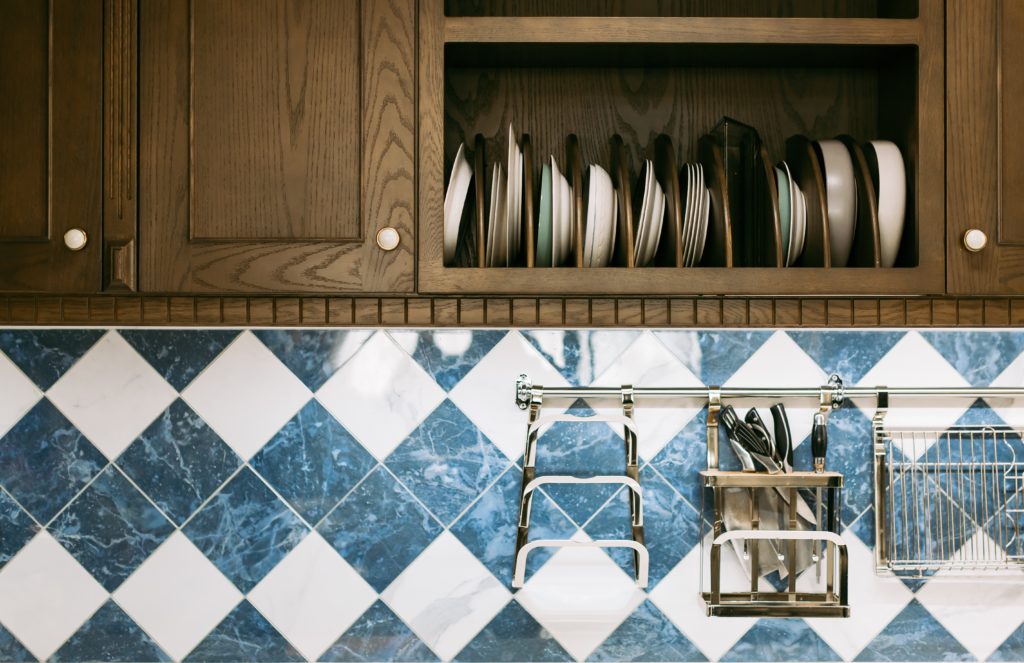 Ambient Lighting
While your home is not the same as a theatre, lighting can still be used to invoke different moods. You can set the lights to adjust on a timer to give you a soft glow in the morning.
On date night's you can have romance sweep through the kitchen. When little Jane is doing a school project on the island you can turn everything up and even make them different colours to enhance her creativity.
This is also a great idea for setting the mood of a house party or holiday get-together straight away from the minute people walk inside.
Think about adding in toe-kick lighting under the bottom cabinets as well. Great to set the mood and avoid stubbed toes too.
How to Buy Under Cupboard Lighting: The Different Styles
Now that you know the benefits of having the lights how do you know which to pick? Let's go over the three main types of under cupboard lighting you have to choose from.
Under Cupboard Lighting Bars
These provide a ton of light while remaining hidden. They offer a more polished look. You can connect the bars together to create a seamless line of light.
When you connect them together your entire under cabinet system from the same switch.
Puck Style Lighting
The puck style lights are a good choice if you're looking for targeted specific pools of light. Also, there are many styles of these that are battery-powered.
So, you can use them in pantries and cupboards where electrical isn't available.
Tape Lighting
Tape lights are the most affordable option. They are also called strip lights or rope lights. They are a good option if you are looking for lights that fit in a very shallow space.
These typically adhere with a small bit of adhesive backing. They are good for underneath the cabinets and the toe kick as well.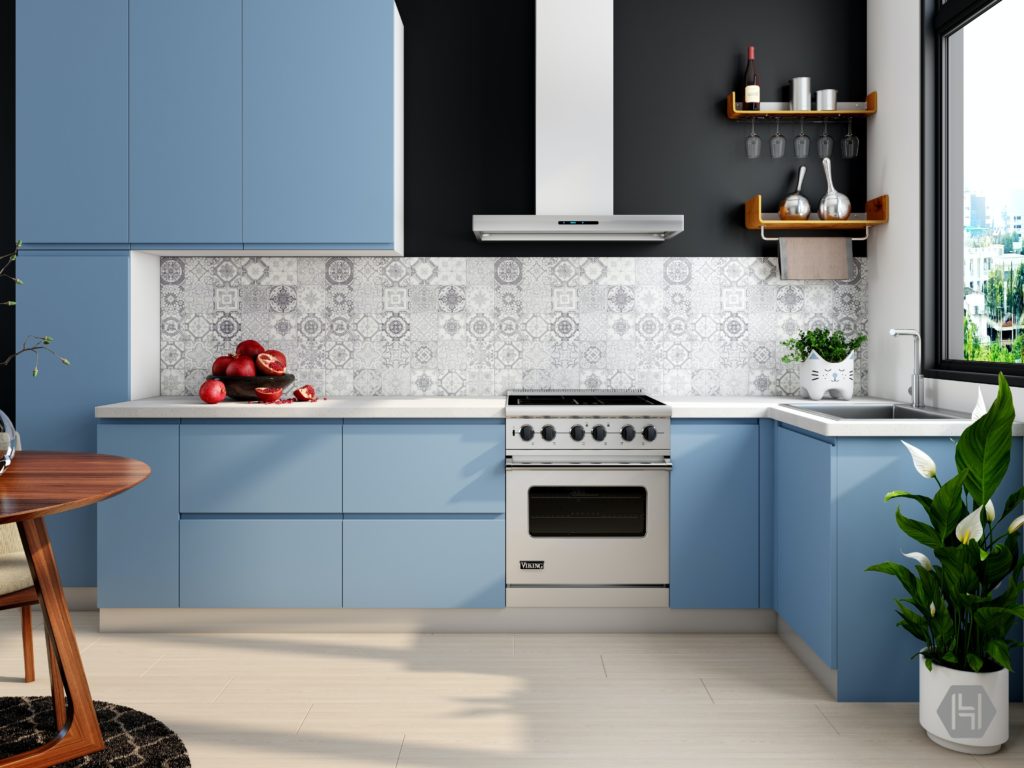 Things to Consider Before Committing to a Certain Style of Under Cupboard Lighting
Before you set to installation there are some things to consider. Here are the top three concerns.
1. Placement and Size
In order for the lights to look nice and purposeful, you'll want to measure the space you have under the cabinet.
Make sure there is enough of a lip that the light will comfortably be hidden and tuck away neatly. You can get the lights in a colour that is similar to your cabinets for the best results.
If you're using a bar or tape lights make sure to use them across the whole length of the cabinet. If you're using puck lights you'll want to space them about every 12″ to get an even layer of light or you can pick and choose locations for targeted light pools.
Mounting the fixture closest to the front of the cabinet will give you the evenest lighting distribution.
2. Your Power Source
Now that you know how much light you'll need and that they'll fit you need to consider your electrical situation. There are two basic options.
You'll either plug the lights directly into an outlet, which leaves an exposed cord that you'll need to do something with. Or, you'll have the lights directly wired in and hardwired into your home.
This is a more professional look and allows you to use a single switch or dimmer. You will need a licensed electrician to assist you with this installation.
3. Lighting Source
The most popular option is LED light. It lasts a long time and is very versatile. It also doesn't get very hot so it makes it less of a fire hazard under the cabinets.
LED is a stable and long-lasting option and is very affordable to install. However, there are options in fluorescent and halogen as well. Fluorescent does run the risk of breaking though, and halogen can get pretty hot.
Most projects will use LED lights in a few different styles of lighting that we will get into shortly.
Customize and Optimize: Your Options
Now that you know a little bit more about under cupboard lighting in general, let's get down to the choices you'll have to customize them in your kitchen.
As you're looking for inspiration we are sure you'll see a number of these options in kitchen galleries.
Energy Efficient and Long Lasting LED
LED lights really are the best option to choose for this application. They are more efficient than any other light on the market.
They also last the longest. The newest LED bulbs last between 50-100,000 hours. You'll barely ever have to replace these lights.
They are also very safe to the touch which means there is no fear of a little one burning their fingers or toes on the lights. They barely get hot at all.
Another big plus over fluorescent is the lack of toxic chemicals, namely mercury, that is a hazard if you break them. LED lights are practically indestructible.
Custom Colour Story and Temperature
Something else in the plus column of LED lighting is that they can be different colours. They can also emit a whole range of temperature feelings as well.
You can choose whether you want the light to be super bright, feel like natural daylight, or give a cooler vibe. You can switch between these on a dimmer and you have the option of adding in colours as well.
Custom Fit
When you install under cabinet lighting you can guarantee a custom fit of your lighting. You'll be able to measure exactly how much lighting you'll need and match it up.
There will be no hangovers at the corners or the edges.
You can also control where the wires will go and not have a cluttered mess on your countertop. There are enough wires in your life without having to worry about additional light wires.
By utilizing the continuous option, you'll be able to attach everything to one dimmer switch. With the advances in remote technologies, you can even make this a wireless dimmer switch and run the lights from anywhere in the room.
The Beauty of a Wireless Dimmer Switch
Now that we've jumped into the modern era gone are the days of having only on and off as options for lighting.
Every light should be dimmable so you can experience a completely customized quality and intensity to your under cabinet setup.
Wireless dimmer switches take it a step further by letting you automate the levels of your home's lighting remotely from anywhere in the room. If you're in the middle of a recipe there's no need to walk across the room to give yourself more light you can have the remote right with you.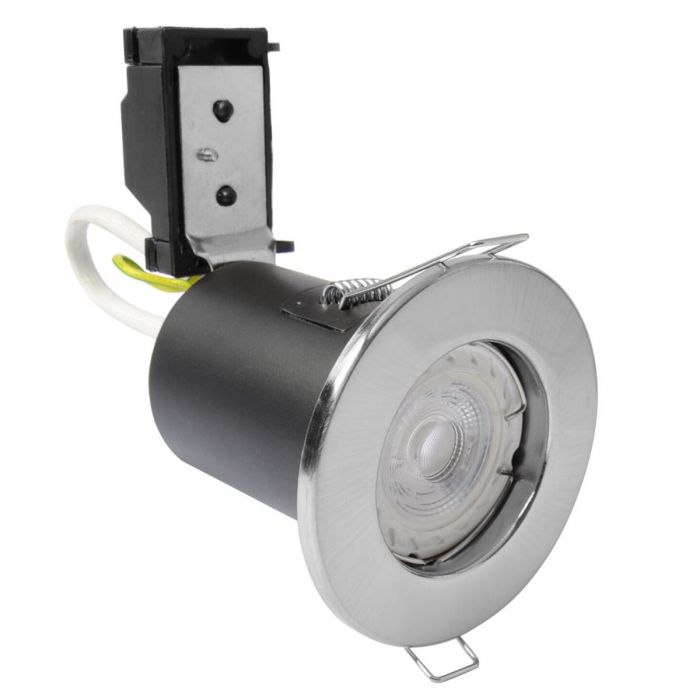 How Do LED Lights Work?
LED is an acronym that stands for light-emitting diode. These types of lights use a combination of semiconductors and electroluminescence to create light.
The main advantages of LED lights are their energy efficiency (they require only 30-60 milliwatts to operate), their durability, they are shockproof, and they have an incredible directional nature to cut down on light pollution.
They average from 28-150 lumens per watt depending on the environment they're in. If they are in your kitchen you'll get maximum output. The real concern is for outdoor applications.
The lamp life of a typical LED is anywhere from 25,000 to 100,000 hours with a CRI of 70. The colour temperature of a white LED ranges from 2500 to 10,000K and they are available in 0.01 – 3 W varieties.
What Is Electroluminescence?
This is a semiconductor material. It's a fluke that when you pass an electric current or field through it that it emits light. The electrons are excited and sent through and fill electron holes giving it a positive charge.
The different colours of LED lights are made by combining electroluminescence with additional semiconductor materials. For instance, a red LED is made with gallium arsenide and a white LED is made with yttrium aluminium garnet.
Who Figured This Out?
The implications and discovery of semiconductors were made in the early 1960s. There was a race of sorts to see who could come to market first with a product to utilize this new technology.
LED was discovered in these race in the fall of 1961 by two scientists, James R. Biard and Gary Pittman. As with most great inventions they were trying to make something else.
When they set up their experiment and they realized they had created a bright light by accident.
The first LED patent was awarded to Texas Instruments and they sold the first LED, the SNX-100, in the summer of 1962. These first iterations replaced the tungsten bulbs in IBM computers to reduce heat production.
Since then, there has been a myriad of different applications for LED that have been discovered. Including making your under cabinet lighting magnificent with a variety of colours, brightness, and angles.
Are You Ready to Add a Custom Feature and Upgrade Your Kitchen?
We hope these ideas have brought some inspiration to help you make your kitchen the best it can be.
By utilizing under cupboard lighting you make your kitchen safer, more stylish, and set the mood of the room. By giving yourself light where there was none before you reclaim your entire countertop as usable space.
This maximizes the efficiency of your kitchen and allows you to make the most out of your home.
Are you looking for other ideas on making your home amazing?
Contact us today for more ideas on updates you can do to boost your home's impact and style throughout.