Are you tired of your dull kitchen? Adding plinth lighting can make a massive difference in the way it looks and functions. These lighting solutions can transform any kitchen into a more elegant space which will make cooking and doing the dishes at least a little more enjoyable. Plinth lighting is referred to as such due to its placement, as it is installed into plinths or the kickboards under the cabinets.
However, there really are no limits to how you want to use those products. They can be placed directly into your kitchen cabinets, for example. The sky is the limit!
Moreover, they are not exclusively kitchen lights. They can be used anywhere in the house. Why not install these lights under your bathroom cabinets to make them appear like they are floating?
You can even turn your staircase into a beautiful focal point by installing LED plinth lights.
Overhead lighting can be used against plinth lights to showcase a particular space. What is more, you can create an understated look with plinth lighting, too.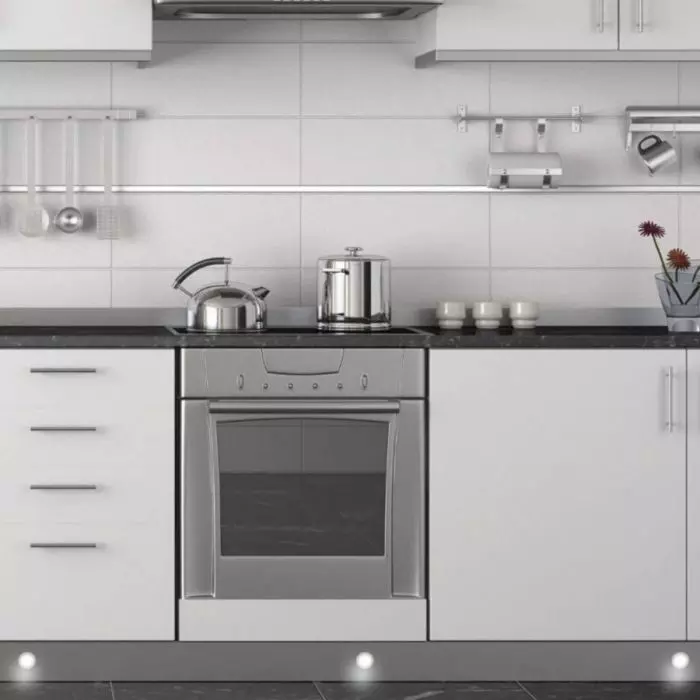 LED lighting manufacturers have come up with a great selection of plinth lights in new and innovative designs to add to their versatility.
These products are available in different colours, from natural to warm light, and also, for instance, cool blue hues. For added flair, consider colour changing plinth lights, which add a playful aspect to your kitchen or any space where they are installed and are remotely controlled.
These lights can be applied alongside the steps of the stairs, too.
We can distinguish two different types of plinth lights: continuous and spotlighting. Continuous plinth lighting often comes in strips, which can be cut to fit into most confined spaces. Consider this type of lighting with a warm white light if you want to emphasize red tiles or wooden ones. Spot plinth lights are small individual fittings that are installed outward to serve as accent lighting. They often emit crisp light that is bright and rich in colour.
If you are interested in money-saving, long-term and hardy lights for kitchen beauty (or decorating any other room), these products are certainly the right choice.
However, keep in mind that you need to measure the place where you want to install them in order to make sure you are ordering enough products to cover it all!
The LED plinth lights, available in our online shop, not only use little energy, but they also have low heat output.
Thanks to those factors, your electricity bills will be noticeably reduced and, at the same time, your interior will look very elegant and stylish.
What is more, they do not demand much maintenance because they are amazingly long-lasting, so you will not have to change the bulbs too often.
Moreover, those products are much more long-lasting than a halogen bulb or incandescent, so you will not need to spend much money on replacements or maintenance.
In this case, you will not hear the bulbs constantly blowing – when it comes to wall-mounted and plinth lights, it is traditionally a nuisance.
When you use LED plinth lighting, the problem is noticeably minimized, and you may almost totally forget it exists.
You can find numerous LED plinth lighting ideas available online. People who buy them tend to be very creative and find more and more ways to use it.
It can be applied in a bathroom, inside the shower, as well as in the kitchen, on the stairs, or in the dining room.
Also, as those products do not consume too much energy, you can install as many of them as you want, and your electricity bills still will not be too terrifying.
They are also quite versatile and look fantastic with white, black, red instalments, and not only.
There are many variants of a LED plinth light available in our extensive offer, so we hope everyone will find a model that suits both their preferences and financial capabilities. However, we understand that having a wide range of possibilities may be confusing sometimes, so if you do not know which product to choose, feel free to contact our team for professional help!
We will provide you with hints on what LED light would be best for your white bathroom or which LED lighting for your red and black kitchen would give the most stunning effect.