Lighting is an essential aspect of a home. Aside from its practical use, it could help improve the ambience and the appearance of your interior. To achieve the perfect lighting set-up, you need to do detailed research and plan it carefully. Don't just jump the gun and wing it because you might end up in a home full of shadows if you do. Also, never make the mistake of setting up your kitchen lighting after you finish everything.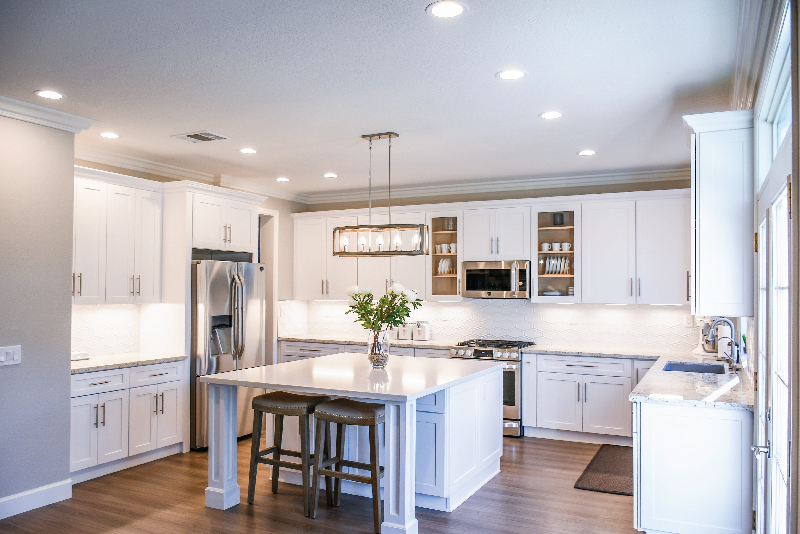 Everyone can agree that the kitchen is often the busiest place in a home. Some probably go there more than three times a day. Everyone likes to eat, and that's not a bad thing! If you don't get your kitchen lighting right, it can be a big headache. Kitchen lighting should be well-planned and strategic. They should serve their purpose and not create a distraction. So, if you put this all together, what type of fixture goes perfectly for a kitchen? That's right, downlights!
Make your kitchen brighter with downlights!
Kitchens nowadays are more than just a food preparation area. That is why it must be fully equipped with the lights that it needs. Kitchen downlights are the best lighting solution that you can get for this space. Here are some reasons why:
Kitchen downlights are recessed
Since the kitchen is a busy place that requires a clear space for fluid movements, it's only wise to have lights that will not cause any distractions. Kitchen downlights are recessed, meaning its mounted flush into the ceiling. With that, you get a sufficient amount of lighting without having to deal with enormous fixtures. Unless you've got an absolutely enormous kitchen, don't even think about including a chandelier in your lighting plan or you might end up regretting it!
Kitchen downlights are perfect for high ceilings.
Ideally, kitchens should have a higher ceiling compared to the rest of your home. Since you're using fire and creating steam (and sometimes smoke) while cooking, you'll need more space for air to circulate. Even if that is the case, you still need your lights to give you enough illumination to work. Bright kitchen downlights will be able to supply the sufficient brightness that you'll need, giving you no problem even if you have a high ceiling.
Kitchen downlights have fire protection features. 
Fire-rated kitchen downlights are essential in keeping your family safe in the unfortunate instance of a fire breaking out. If you're asking yourself, do I need fire rated downlights in the kitchen? Yes, you do! When you install downlights, you cut a hole into the ceiling. Because of this, the natural ability of the ceiling to act as a barrier against fire is compromised. With fire-rated downlights, they will reseal the hole you cut to install the downlights and reinforce your ceiling to increase the time it takes for a fire to spread. Since the kitchen is one of the primary sources of fire, it's only logical to get fire-rated kitchen downlights.
Kitchen downlights provide task lighting and ambient lighting.
Task lighting is a necessity in the kitchen with all the food preparation work and cooking. You must get sufficient light so you can avoid any accidents that may occur. On the other hand, ambient lighting is also essential, especially if you plan to entertain guests or have a relaxing glass of wine in your kitchen. Dimmable downlights are an ideal way to do both. There are dimmable kitchen downlights that you can use as task lights and ambient light, giving you the best of both worlds. You can turn the brightness up if you're chopping or cooking and turn the brightness down if you plan to unwind.
What to consider when buying kitchen downlights?
There are many types of downlights that you can find in the market. There are dimmable downlights, fire-rated downlights, fixed downlights, adjustable downlights and more, often they have more than just one feature eg. dimmable, fire rated, adjustable downlights. So, what do you need to consider when shopping for kitchen downlights?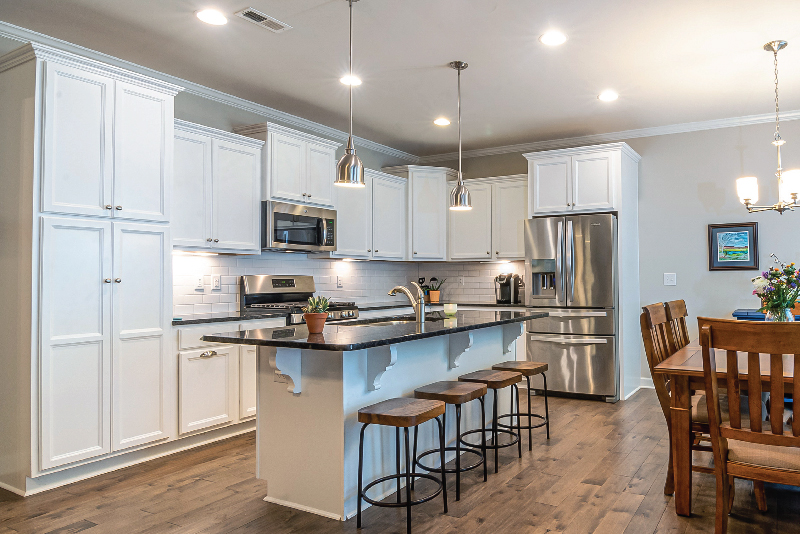 Colour Temperature
This is very important because it can either make your life easier or more difficult. If you choose the wrong colour temperature, you might be stuck with a kitchen looking like the inside of an oven! So, what is the best colour temperature for kitchen downlights? Choose between a cool white light or a natural white light. We think that 4000k (natural white) is the perfect colour temperature for kitchen downlights as it's easy on the eyes and brings out the beautiful colours of the food. Plus, it's bright enough to give you sufficient illumination while you work.
Number of downlights
How many LED downlights do you need in a kitchen? It depends—the bigger your kitchen, the more lights that you'll need. Typically, you'll need one kitchen downlight per square metre, leaving one metre between each downlight and half a metre from the wall. You'll generally get a good result if you follow this advice.
Location
When setting up your kitchen downlights, you need to be aware of the position of each. Also, you need to know what activities you'll be doing in those areas. Before buying your kitchen downlights, you need to consider where to place them to know the right beam angle. You can use a slimmer beam angle for counters and islands while a wider beam angle for the general areas. 
CRI
A higher CRI can render colours more precisely. This is important if you want to see the actual colour of the food you're making. Also, having a downlight with a low CRI will make your kitchen look dull and gloomy. Instead of an eggshell white kitchen cabinet, you might end up seeing a greenish shade.
There you have it! Now that you know why downlights are the perfect kitchen lights, it's time to head on to Simple Lighting to check on our extensive collection of these lights! So, hurry and don't be the last to upgrade your kitchen lights!