When decorating your bedroom, your priorities are setting up your bed, organising your wardrobe, and adding necessary furniture pieces like a work table (if you don't have a separate office), chair, chest of drawer and a bedside table. Once everything is in place, you start decorating your room to fit your personal style and preference. While many think styling a bedside table should be an afterthought once all the small details are set, professionals beg to differ.
They say that your bedside table is a critical component in your bedroom, helping you frame the space's focal point (your bed). Aside from serving as an essential design element, your bedside table can also be functional. It can be your small nook to keep your night lamp, phone, books, glasses and a glass of water for when you suddenly feel parched in the evening.
So, to ensure that you have the chicest bedside table in town, here are some pointers on how to style them right!
How to choose your bedside table lamp?
First order of business, choose your table! When you've put your bed to where you want it to be, take a look at the space. The size of your table should be on the same scale as your room! Having a bigger room gives you more freedom to choose the larger bedside tables. If you're working with a small one, your best option is a sleek or minimalist design.
Now that you have the base of your setup, it's time to choose the table lamp. (We'll take it as a given that you'll choose a warm white coloured LED bulb). When choosing your perfect lamp, you need to check off three things from your list: size, shade, and balance. Let's uncover each a little further!
Size
The size of your lamp may vary depending on its purpose. If you're going to use it as a reading light, it needs to be tall enough to brighten your book or e-book reader. When determining the height of the fitting, you need to base it on the height of your bedside table. Typically, the table needs to be the same height as your mattress. Based on this, the base of your lamp should be around 60cm – 68cm tall. If your bedside table is higher than your mattress, go for a shorter one. You could always stack some books and place your lamp on top for added height if you don't have the option of buying a new one right away.
When using your table lamp as decoration, the height does not matter. It just needs to be bright enough to illuminate your area when you need to make your way to the bathroom at night.
Shade
The lampshade of your table lamps goes beyond just decoration. It's responsible for diffusing the amount of light that gets distributed to your space. So, if you want to have a brighter light output, choose a thin lampshade that allows light to pass through. If your goal is the opposite, then choose a non-transparent shade.
As for the width of the lampshade, remember that it should be double the width of the widest part of your fitting. If you have a thin lamp base, your shade should not be wider than the height of your lamp.
Balance
If you don't want to fail in styling your bedside table, make sure that your lamp is balanced with the size of your table and bedhead. Never opt for a fixture that's higher than your bedhead and almost twice the height of your bedside table! Also, your lampshade should not be wider than the surface of your table. Ensure that it's only 1/3 or 2/3 max of your table's width. If you get the balance right, all that's left are the finishing touches!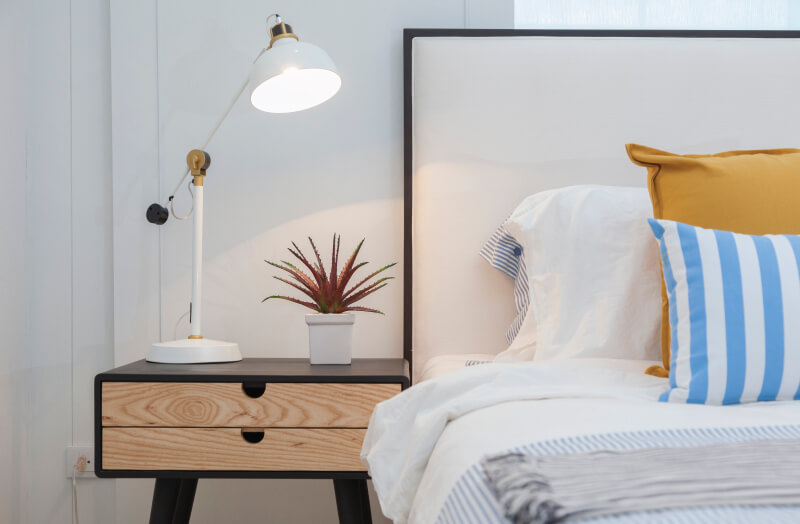 How to decorate your bedside table?
With all the big items in place, you can now start adding the small trinkets that will make your bedside table suit your taste and lifestyle. To not get lost in the process, here are some reminders that you can keep in mind!
Remove all your gadgets
Keep your bedside a place of relaxation and rest. So, it's best to charge your phone elsewhere and set up your alarm clock away from your bed. It can be beneficial for you since you'll wake up faster when you walk across your room to turn off the alarm. Stash your gadgets away from your bedside table to minimise the urge to check your notification late at night!
Incorporate natural elements
Seeing a vase of fresh flowers can help you relax and bring in a bit of nature in your space. If it's hard for you to keep potted plants green, pick one that requires less attention. You can try adding small succulents that are effortless to take care of and will always look fabulous. You can even opt for an artificial plant if you really don't have much luck with real ones!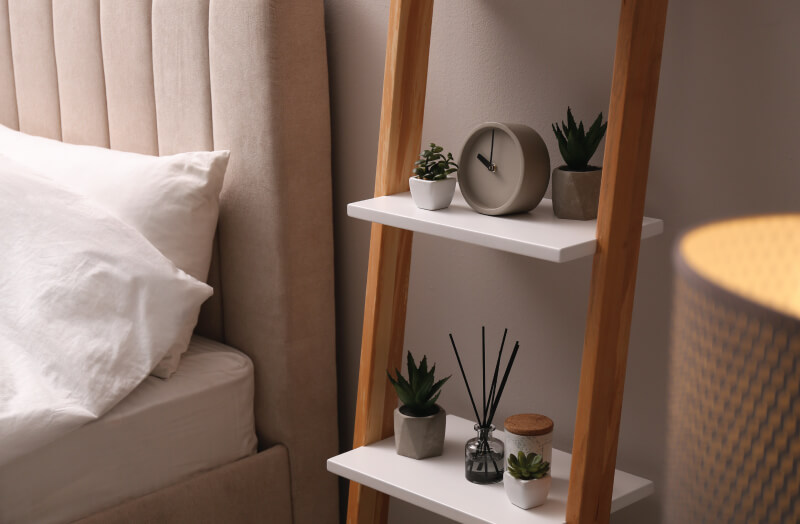 Add a stylish catch basin
Aside from illuminating your space, your bedside table is your catch-it-all place for everything you remove before going to bed. So, instead of placing them randomly, making everything look cluttered, use a small bowl or a tray to contain your hair tie, glasses, and others that you want to remove before snuggling in.
You can stack up some books beside your catch bowl or place them above to make your setup look more lovely!
Include some art pieces
Art can instantly showcase your personality. If you want to add more character to your room, prop a framed print or a painting on top of your bedside table. You can also place a photo of your family, fur babies, and/or other memorabilia that sparks joy in your life. It's always good to sleep peacefully and happily at night!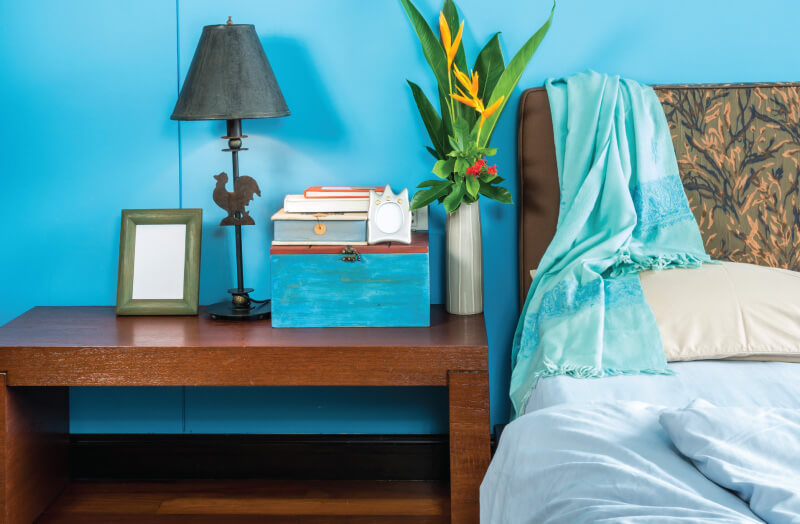 Put a coaster
Aside from protecting the surface of your bedside table, coasters are great finishing touches to your styling. Even if you leave your glass on your bedside table, it will look intentional and not cluttered. So, make sure to prepare one for those nights you want to have a nice glass of wine while lounging on your bed.
There you have it! If you follow all these pointers and reminders, you'll indeed have the most stylish nightstand that will land you on the covers of an interior design magazine or Instagram! So, if you're shopping for high-quality LED lights, you can visit our website, Simple Lighting. We have an extensive collection of LED bulbs, downlights, strip lights, and other fittings that will make your bedroom bright and cosy!