If you want to add dimension, depth, and style to a room, then LED plinth lights are the way to go. It's one of the easiest and cheapest ways to modernise your kitchen, bathroom, and the rest of your home. Plinth lights are versatile and small but enough to create the 'wow' factor you want.
Using Plinth Lights to Add Dimensions to Your Home
You can typically see plinth lights in the kitchen, usually in the low-level kickboards, creating a soft glow giving it more character, depth, and style. But, it doesn't stop there. You can also mount plinth lights into your wooden floors (can be near the walls or windows) or even your staircase which will help define your space without sacrificing your electric consumption.
There are plinth lights that are IP65 rated, meaning you can place them in the bathroom. Having this kind of light in that area will give it a fresh look without breaking your budget. Adding plinth lights to the bath panel or the flooring will look excellent and luxurious. You'll feel as if you're taking a bath in a 5-star hotel! You can also add them to the outside wall of the shower area to create a stylish yet functional space. 
If you want to add more colour to your home, you can use colour-changing LED plinth lights. You can place them on your deck (make sure that they're IP65) to create different vibes while you have a barbecue or a garden party! It will bring out a unique look in your space and will make it smashing! To step it up, you can also add some Smart devices to control your lights conveniently using voice command gadgets (Alexa or Google Home) or through your phone! 
What are the benefits of using them?
While this product is usually installed mainly for their decorative and mood-enhancing properties, they also bring several other benefits to your lighting plan.
Highlighting effects
When installed correctly, plinth lights have the power to highlight distinct areas of your room. For example, you can use them to emphasise the colour and texture of your kitchen floor. 
See in the Dark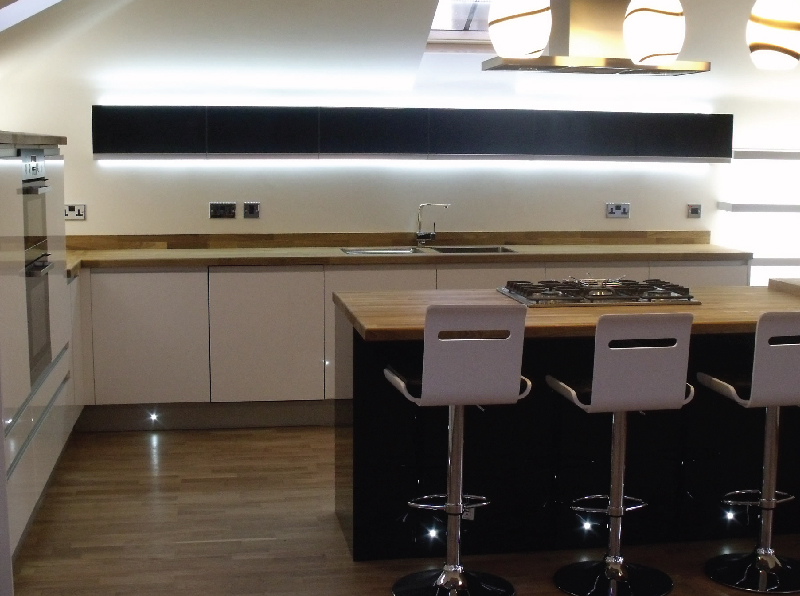 As mentioned, these LED lights can add a safety element to your lighting design. You can use them as night lights, which can be a great addition to homes with young children. You can softly light staircases and hallways or add kitchen plinth lighting to give ample lights if your family likes having midnight snacks.
Built to Last
LED technology has advanced significantly over the years and continues to excel. They are built to last, with a lifespan far more significant than any other light bulb on the market. 
Modern Look and Elegance
To make your home look stylish and elegant, you can incorporate decor and lights that suit your theme. Adding these lights will enhance the atmosphere of your room and add depth and dimension. An adequately positioned light will make the interior bright and make the whole design look more appealing, emphasising its beauty. 
Energy-Saving and Eco-Friendly
Most plinth lights require low energy supplies, so the price for using them is not too high. You don't need to worry that your bills will increase significantly. Aside from being energy-saving, they are also eco-friendly. For this reason, you can safely use them around with children and pets at home. When you need to replace them, you won't need to worry that they would pollute the environment.
Different Types
If you're bored with the usual look of these lights, then you probably have not seen their other types! Aside from the usual white lights that you see in the kitchen, there are other colours, shapes, and sizes in this category that make things interesting. Now that you're curious, here are some that you should check out!
RGB LED
RGB LED plinth lights come with a controller and driver that allows the LED to change colour so you can adjust their settings depending on your needs. There are also plinth lights in warm white, natural white, and cool white if you prefer regular tones.
Dimmable
Dimmers allow you to control the brightness of your plinth lights using special drivers and equipment. You can easily adjust its brightness according to the activity you're doing at a particular time. This dimming function also lets you save energy, keeping your electricity bills low.
Sizes and Shapes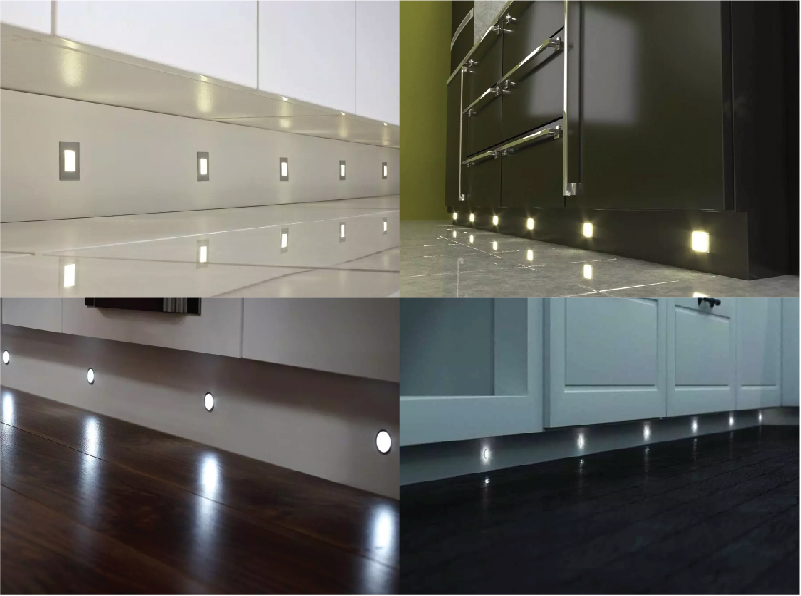 Plinth lights come in various shapes and sizes. You can choose from square, round, and even microdot models. Whether your kitchen is small or big or has a traditional or contemporary design, you can always add a soft mood light to make it more appealing.
Now that you know how to use plinth lights, visit our website and start your renovation!