If you want to add dimension, depth, and a touch of style to a room, then LED plinth lights are the way to go. They are an easy way to modernise kitchen islands, cupboards or units, or give your bathroom a modern, contemporary feel. They are versatile and subtle, yet hugely effective in providing any space for the 'wow' factor without major effort.
We have a range of lighting, including plinth lights and a wide variety of shapes and sizes to suit your needs. You can also find RGB colour changing plinth lights to really bring your home lighting plans to life!
What are Plinth Lights?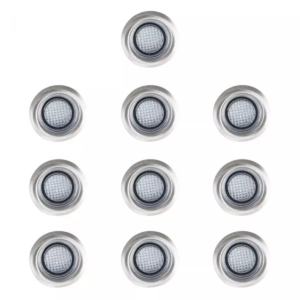 Plinth lights are small, unobtrusive, low-level lights commonly installed into kitchen kickboards or cabinets, bathroom cupboards, skirting boards, or even stairways and decking. They are ideal for interior design to add ambience to space, and depending on their placement, they can also add an element of safety by softly lighting up those areas which are usually in shadow.
The Benefits of LED Plinth Lights
While this product is usually installed mainly for their decorative and mood-enhancing properties, they also bring a number of other benefits to your lighting plan.
Highlighting effects
When installed correctly, this product has the power to highlight certain areas of your room. For example, you can use them to highlight the colour and texture of the kitchen floor.
When it comes to adding atmosphere, this product can be used similarly to other LED lights. You can choose a particular colour of light to bring emphasis to floors, cabinets, or tiles. Whatever your style is, highlight it and bring it to life with plinth lights.
See in the Dark
As mentioned, these LED lights can add a safety element to your lighting design. They are ideal as night lights, which can be a great addition to homes with young children. You can softly light staircases and hallways or add kitchen plinth lighting to give ample light for those midnight snacks.
Built to Last
At Simple Lighting, our kitchen plinth lights are made by the industry's leading manufacturers and have an excellent rating. LED technology has advanced significantly over the years and continues to excel. LEDs are our lighting of choice because they are built to last, with a lifespan far greater than any other light bulb on the market. We trust every product we sell and want you to do so too, which is why our they come with comprehensive warranties.
Modern Look and Elegance
In order to make your home look modern and elegant, it is advised to add some stylish decorations. Our plinth lighting will definitely help to improve the appearance of a room, no matter if it is designed in white, red, or another shade.
You can use this product as a sort of mood setter that will enhance the ambience whenever you need it. An adequately positioned light will make the interior not only brighter but also make the whole design look more appealing by emphasizing its beauty. A plinth lights kitchen or another interior will undoubtedly impress your guests!
Energy-Saving and Eco-Friendly
Every plinth light in our offer, similarly to any other LED product, requires just low energy supplies, so the price for using it is not too high. You don't need to be concerned that your bills will increase to a large extent when you use such enhancement as kitchen plinths. This sort of product is not only energy-saving but very low in any toxic substances as well. For this reason, you can safely use them even with children and pets at home, and when they need to be replaced, you won't need to worry that they would pollute the environment.
Types of LED Plinth Lights
Our LED plinth lighting is pretty, practical, affordable, and easy to fit! Whether you want to add a touch of contemporary style to your kitchen, highlight that wooden floor or gently illuminate a staircase, we have plinth lights that would suit your needs. We stock a range of models in a variety of shapes, finishes, and sizes, so you are sure to find the perfect lighting solution.
RGB LED plinth lights
Browse through our selection of RGB plinth lighting and find the colour to match your mood. These lights come with a controller and driver that allows the LED to change colour so you can change their look depending on the evening's mood. If you would like to get more regular tones, then we also offer plinth lights in warm white, natural white and cool white.
Dimmable
For further control over your plinth lights, we also have them with dimmable functionality. This allows you to control the brightness of this product by using special drivers and equipment. Feel free to adjust the look according to the activity to be performed or time of day. This dimming function also lets you save energy and keep your electricity bills low.
Sizes and Shapes
Our products are available in different shapes and sizes. Choose from square, round, and even microdot models. No matter how small or big your kitchen space is, or whether you have a traditional or contemporary design, you can add soft mood light to your units and cabinets either internally or externally by adding LED plinth lighting.
Plinth Lights Kits
Besides individual kitchen plinth lights, there are complete kits also available with us. They fit perfectly onto any flat surface to create a neat and unobtrusive illumination where you need it most. Our plinth lighting kits are easy to install as they come with a cable and transformer, allowing you to create amazing lighting effects with no stress.
LED Plinth Lights for Your Home or Business
Our aim is to provide you with the best lighting products for your home improvement project at a reasonable price. Feel free to browse our offer online and look for the product you need. If you would like to order your LED plinth lights or to discuss any of the other lighting fixtures and fittings supplied by Simple Lighting, give us a call or send us an email today, and a member of our team will be happy to help as soon as possible. We hope you will find perfect plinths lights for your home!