Congratulations – you've chosen LED strip lights. If this is something new to you, you may find installation confusing. There are many areas in the house where you can install the LED tape. The installation process will be a breeze too. You can find some suggestions below to make setting up your purchase easier.
What is LED tape?
LED strip lights, also known as LED tape, are basically small LEDs attached to a length of something that resembles a metal tape measure. Unlike traditional lights, LED strip lights don't have bulbs that emit light but instead have LEDs or Light Emitting Diodes. They are known for their low-profile size and flexibility. The tape's circuit board measures typically below 10mm wide and offered in different lengths, with some LED tapes being available in single maximum lengths of up to 12 metres! LED tapes have several features that people love. First, we will cut your LED tape to your desired length for you – free of charge! Different LED tapes have different cutting increments, some can be cut every 100mm, some more, some less (this information will be on the individual product page). Second, they have an adhesive backing for simple mounting options. These tapes have peel-off backing that exposes the adhesive, for an easy peel-and-stick installation. Third, LED tape is available in soooo many colours! From just warm white to RGB colour changing – it can be controlled by remote control or a wall controller to give you complete control over it. Lastly, the LED tapes come in a waterproof option making them safe to install in the bathroom or even in your garden.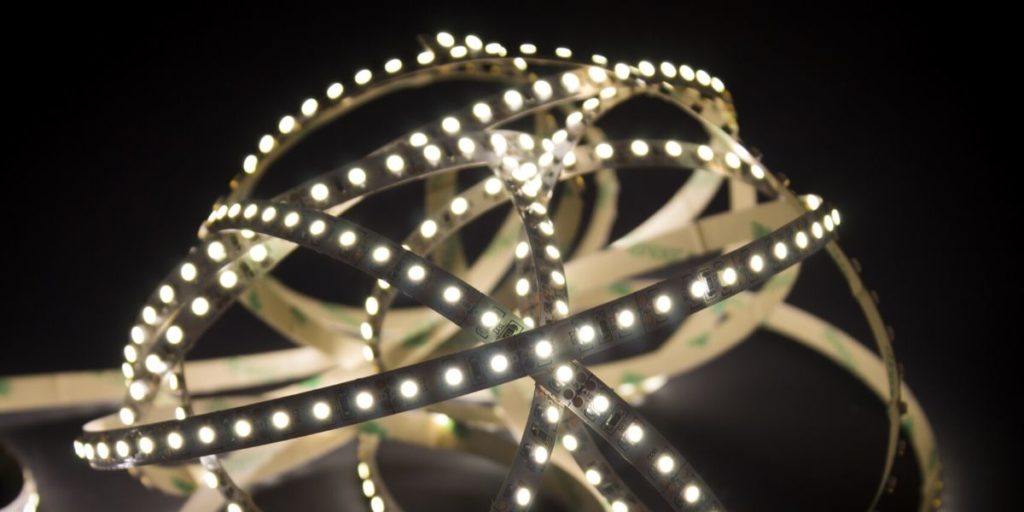 Perfect for under cabinet lighting
Having a light under the kitchen cabinets helps you perform your task effectively. While there are many LED lights that you can put under the cabinets, LED tape is the best choice for most people. LED strip lights do not require a fixture under the cabinets and provide even lighting compared to puck lights. If the LED tape is installed correctly, there will be no visible LEDs. All you can see is the light produced by the LEDs.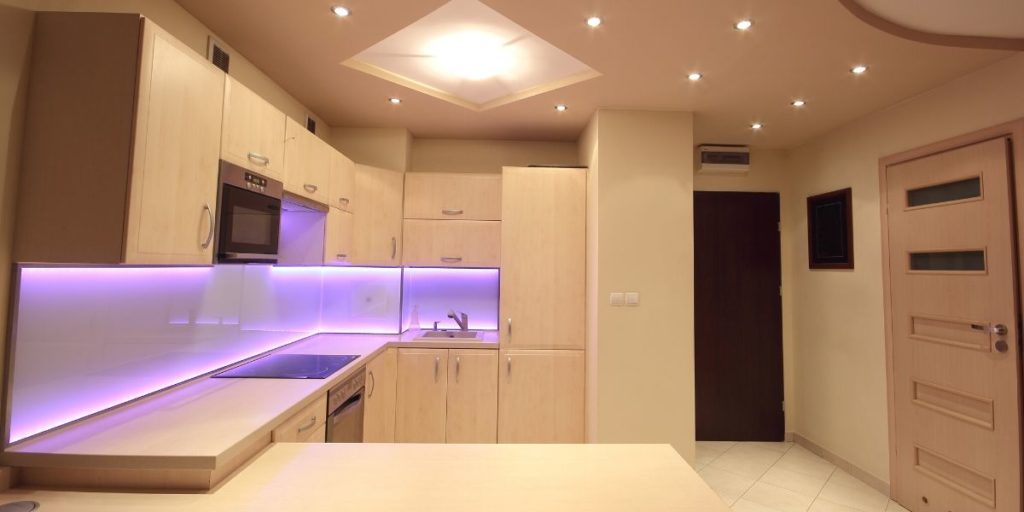 Beautiful above cabinet lighting
Opposite to under cabinet lighting, you can install LED tape on top of your cabinets in the kitchen, living area, or in your room. Above cabinet lights can serve many benefits in multiple ways. It can serve as ambient lighting that gives off a warm glow to the top area of the cabinets and reflects beautifully on your ceiling.
Elegant Cove Lighting
Are you bored with your living area? Cove lighting can add elegance and breathe life into even the most boring room in your house. With the use of LED tapes, you can have affordable cove lighting in your home. Cove lighting adds soft light and rich drama to any room. It is straightforward to use strip lights as cove lighting and doesn't need a professional to install them. Also, they do not leave visible or ugly fixtures like other types of lighting do. The cove that you will create hides the LED tape covers all wirings, adapters and LED tape itself.
Functional plinth lighting
LED tapes make great plinth lighting. Illuminate your kitchen island with plinth lighting to emphasize the size of the space. Also, this lighting creates a safe path for walking especially during the night. Thus, it is a perfect option for a night light. Install LED tape on your kick board to define the space. If your floor is glossy, then the lighting will reflect off it. Install your LED strip directly on to the top of the plinth rather than directly underneath the island. Plinth lighting is softer and not meant to illuminate your workspace. Note that it just adds style to your kitchen.
Simply for decorative purposes
Often, you install lighting in an area solely for decoration. You can be as creative as you want to be. Adding LED tape inside a massive jar at the corner of the living room adds beauty and draws attention to the jar, especially when lit up at night. These lights usually are dramatic and meant to draw attention, so make sure you choose the object that is proportional to the size of the LED tape you have at hand. If you're working with a small object, you don't want the decorative lighting to be so ample that it will make the object feel cramped or drowned with light.
Peel-and-stick installation
LED tape is the easiest LED lighting product in terms of installation. You do not need advanced tools to get it working. You have to connect all necessary parts such as the LED driver, dimmer control (if you're using a dimmer) and the LED strip light. Installing the LED tape in a pre-planned area is easy. Peel the 3M branded adhesive located at the back of the strip and press it on to the desired area.