If you're renting, you must know how frustrating it can be not to be able to entirely modify your home the way you want. From no punching holes and repainting the walls to no significant structural changes, there are so many rules that you need to follow!
Does that mean that you give up and just live with what you have, knowing that you're not fully happy? Of course not! Your home is not just a box to keep you warm and dry. It's also a safe place for yourself to relax and escape from the world! If you cannot have that in the home that you're living in, then it's going to be a long and tiring ride.
So, to ensure that you can have a safe haven even when you're renting, you can start by modifying your home with lights!
Renter Friendly Lighting Upgrades
Although lighting may seem like it will not make that much difference, it can. An adequately lit space can improve your mood and boost your productivity. Plus, it's a renter-friendly upgrade since it's easily reversible! Once you're ready to move, you can just swap back your fittings with the home's original fixtures. Your landlord would not even notice! So, if you're ready, here's what you have to do.
Integrate a plug-in dimmer
For renters, permanent changes are certainly a big no-no. So, the best lighting alternative that you can do is plug-ins! Adding plug-in dimmers is an excellent way of having a bit of control over your rental home. With this, you can adjust the lighting levels in your room to accommodate your needs. If you want to relax, dim your lights for a cosy ambience and if you need to concentrate on a task, brighten it up! Since plug-in dimmers work outside the fixture, you don't need to worry about your contact.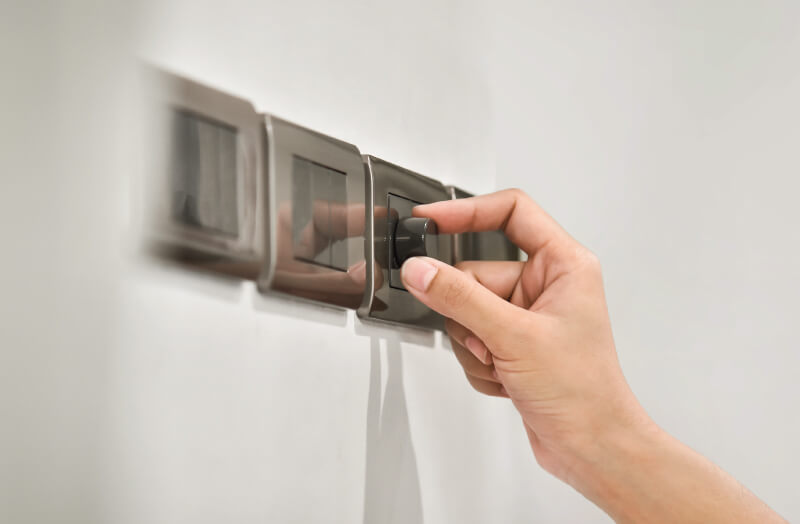 Incorporate a plug-in wall lamp
Another plug-in light fixture that you can add to your space is plug-in wall lamps. A single overhead light will not be enough, so this fitting can help supplement what it lacks. Adding wall lamps is an excellent solution for getting an equal mix of uplight and downlight in a room instead of only the downward lighting coming from an overhead fixture.
If you worry that the plug-in wires will be an eyesore, then hide it behind artwork or a piece of furniture. Just get creative with it! Also, you can try modular panel lights. These lights can be wall-mounted and transformed into different shapes and formations. So, not only will you have bright lighting, but it can also double as décor.
Select the appropriate colour temperature
You may not have a say on what your fixture may look like, but you can always change the bulbs! If you plan to go in that direction, one of the aspects that you need to pay attention to is the colour temperature. This is the perceived warmness or coolness of the colour of the bulb. So, if you get a warmer bulb, you'll see a yellowish tint in contrast to the cooler lamp, which produces a bluish hue.
You don't need to get a uniform colour temperature throughout your home. Warmer colour temperatures are suitable for places of relaxation like your living room and bedroom. Alternatively, cooler colour temperatures are ideal for task-oriented spaces like your kitchen and home office.
Setting the colour temperature will give you more ownership of your rented space since it's customised based on your needs. Also, it's one of the cheapest lighting upgrades that you can do since bulbs are relatively inexpensive, even if you buy many.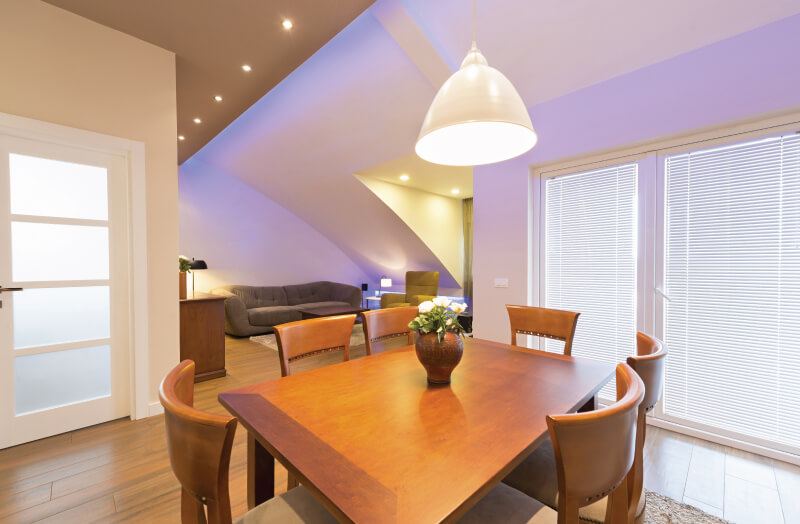 Use wireless lights
If outlets are the issue and plug-in lights are difficult to incorporate because of the limited sockets, turn to wireless lighting. Using battery-powered lights would be your quick fix. Anyways, you cannot rewire your home to make room for more sockets. The only downside with this is you'll be relying on a battery which you might have to change a few times in a year. Well, you can use rechargeable batteries if you want or opt for solar-powered lights if you're mounting them outdoors!
Get some accent lighting
Accent lighting is probably one of the best ways to let your personality shine. You can get as much as you need in whatever form that you want! In your living room, you can add desk lamps or decorative fittings that can enhance the visual appeal of your space. You can also add strip lights which you can just stick down and plug in anywhere in your home.
Strip lights are versatile, durable, and bright. Since there are many varieties (waterproof, colour changing, CCT changing, etc.), it's practically perfect for any application! You can add them as under cabinet lighting in your kitchen and closet or decorative lighting in your bedroom and dining space. Once your contract's up, you can just remove them effortlessly and bring them to your next home!
That's it! Now you have an idea of how to transform your lighting plan even when you're renting. So, if you're looking for high-quality LED lights for your upgrade, visit our website, Simple Lighting. We have an extensive collection of strip lights, wall lights, bulbs and more!